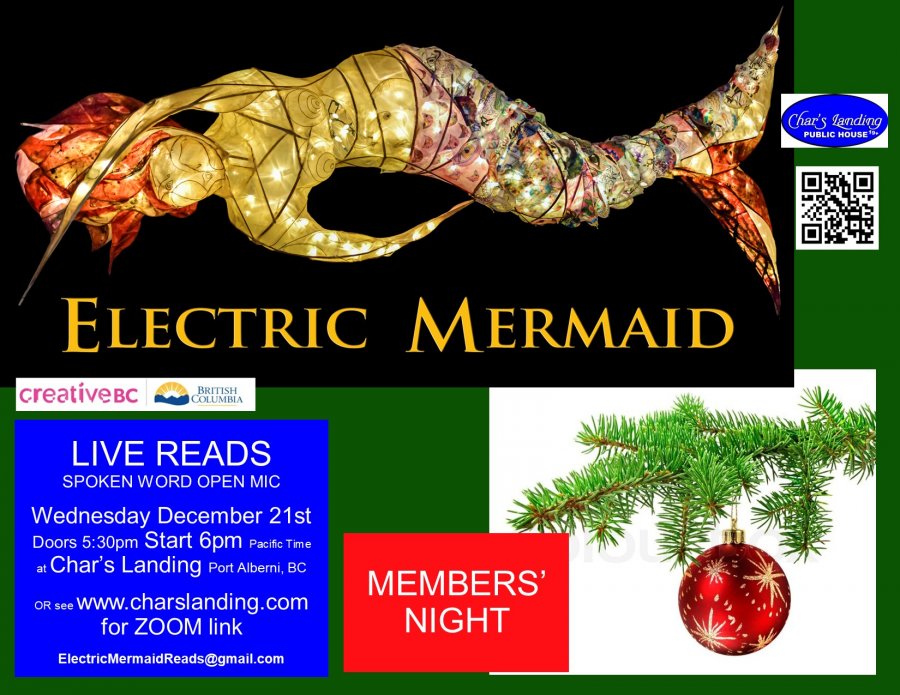 Date:
Wednesday, December 21, 2022 -

6:00pm

to

8:00pm
Contact:
ElectricMermaidReads@gmail.com
December 21st 2022 Members' Night 
Third Wednesday (not last) this month !
Members' Night is time where we can all get together and read with out a time limit and have a blast. It is open for all Electric Mermaid members. Merry Christmas everyone.
Electric Mermaid: Live Reads from Char's Landing, Port Alberni, Vancouver Island, BC, Canada
Emcee: Derek Hanebury  Moderator: Karl Korven   Host & ZOOM Producer: Charlene Patterson
Spoken Word Open Mic at Char's Landing, last Wednesday of each month, Char's physical doors open 5:30pm Pacific Time
HOPE YOU ENJOY THE HOLDAY MEMBERS' NIGHT PREAMBLE
READER 01 0:37:00 Shawna M  In person (Port Alberni B.C .)
READER 02 0:45:00 Peter Paul Van Camp Via zoom (  Denman Island, BC)
READER 03 0:53:50 Dean Lamont , alias Ned . In  Person ( Port  Alberni B.C.)
READER 04 1:02:15 Monica Ahloos  in person  ( Port  Alberni  B.C. )
READER 05 1:19:10 Jennifer Wenn Via Zoom (  London Ont )
READER 06 1:36:15 Kathleen Vance Via zoom ( Gibsons BC.)
READER 07 1:46:45 David Kippling  Via Zoom (  GIbsons B.C) 
READER 08 1:55:00 Vicki Drybrough  in Person  10 min  ( Port  Alberni BC. )
READER 09 2:05:40 Victoria Roscoe-Roumanis in Person (Port Alberni BC)
READER 10 2:17:15 Karen Poirier Via zoom (Port Alberni BC)
READER 00 2:22:30 Derek Hanebury in Person ( Port Alberni B.C,)
READER 16 2:35:00 Rachel Rose aka Raven Fox and the Wizard! in  Person ( Port  alberni BC)
FEATURING: 
December 21st Members' Night   *SPECIAL NIGHT* (3rd not last Wednesday)
______________________________________________________________________________________
Char's Landing 19+ (accompanied kids welcome) 4815 Argyle @5th Port Alberni, Vancouver Island, CANADA V9Y 1V9 Tel: 778-421-2427 
www.charslanding.com
Char's Landing gratefully acknowledges:
Creative BC and the Province of British Columbia @creativebcs and #amplifybc
______________________________________________________________________________________
# # #