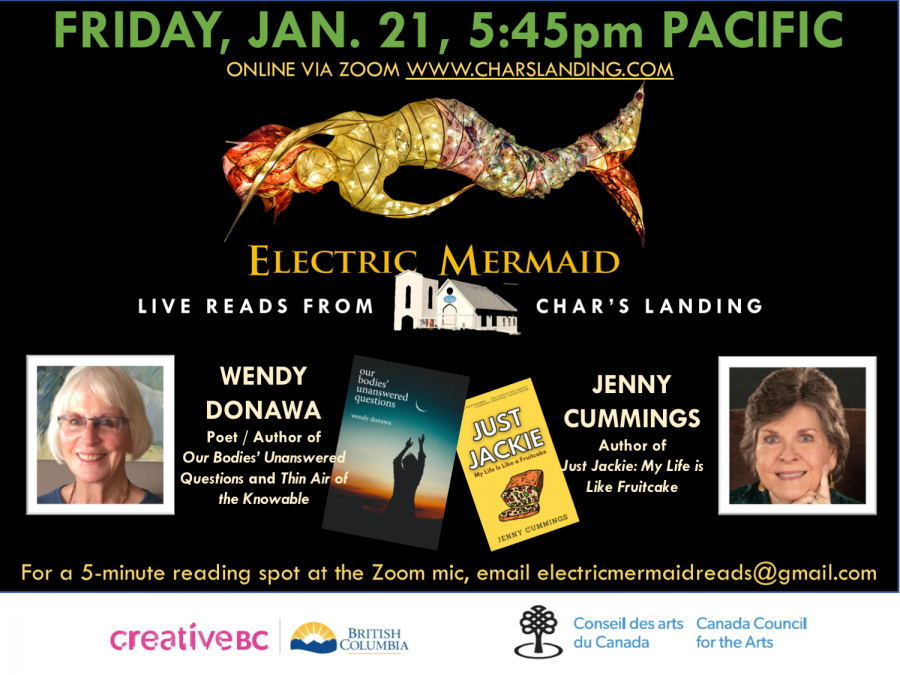 Date:
Friday, January 21, 2022 -

6:00pm

to

8:00pm
Contact:
ElectricMermaidReads@gmail.com
Electric Mermaid: Live Reads from Char's Landing, Port Alberni, Vancouver Island, BC, Canada
Emcee: Derek Hanebury  Moderator: Karl Korven  Artistic Director:  Jacqueline Carmichael  Photographer: Micah Gardener  ZOOM Producer: Charlene Patterson
JAN 21st FEATURED READERS
Jenny Cummings  (South Texas) 
Wendy Donawa  (Victoria )
A first time novelist, Texas novelist Jenny Cummings said hiring an editor to work with her on her book, Just Jackie:  My Life is Like a Fruitcake, was a great help. "I hired an editor after my third draft. Coming from a journalistic background, I knew how to write a good story. But I didn't know the first thing about how to show a story. The first step was the developmental edit. That was an eye-opeuy  her books  at    Amazon 
Wendy will read from her second book, Our Bodies' Unanswered Questions, published this year with Frontenac House. Wendy's poems have appeared widely in poetry journals, anthologies, chapbooks, and public transport buses! Her first book, Thin Air of the Knowable (Brick Books, 2017) was a finalist for the Gerald Lampert Award. Lorna Crozier has called Donawa's poems "fiery calls to action…in a world rife with inequity and injustice, this…is the kind of beacon we need…Unwavering, uncompromising, and fiercely wise.  can buy  https://www.amazon.ca/s?k=Wendy+Donawa&i=stripbooks&crid=11VY9C8RNQSDW&s...
JAN 21st LUMA'S LIST => FEATURES and CURATED OPEN MIC READERS
READER 07 @0:03:50 Barbra Pelman, Victoria  (Via Zoom)
READER 11 @0:09:40 Anne Hopkison, Victoria  (Via Zoom)
READER 12 @0:13:35 Linda K. Thompson, Port Alberni   (Via Zoom)
FEATURE 01 @0:19:00 Jenny Cummings, South Texas   (Via Zoom) 
FEATURE 02 @0:40:00 Wendy Donawa, Victoria    (Via Zoom)
READER 01 @1:06:10 Linda Glazier, Qualicum Beach    (Via Zoom)
READER 02 @1:14:15 Kathleen Vance, Gibsons     (Via Zoom)
READER 03  @1:20:15 David Kipping, Gibsons   (Via Zoom)
READER 04 @1:24:09 Laura Sturgeon, Port Alberni    (Via Zoom)
READER 05 @1:31:25 Jennifer Wenn, London ON      (Via Zoom)
READER 06  @1:36:45 Joy Sheldon, Cowichan Bay     (Via Zoom)
READER 08 @1:42:40 Victoria Roscoe-Romanis, Port Alberni     (Via Zoom)
READER 09 @1:50:20 Joe Lunchbucket aka Bob Frankow, Port Alberni    (Via Zoom)
READER 10 RAINCHECK Jacqueline Carmichael, Port Alberni    (Via Zoom)
READER 00 @1:55:00 Derek Hanebury, Port Alberni   (Via Zoom)
CURRENT FEATURES:
Char's Landing 19+ (accompanied kids welcome) 4815 Argyle @5th Port Alberni, Vancouver Island, CANADA V9Y 1V9 Tel: 778-421-2427 
www.charslanding.com
Char's gratefully acknowledges Creative BC and the Province of British Columbia @creativebcs and #amplifybc