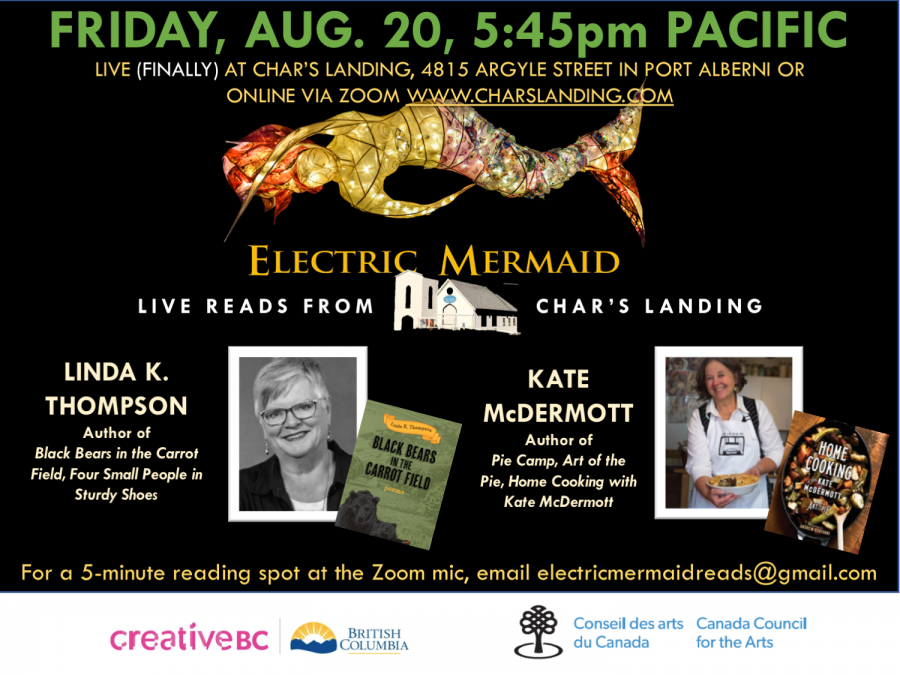 Date:
Friday, August 20, 2021 -

6:00pm

to

8:00pm
Contact:
ElectricMermaidReads@gmail.com
Electric Mermaid: Live Reads from Char's Landing, Port Alberni, Vancouver Island, BC, Canada
Emcee: Derek Hanebury  Moderator: Karl Korven  Artistic Director:  Jacqueline Carmichael  
Photographer: Micah Gardener  ZOOM Producer: Charlene Patterson
Spoken Word Open Mic via ZOOM, 3rd Friday of each month, virtual doors open 5:30pm Pacific Time
Port Alberni venue Char's Landing now plays host to the Zoomed Electric Mermaid
"Since being on Zoom allows us to pull in an audience from anywhere in the world, we've been very fortunate to hear from a wider diversity of regions—the island, the mainland and internationally as well.  going global!"     
http://www.charslanding.com
AUGUST 20th  FEATURE READERS
Kate McDermott(
Port Angeles, WA)

 
& L
inda K. Thompson  (Port Alberni)  In Person
READER 01

 @00:09:15 

Martha Grant (via ZOOM)

  
READER 02  (rain check) Lindsay Rear (via ZOOM)
READER 03 @00:12:38 

Jennifer Wenn (via ZOOM)
FEATURE 01 @00:20:00 Kate McDermott (via ZOOM)
FEATURE 02 @00:40:40 Linda K. Thompaon (in house)
READER 04 @01:05:10 

Victoria Roscoe-Roumanis 

(In house)
READER 05 @01:10:40 Joy Sheldon Luma's spotlight (via ZOOM)
READER 06 @01:22:25 Janet Miller (in house)
READER 07

 @01:30:45 Kathleen Vance 

(via ZOOM)

 
READER 08 @01:37:45 David Kipling (via ZOOM)
READER 09 @01:44:28 

Vicki Drypbrough (in house)
READER 10 @01:48:20 

Libbie Morin (In house)
READER 11 @01:53:50 Shawn Hanebury (In house)
READER 12 @01:55:40 Joe Lunchbucket aka Bob Frankow ( In house)
READER 00 @01:59:40 Derek Hanebury ( In house)
Kate McDermott is the author of Art of the Pie: A Practical Guide to Homemade Crusts, Fillings, and Life (2016), Home Cooking with Kate McDermott (2018), Pie Camp: The Skills You Need to Make Any Pie You Want (2020).McDermott's book, Art of the Pie, features a philosophical approach to the creation of crusted delights, and she has been dubbed the Piechiatrist. "I'm really not sure what it means but I do find the practice of pie making to be a form of baking therapy that one can share with others. The Piechiatrst is my alter ego who has been known to answer questions about pie and life," she said with a smile.Cooking real food with real ingredients makes the table a place for flavor in season and supports local production of food, she said."Plus it is the best health insurance there is, and one gets to enjoy it, too," McDermott said. A cooking influencer, the Port Angeles, Washington resident is a James Beard Nominee, and practitioner of Kindness. She has been featured in blogs, magazines, newspapers, books, as well as on radio, TV and video.  can  get  her  books @  Amazon,
 
Linda K. Thompson
grew up on a cattle and potato farm in the Pemberton Valley.  She has lived in Port Alberni for many years.  Her debut book of poetry, 
Black Bears in the Carrot Field, 
was published by Mona Fertig of Mother Tongue Publishing on Salt Spring Island. "I am very pleased to read from my new book at Electric Mermaid," Thompson says."Readings at Electric Mermaid and Char's Landing have a great sense of fun and excitement. You can always count on a bit of a rambunctious audience which makes each reading an experience on its own. Spirited, I guess you could say. The poems and stories in 
Black Bears in the Carrot Field 
are a mixture of places and memories from travels, childhood in the Pemberton Valley and my life here on Vancouver Island." Thompson's writing has been published in Canada, the U.S. and the U.K.  Three of her prose poems appear in the latest publication of 
Release All the Words Stuck Inside You III
:
 Canadian Flash Fiction and Prose Poetry 
available to read online at Applebeard Editions, 2021. Linda's chapbook, 
Four Small People in Sturdy Shoes,
 was published in 2013 and her debut full length poetry collection, 
Black Bears in the Carrot Field,
 published by Mother Tongue Publishing, and celebrating small town, quirky characters full of imperfections and guts, was released in July 2021.
Mother Tongue Publishing and also from Ryan at Mobius Books on Argyle Street. 
Char's Landing 19+ (accompanied kids welcome) 4815 Argyle @5th Port Alberni, Vancouver Island, CANADA V9Y 1V9 Tel: 778-421-2427 
www.charslanding.com
Char's gratefully acknowledges Creative BC and the Province of British Columbia @creativebcs and #amplifybc