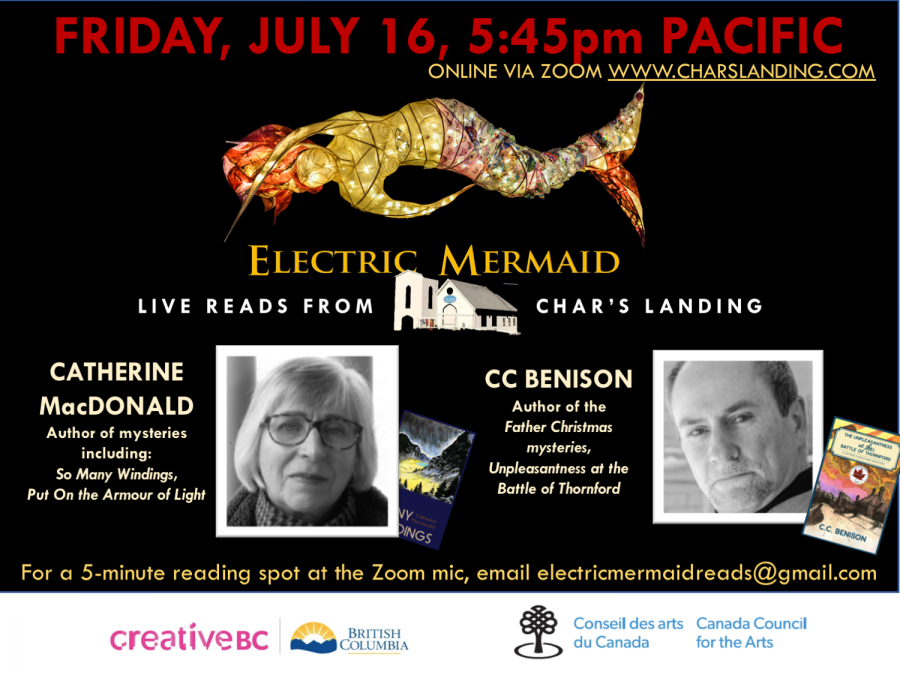 Date:
Friday, July 16, 2021 -

6:00pm

to

8:00pm
Contact:
ElectricMermaidReads@gmail.com
Electric Mermaid: Live Reads from Char's Landing, Port Alberni, Vancouver Island, BC, Canada
Emcee: Derek Hanebury  Moderator: Karl Korven  Artistic Director:  Jacqueline Carmichael  
Photographer: Micah Gardener  ZOOM Producer: Charlene Patterson
Spoken Word Open Mic via ZOOM, 3rd Friday of each month, virtual doors open 5:30pm Pacific Time
Port Alberni venue Char's Landing now plays host to the Zoomed Electric Mermaid
"Since being on Zoom allows us to pull in an audience from anywhere in the world, we've been very fortunate to hear from a wider diversity of regions—the island, the mainland and internationally as well.  going global!"     
http://www.charslanding.com
July 16th Featuring CC Benison  (Winnipeg)   &  Catherine MacDonald (

Winnipeg)
JULY 16th READERS YouTube => https://youtu.be/10PNHeQALLA
READER 01
 @0:19:04 
Jennifer Wenn
READER 02 @RAINCHECK Rick Collins
READER 03 @RAINCHECK 

Jennie Tschoban

 
READER 04 @0:25:45 Jacqueline Carmichael 
FEATURE 01 @0:30:35 Catherine MacDonald (
Winnipeg)
FEATURE 02 @0:51:50 CC Benison  (Winnipeg)
READER 05 @1:07:40 Joy Sheldon
READER 06 @1:13:20 David Kippling  10min
READER 07 @1:24:45 

Kathleen Vance
READER 08 @1:31:40 

Vicki Drybrough
READER 09 @1:37:35 Joe Lunchbucket aka Bob Frankow
READER 00 @1:42:45 Derek Hanebury
Catherine Macdonald's first mystery novel, Put on the Armour of Light, won the Michael Van Rooy Award for Genre Fiction at the 2016 Manitoba Book Awards. So Many Windings, forthcoming from At Bay Press, is the sequel to that book and finds the characters in Scotland where they tour the Highlands by bicycle.Reluctant amateur detective, Reverend Charles Lauchlan, departs the prairie city of Winnipeg and travels abroad to Scotland with his fiancé Maggie on a bicycle tour of the Highlands. Two near fatal accidents put members of the tour on edge and, to make matters worse, a shadowy figure seems to be observing their every move. Stuck in the remote Highland countryside, the group is thrown back on their own resources. While Charles and Maggie are trying to decipher what these strange events mean, they make another grisly discovery. It's murder most foul and we're not just talking about Scottish weather. So Many Windings is the second in a three-book series that began with Put On the Armour of Light (winner of the Michael Van Rooy Award for Genre Fiction). Deftly wrought, meticulously researched, and scintillating with charm and period prose, Macdonald weaves a winding, cross-country tale that will require all of the detective's ingenuity and test the measure of his resolve.With So Many Windings Catherine Macdonald delivers a crackling procedural, set beautifully against the stark landscape of rural Scotland, circa 1900. Macdonald's eye for period detail is unmatched and her writing is just flat-out terrific. A great, engrossing read," said Brad Smith, award-winning author of The Goliath Run. Author Catherine Macdonald says she's had a strange but interesting career as an archivist and freelance historian during which she came across many odds and ends of details about Winnipeg as it was at the turn of the twentieth century. One morning I woke up with the idea of stringing some of these odds and ends together into a mystery story. The result was my first book, Put on the Armour of Light. Since it was published, I've written fiction full-time," she said. Macdonald said she's looking forward to reading at Electric Mermaid: Live Reads from Char's Landing. "Cheers to Char's Landing for going global with its Electric Mermaid series! Needless to say, it would have been a treat to read live and experience your unique concept: a pub that is also a community arts centre. What could be better? But in these pandemic times, It's great that you're reaching out across the country to provide your audience (and everyone in zoomworld) with access to a wide range of Canadian writing and writers. I really appreciate the opportunity," she said. And blog at "portage and slain" https://portageandslain.com/home/ which also acts as my website. You can buy So Many Windings and my first book, Put on the Armour of Light at these locations. Whodunit Mystery Bookstore, McNally Robinson Booksellers, or Chapters Indigo. Or order direct from At Bay Press.
C.C. Benison
is the nom de plume of Doug Whiteway. His first book, 
Death at Buckingham Palace
, won the Arthur Ellis Award for Best First Novel, and was followed by others in the "Her Majesty Investigates" series. He followed that series with the Father Christmas mysteries, featuring, as amateur sleuth, the vicar of the English village of Thornford Regis, Tom Christmas. Titles include 
Twelve Drummers Drumming, Eleven Pipers Piping
 and 
Ten Lords A-Leaping.
 His most recent novel is 
Paul is Dead,
 a psychological thriller. His new work is a novella, 
Father Christmas and the Unpleasantness at the Battle of Thornford
. Benison lives in Winnipeg. When a costumed, pike-spiked body turns up after a traditional historic reenactment of the 1645 Battle of Thornford, the Reverend Tom "Father" Christmas and the villagers of Thornford Regis find themselves in a battle of their own as they deal with events from the murky, more recent past. C.C. Benison's latest intriguing and delightful Father Christmas mystery will leave cozy mystery readers puzzling over the outcome and, like a refreshing English cream tea, wishing there were more. nd my books can be found in the usual sources: Amazon, for instance – 
https://www.amazon.ca/C-C-Benison/e/B001K7SKO0/ref=dp_byline_cont_ebooks_1
 or Chapters: 
https://www.kobo.com/ca/en/search?query=cc%20benison&fcsearchfield=Author
.
Char's Landing 19+
(accompanied kids welcome) 4815 Argyle @5th Port Alberni, Vancouver Island, CANADA V9Y 1V9 Tel: 778-421-2427 
www.charslanding.com
Char's gratefully acknowledges Creative BC and the Province of British Columbia @creativebcs and #amplifybc