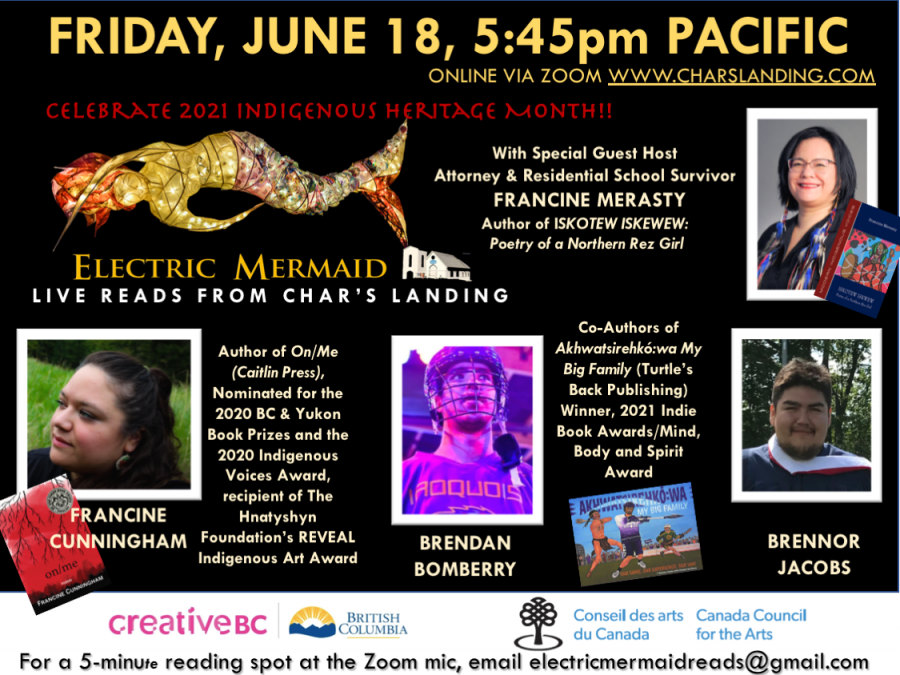 Date:
Friday, June 18, 2021 -

6:00pm

to

8:00pm
Contact:
ElectricMermaidReads@gmail.com
Electric Mermaid: Live Reads from Char's Landing, Port Alberni, Vancouver Island, BC, Canada
Emcee: Derek Hanebury  Moderator: Karl Korven  Artistic Director:  Jacqueline Carmichael  
Photographer: Micah Gardener  ZOOM Producer: Charlene Patterson
Spoken Word Open Mic via ZOOM, 3rd Friday of each month, virtual doors open 5:30pm Pacific Time
Port Alberni venue Char's Landing now plays host to the Zoomed Electric Mermaid
"Since being on Zoom allows us to pull in an audience from anywhere in the world, we've been very fortunate to hear from a wider diversity of regions—the island, the mainland and internationally as well.  going global!"     
http://www.charslanding.com
June 18th Features Francine Cunningham & Brennor Jacobs and Brendan Bomberry
FEATURE 00 @0:22:20 Jeneva Tutti, special guest host
FEATURE 01 @0:45:00 Francine Cunningham . treaty six territory (Vancouver)
FEATURE 02a @1:00:00 Brennor Jacobs from Six Nations, Ontario. 
FEATURE 02b @1:11:55 Brendan Bomberry from Six Nations, Ontario. 
READER 03 @1:23:45 Kathleen Vance 10min
READER 04 @1:34:38 Joy Sheldon  5min
READER 05 @1:41:20 D
avid Kipling 5min
READER 06 @1:48:11 Bill Engleson 5 min
www.engleson.ca
READER 07 @1:53:25 Joe Lunchbucket (aka Bob Frankow)
READER 08 RAINCHECK Jacqueline Carmichael
READER 09 @1:58:08 Herb Bryce
READER 00 RAINCHECK Derek Hanebury  
Francine Merasty is a Nehithaw Iskwew from Opawikoschikanek ochi, a reserve in Northern Saskatchewan. She is a member of the Peter Ballantyne Cree Nation and a fluent Cree speaker.  After she graduated from high school, Francine Merasty went to university to get a BA in psychology. She went to work for a First Nations organization working with health, education and welfare, and returned to university to earn a law degree and become an attorney.  Merasty's work found its voice when she took her first job out of law school, working for the National Inquiry into Missing and Murdered Indigenous Women and Girls as a Statement Taker and Legal Counsel.  She's since had poems published in The Polyglot (Indigenous Languages Issue), Alaska Quarterly Review, and Briarpatch. She's been honoured by the Indigenous Voices Awards, and as a speaker at the Empowering Indigenous Women Conference in Saskatchewan. Her poetry was chosen by former US poet laureate Tracey K Smith to be included in this years edition of The Best American Poetry 2021.  Her book of poetry,  Poetry of a Northern Rez Girl (Bookland Press) is due out this spring with Bookland Press, and a version in Cree is expected this winter.  Merasty is a three-generation survivor of Canada's residential school system: her grandmother and her father were also taken into the residential school system.
Francine Cunningham is an award-winning Indigenous writer, artist and educator. Her debut book of poems On/Me (Caitlin Press) is nominated for 2020 BC and Yukon Book Prize and a 2020 Indigenous Voices Award. She is a recent winner of The Indigenous Voices Award in the 2019 Unpublished Prose Category and of The Hnatyshyn Foundation's REVEAL Indigenous Art Award. Her fiction has appeared in Grain Magazine as the 2018 Short Prose Award winner, on The Malahat Review's Far Horizon's Prose shortlist, Joyland Magazine, The Puritan Magazine and more. You can find out more about her at www.francinecunningham.ca
Brendan Bomberry is Mohawk Turtle clan from the Six Nations of the Grand River Territory. Brendan's Ohkwehonweh name is Kahonnwaka:ion which in Mohawk translates to "Old boat" or "Old Soul." Bomberry recently graduated from Syracuse University with a Bachelor of Science where he studied Communication and Rhetorical Studies. During his time at Syracuse, he played for the Syracuse lacrosse team where he got a chance to play the game he loves, all while gaining an education.  Brendan has been playing the game of lacrosse since he was three years old. After Syracuse, he was drafted 7th overall in the 2018 NLL Entry Draft by the Georgia Swarm, and is now in his 2nd year with the team. Along with playing professional lacrosse, Bomberry co-authored the Akhwatsirehkó:wa My Big Family lacrosse book for Turtle's Back Publishing, a division of the Ontario Native Literacy Coalition (TBP/ONLC). In becoming a published writer under Turtle's Back Publishing, Bomberry is able to share his knowledge and culture of the Haudenosaunee people and of the game that has helped shaped him into the man he is today.
Email: Brendan@turtleislandlax.com   Instagram: @leftybombz45_
Brennor Jacobs is Oneida Nation Turtle Clan from the Six Nations of the Grand River Territory. A Graduate of Brock University where he completed his undergrad in Business Communications. Jacobs attended the Kawenni:io/Gaweni:yo language immersion school, where he was able to learn the Mohawk language, and gain a deeper understanding of his culture.  In the future Jacobs plans on furthering his education with the goal of completing his master's in Communications. He has always been fond of professional sports and have always been keen on building his career within them, and in the future Brennor's goal is to be involved in Sports Marketing. Currently, he has co-authored Akhwatsirehkó:wa My Big Family lacrosse book for Turtle's Back Publishing, a division of the Ontario Native Literacy Coalition (TBP/ONLC). The book incapsulates a global climate on the position of the game and portrays Canada's National sport from an Indigenous perspective. I have also completed other projects for the Ontario Native Literacy Coalition including an Anishinaabe language materials and cultural workbooks.  Email: brennorjacobs@gmail.com       Instagram: @lusciousbigg
Turtle's Back Publishing, a division of the Ontario Native Literacy Coalition is pleased to announce that
Akhwatsirehko:wa My Big Family – Our Game, Our Experience, Our Way
, written by Brennor Jacobs with Brendan Bomberry has just been announced as the winner of the 2021 Next Generation Indie Book Awards (NGIBA) in the Mind, Body, and Spirit category.B
ook can be purchased on our online store at 
https://onlc.ca/online-store/
 or from Goodminds.com, ILA Sports (
https://www.ilasports.com/
), and Lax Coach Locker. 
Char's Landing 19+
(accompanied kids welcome) 4815 Argyle @5th Port Alberni, Vancouver Island, CANADA V9Y 1V9 Tel: 778-421-2427 
www.charslanding.com
Char's gratefully acknowledges Creative BC and the Province of British Columbia @creativebcs and #amplifybc