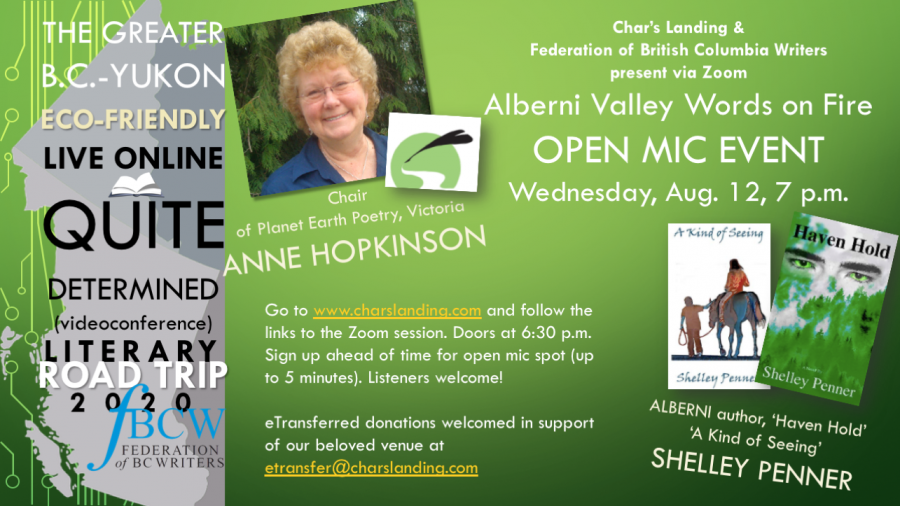 Date:
Wednesday, August 12, 2020 -
Char's Presents ONLINE Pacific Time  Spoken Word Open Mic featuring:
Victoria poet Anne Hopkinson will read at Alberni Valley Words on Fire open mic spoken word event on Wednesday Aug. 12, 2020, at 7 p.m.
She will be joined by Port Alberni author Shelley Penner, live on line via Zoom teleconferencing. The latest event in a series supported by The Federation of British Columbia Writers brings writers from around B.C. and the Yukon to AVWOF's home venue, Char's Landing, via the FBCW's Quite Determined Literary Road Trip online tour.
Anne Hopkinson is chair of Planet Earth Poetry, one of the longest-running poetry events in Canada.
Hopkinson's work appears in anthologies: Walk Myself Home by Caitlin Press, V6A, Writing from Vancouver's Downtown Eastside, Arsenal Pulp Press, and Poet to Poet by Guernica Press. Most recently Refugium, by Caitlin Press. She won the Victoria Writer's Society Creative Non-/fiction Contest in 2018, and The Canadian Stories Poetry Prize for 2019. Her work was short-listed for the BC Federation of Writers Poetry Prize in 2019, and the FBCW BC and Yukon Short in 2020.
Hopkinson is known to throw caution to the wind, writing humorous poems which are often persona poems, as she enjoys taking on the voice and personality of each speaker.
"It allows me to play a role on the page rather than on the stage. I write of the ocean, and of the extensive tribe of fools and darlings who have taught me how to live," she said.
Attendees via Zoom will get to hear Port Alberni author Shelley Penner read from her futuristic novel, Haven Hold, set to debut Aug. 25 with Alberni Valley publisher RCN Media. Penner is also the author of a short work of fiction, also debuting Aug. 25 with RCN Media, entitled A Kind of Seeing.
Penner has always been a creator in many disciplines -- drawing, painting and photography as well as writing.
"I have always had a head full of stories. As a child I would put myself to sleep by living scenes in my imagination until I dozed off. I didn't just make up stories, I became a part of them, I felt all the emotional nuances of the characters. Eventually, my head became so full of those imaginary people, demanding their chance to be made real in words, that I just had to start writing," she said.
The former church building that now houses Port Alberni venue Char's Landing now plays host to the Zoomed AVWOF events.
Open mic speakers from the Alberni Valley and further afield (from places like Athens, Georgia) and Washington State are taking to AVWOF's Zoom open mic. They can sign up prior to the event online at www.charslanding.com, and there are usually a handful of spaces available before the event in Zoom.
As emcee of Alberni Valley Words on Fire, Stephen Novik noticed that after the pandemic shifted brick-and-mortar events online, some of the usual readers from the event were shying away from the virtual stage/
"They've missed out on the new talents that have emerged. Since being on Zoom allows us to pull in an audience from anywhere in the world, we've been very fortunate to hear from a wider diversity of regions—the island, the mainland and internationally as well. Words on Fire is going global!" Novik said.   
ONLINE: Alberni Valley Words on Fire! via ZOOM
Join us on the last and now the 2nd Wednesdays of each month.
Time: 7:00pm Pacific Time virtual doors open 6:30pm
Email AVWordsOnFire@gmail.com to be added to the list of open-mic readers.
We encourage our guests to ZOOM in early and keep video on to enjoy the virtual social gathering.
Please engage the CHAT window for comments to the artists or to ask Karl to be added to the open mic list.
Click this automatic ZOOM link below:
https://zoom.us/j/93236999892?pwd=Vk9BZzFxT2VQY01HL2RqY05zSVg4dz09
see https://charslanding.com/ OR  https://alberni.ca/events/17693 for more ZOOM options.
Join the Alberni Valley Words on Fire! FaceBook group online: https://www.facebook.com/groups/890771234347906/
Donations to help Char's Landing support the live arts are gratefully accepted with our thanks.
Bank online to eTransfer@charslanding.com please include the event date and your email address
PayPal to https://www.paypal.me/CharsLanding please include the event date and your email address
OR call 250-730-1636 to charge by phone.
OR stop by Char's Landing to pay by cash/cheque/interac
Char's Landing 19+ (accompanied kids welcome) 4815 Argyle @5th Port Alberni, Vancouver Island, CANADA V9Y 1V9 Tel: 778-421-2427 www.charslanding.com
Aug 12th readers, please EMAIL AVWordsOnFire@gmail.com to pre-register.
READER1  KB Madden
READER2  Atma Frans
READER3   Margaret Lonsdale
READER4  
READER5  
READER6  
READER7 
READER8 
READER9 
READER10
From: Jacqueline Carmichael <carmichael.jacqueline@gmail.com>
Sent: July 20, 2020 3:12 PM
Subject: Upcoming schedule -- need regional readers for through October
Hello, here is the schedule through October ... we do need some more local readers if at all possible. Otherwise, if you want, I can fill with guests from elsewhere. Working on bios and headshots. Warm regards, Jackie 
AUGUST
      Wednesday, AUG 12, 7 p.m.— Anne Hopkinson of Oak Bay and Shelley Penner of Port Alberni.
      Wednesday, AUG 26, 7 p.m.— Mark Leiren Young of Victoria and pj johnson of Whitehorse, YK.    
SEPTEMBER
      Wednesday, SEPT 9, 7 p.m.— LUANNE ARMSTRONG from the Kootenays and XXX
      Wednesday, SEPT 30, 7 p.m.— WARREN DEAN FULTON of Lower Mainland and XXXXX
OCTOBER
      Wednesday, OCT 14, 7 p.m.— Lozan Yamolky of Lower Mainland   and XXXX
      Wednesday, OCT 28, 7 p.m.— Herb Bryce of Lower Mainland and XXX  
UPCOMING FEATURES:
August 12th  Shelley Penner + Anne Hopkinson 
August 26th  Mark Leiren-Young + pj johnson (poet laureate of the Yukon) 
September 9th  Luanne Armstrong  +  tba
September 30th  Warren Dean Fulton  +  tba
October 14th  Lozan Yamolky  +  tba
October 28th  Herb Bryce  +  Andrea Montique (Science Fiction) ?
November 11th  tba  +  tba
November 25th  tba  +  tba
December 9th  tba  +  tba
December 30th  tba  +  tba
? not yet confirmed
PAST FEATURES:
July 29th  Ian Cognito + Daniel Scott
July 8th  Joe Lunchbucket + Jude Neale
June 24th Laurie Blakely + KJ Munro
June 10th Frances Sullivan +  Bill Arnott
May 27th Stephen Novik + Joanna Lilley
May 13th Jacqueline Carmichael + Christina Myers
April 29th Derek Hanebury + Vicki Drybrough + Libbie Morin (launch of their anthology, "Both Sides Now")
PAST MEDIA:
https://www.albernivalleynews.com/entertainment/two-island-poets-take-the-mic-at-alberni-valley-words-on-fire/
https://www.albernivalleynews.com/entertainment/island-poets-take-the-mic-at-julys-virtual-words-on-fire-in-port-alberni/
https://www.albernivalleynews.com/entertainment/yukon-poet-kjmunro-headlines-port-albernis-virtual-words-on-fire/
https://www.albernivalleynews.com/entertainment/virtual-road-trip-brings-vancouver-writers-to-port-alberni/
https://www.albernivalleynews.com/entertainment/yukon-writer-reads-at-virtual-alberni-valley-words-on-fire/
https://www.albernivalleynews.com/entertainment/alberni-valley-words-on-fire-goes-digital/