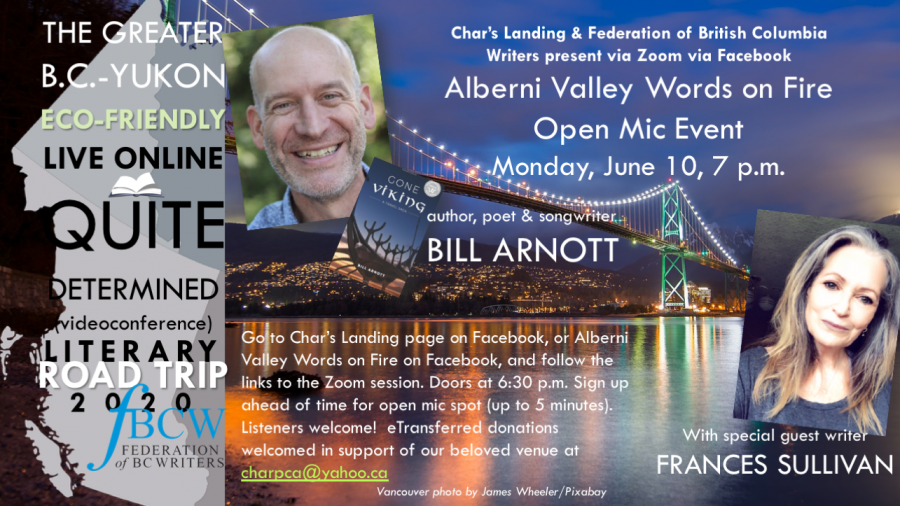 Date:
Wednesday, June 10, 2020 -
Contact:
AVWordsOnFire@gmail.com call Stephen Novik 250-918-5004
Email AVWordsOnFire@gmail.com to be added to the list.
Char's Presents ONLINE Pacific Time
Spoken Word Open Mic featuring:
FRANCES SULLIVAN, regional feature reader;
and FBCW sponsored feature reader BILL ARNOTT, with his newest book, Gone Viking
Bill Arnott guides readers on an epic literary odyssey following history's most feared and misunderstood voyageurs: the Vikings!
To "go Viking" is to embark on an epic journey. For more than eight years, Bill Arnott journeyed throughout the northern hemisphere, discovering sites Scandinavian explorers raided, traded, and settled – finding Viking history in a wider swath of the planet than most anthropologists and historians ever imagined.
With a small pack and weatherproof journal, Bill explores and writes with a journalist's eye, songwriter's prose, poet's perspective, and a comedian's take on everything else. Prepare yourself for an armchair adventure like no other!
From Europe to Asia, the Mediterranean to the British Isles, through Scandinavia to Iceland, Greenland, and the New World, with further excursions around Thor Heyerdahl's Pacific, Roald Amundsen's Arctic, and Olaf Crowbone's stormy North Atlantic, Bill takes readers on a mythic personal adventure in real time – a present-day Viking quest.
Bill Arnott is the bestselling non-fiction author of Wonderful Magical Words and Dromomania. Bill's been a featured musician, spoken-word artist, moderator, performer, and host at hundreds of literary festivals and mixed-media events across Canada and internationally. His articles, reviews, and poetry are published in Canada, the US, UK, Europe, and Asia, with features in literary journals, magazines, and anthologies. Bill is a national songwriting finalist, poetry award recipient, and finalist for the 2019 Whistler Independent Book Award. When not trekking the globe with a horribly outdated camera phone or showing off his cooking skills as a culinary school dropout, Bill can be found on Canada's west coast, making friends and generally misbehaving. he lives in Vancouver, British Columbia.
https://www.albernivalleynews.com/entertainment/alberni-valley-words-on-fire-goes-digital/
ONLINE: Alberni Valley Words on Fire!
Join us on the last and now the 2nd Wednesdays of each month.
Time: 7:00pm Pacific Time virtual doors open 6:30pm
We encourage our guests to ZOOM in early to enjoy the virtual social gathering.
Click this automatic link below:
https://zoom.us/j/93236999892?pwd=Vk9BZzFxT2VQY01HL2RqY05zSVg4dz09
 
OR open ZOOM and type in the following:
Meeting ID: 932 3699 9892
Password: AVWOF!
Please engage the CHAT window for comments to the artists or to ask Karl to be added to the open mic list.
Donations gratefully accepted with our thanks.
eTransfer "event date and your email address" to info@charslanding.com
OR call 250-730-1636 to charge by phone.
Char's Landing 19+ (accompanied kids welcome) 4815 Argyle @5th Port Alberni, Vancouver Island, CANADA V9Y 1V9 Tel: 778-421-2427 www.charslanding.com
June 10th readers, please EMAIL AVWordsOnFire@gmail.com to pre-register.
READER1 Herb Bryce
READER2 Pamela Medland
READER3 
READER4 
READER5
READER6
READER7
READER8
READER9
READER10
FUTURE FEATURES (Regional + FBCW):
June 10th  Frances Sullivan +  Bill Arnott
June 24th  Laurie Blakely + KJ Munro
July 8th  Joe Lunchbucket + Jude Neale
July 29th  Ian Cognito + Daniel Scott
August 12th  Anne Hopkinson  +  tba
August 26th  Mark Leiren-Young + pj johnson (poet laureate of the Yukon) 
September 9th  tba  +  tba
September 30th  tba  +  tba
October 14th  tba  +  tba
October 28th  tba  +  ? Andrea Montique Science Fiction
November 11th  tba  +  tba
November 25th  tba  +  tba
December 9th  tba  +  tba
December 30th  tba  +  tba
? indicates not yet confirmed
PAST FEATURES:
May 27th Stephen Novik + Joanna Lilley
May 13th Jacqueline Carmichael + Christina Myers
April 29th Derek Hanebury + Vicki DryBrough + Libbie Morin (launch of their anthology, "Both Sides Now")