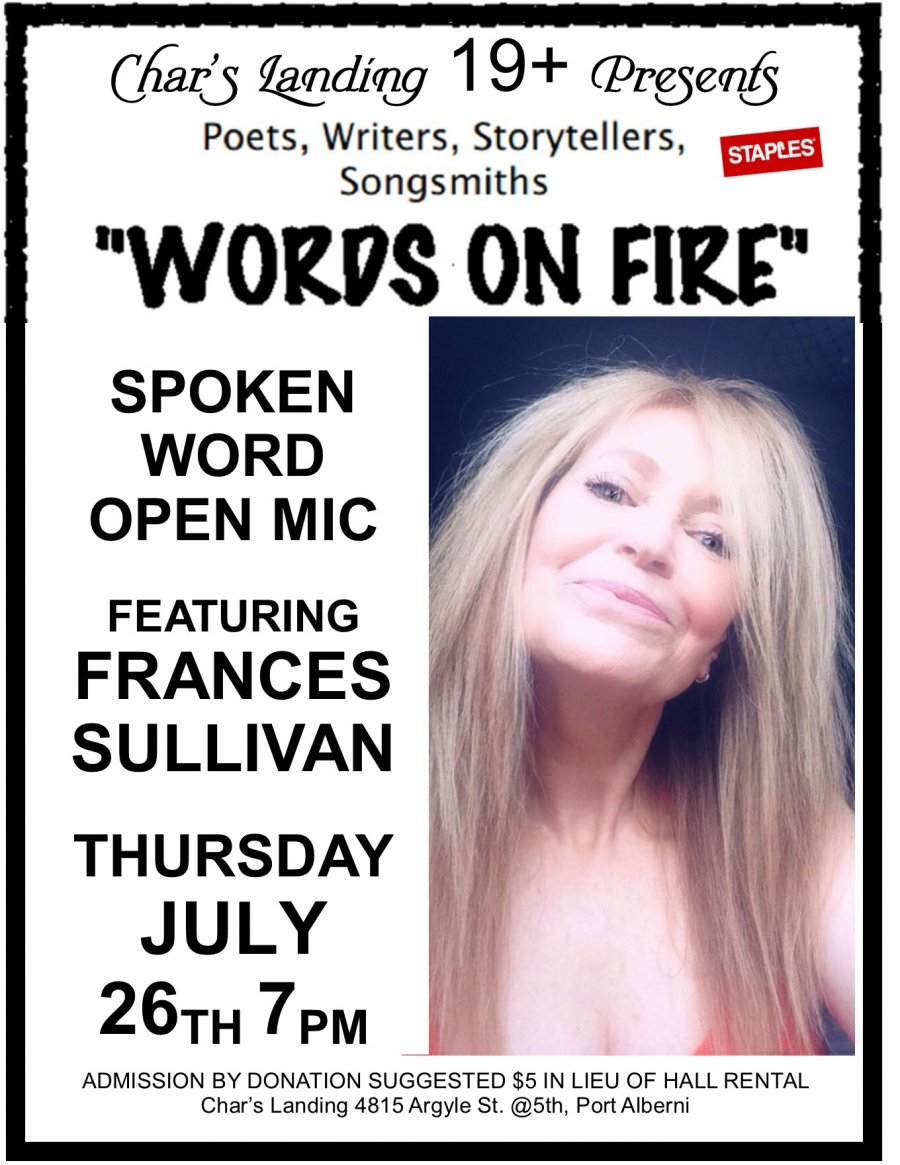 Date:
Thursday, July 26, 2018 -
Contact:
info@charslanding.com 778-421-2427
Thu, Jul 26th, 7-9pm, Open Mic – AV Words on Fire ! – Spoken Word Featuring Frances Sullivan         (last Thursday of each month)
Thu, Jul 26th, 7pm (doors 6), AV Words on Fire ! – Spoken Word Open Mic Featuring Frances Sullivan
I've loved storytelling as far back as I can remember, but instead of honing the skill, I kept skipping around it like a Maypole dancer. Almost six decades later, tired of dancing in circles, I let go of the ribbon.  Writing is bloody hard work. If you don't love it, you'll not likely stay with it. I love it. Passionately. Give me a funky café, or a comfy couch in a peaceful, un-wifi'd home, and I become a writing machine, in fact. I found that out in Port Alberni where I abandoned my first book and penned a brand new one.  The romantic fiction, In Seven Days, will be available through Amazon this fall.  Adopting Elizabeth, my first effort, is due out mid-2019.
I am currently writing a memoir for a Vancouver native, outlining my third novel (a sequel to In Seven Days), and blogging irrepressibly at "Zigzagging Toward Zen", my foray into logging a personal journey.  When not writing, I'm wandering the world, playing with my grandbaby, and sniffing out the best vegan desserts.  Check me out on Facebook, Instagram, and WordPress.
Open Mic 7-9pm Admission by donation, suggested $5 (in lieu of hall rental). Sign up at the door. CHAR'S IS NOW KID-FRIENDLY
Bring your writing, friends, and enthusiasm.  (last Thursday of each month)
FMI contact host Stephen Novik eccentricsteve@hotmail.ca    http://www.wordstorm.ca/    http://ascentaspirations.ca
FMI http://alberni.ca/events/17693   https://www.facebook.com/events/1495646640537107/
Char's Landing 19+ (accompanied kids welcome) 4815 Argyle @5th Port Alberni V9Y 1V9 Tel: 778-421-2427 www.charslanding.com