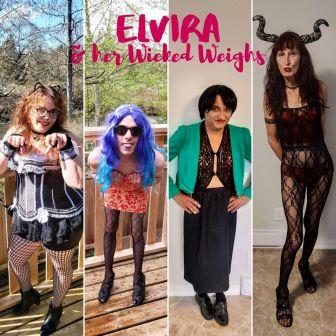 Contact:
info@charslanding.com 778-421-2427
Fri, May 29th, 7:30pm PT (virtual doors 7pm), Elvira & her Wicked Weighs w/Robbie Van
Elvira & her Wicked Weighs is the brainchild of Robbie Van. A passion project that has been years in the making, Robbie is thrilled to finally be bringing her unusual music to the world. Bringing onboard vocalist & accent percussionist Bronwynn, vocalist & guitarist Jeff and drummer Karen, together they have formed the jazz fusion band PanAmour. As PanAmour, they present their alluring, naughty, and burlesque-esque uproarious revue Elvira & her Wicked Weighs, where Robbie plays the scintillating Elvira, Bronwynn the resident sex kitten Kitty Kaos, Jeff the sassy Foxy Brown and Karen the rogueish Knotty Karen.
Come and follow Elvira as she and the Wicked Weighs travel "Upside Down in Wonderland", a journey that is sure to be a titillating tongue-in-cheeks experience! You'll be left with a very tickled funny bone and feet itching to dance! You don't want to miss this deliciously delightful debut!  https://www.facebook.com/robbievanmusic/
https://alberni.ca/events/35317   https://www.facebook.com/events/580089439290009/
The concert will be broadcast live through ZOOM from Char's Landing stage. Band members will be exercising social distancing.
Tickets $5 available now.  ZOOM link will follow via email.
https://sidedooraccess.com/shows/ps8AdhN5ARpnyPZPm2TM
OR eTransfer "event date and your email address" to info@charslanding.com
OR call 250-730-1636 to charge by phone.
Char's Landing 19+ (accompanied kids welcome) 4815 Argyle @5th Port Alberni, Vancouver Island, CANADA V9Y 1V9 Tel: 778-421-2427 www.charslanding.com