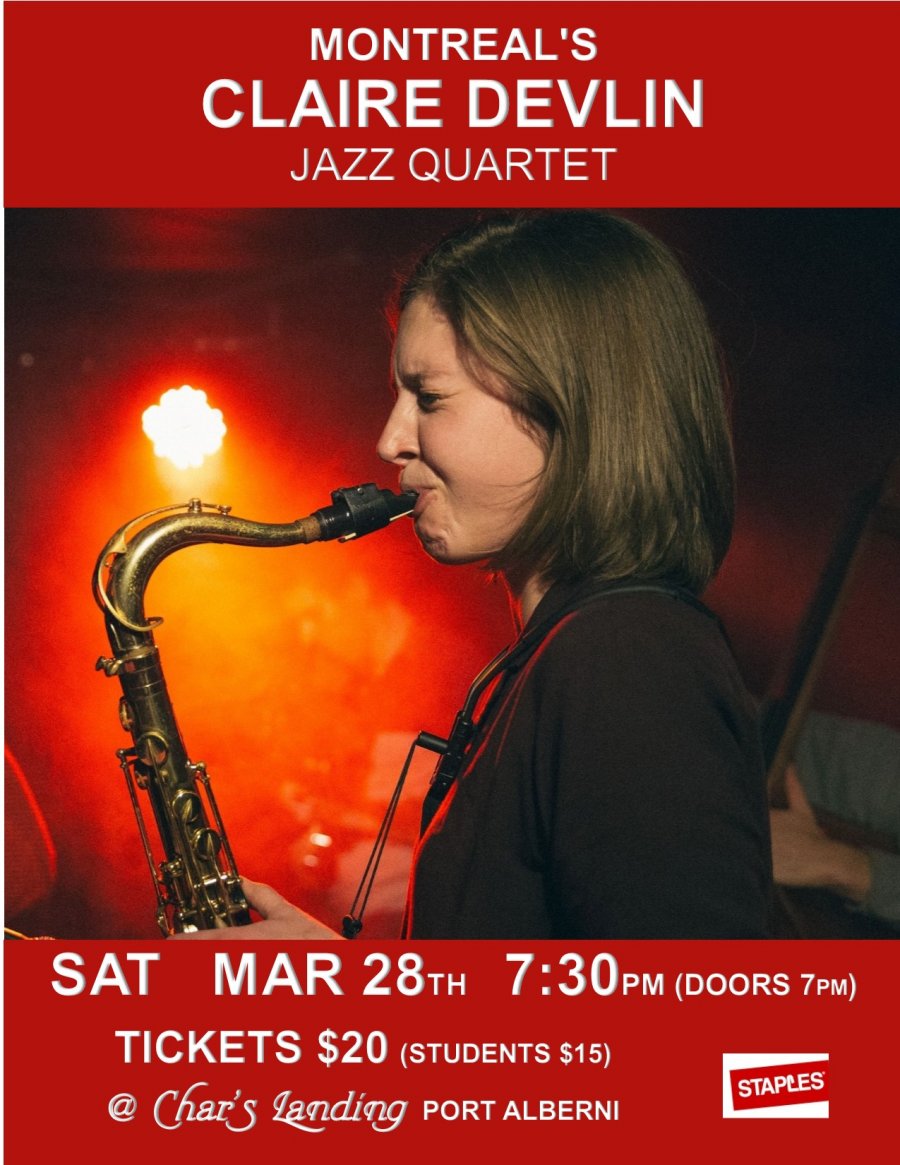 Date:
Saturday, March 28, 2020 -
Contact:
info@charslanding.com 778-421-2427
Hi Char, 
Hope you are well. Unfortunately, due to COVID-19 and the resulting cancellations, I have decided to cancel our entire tour to Western Canada.
We were very much looking forward to playing at Char's Landing. We are looking into coming at the end of October instead. Do you think we might be able to reschedule with you for that time?
Let me know.
Wishing you good health,
Claire
Sat, Mar 28th, 7:30pm (doors 7), Montreal's Claire Devlin Jazz Quartet
Formed in 2016, the Claire Devlin Quartet comprises four of Canada's most exciting new voices in jazz. Hailing from across the country, the group met while studying music at McGill University in Montreal. Since, they have performed their music throughout central Canada. Adventurous yet lyrical, Devlin's strong compositional voice unites this group of talented improvisors into a cohesive unit. Each musician plays with a selfless dedication to Devlin's weaving melodies and intricate rhythms. The group is excited to announce the imminent release of their first full length studio album, due out in March 2020.
Claire Devlin – tenor saxophone   Roman Munoz – guitar   Summer Kodama – bass   John Buck – drums
Born in Ottawa, Ontario, Claire Devlin began playing piano at the age of five, and by twelve, had taken up the saxophone, studying under Ottawa saxophonist Mike Tremblay.
Throughout high school, Claire was a member of numerous ensembles, including the Nepean All-City Jazz Band, one of Canada's leading youth jazz groups, as well as the Ottawa Junior Jazz Band and Bells Corners Jazz Ensemble. Under the guidance of several outstanding music teachers , namely Mike Tremblay, Jean-François Fauteux, Neil Yorke-Slader, Mandar Gumaste, Yves Laroche, and Shauna MacDonald, she honed her skills in tenor saxophone as her main instrument, as well as alto and soprano sax, clarinet and flute.
In 2012, Claire was selected for the Yamaha All-Star Band as part of MusicFest Canada, performing at the National Arts Centre's Southam Hall with featured guests Chase Sanborn and Campbell Ryga. When she was named the "Rising Young Star" of the Prince Edward County Jazz Festival that same year, she performed with each of the headliners: Emilie-Claire Barlow, Don Thompson, Cannonball Legacy Band, and Boss Brass Reunion Band.
Claire earned her Bachelor of Music (with Distinction) in Jazz Performance from the Schulich School of Music, McGill University, where she studied with saxophonists Chet Doxas, Remi Bolduc, Frank Lozano, and Donny Kennedy, as well as pianist Jean-Michel Pilc.
Now living and working in Montreal, Claire is an active member of the Canadian jazz scene. She plays in a number of bands, including the Claire Devlin Quartet, The Plastic Waste Band, and the Sarah Rossy Chamber Ensemble.
Video: https://youtu.be/zDdtbY78cMw
https://www.facebook.com/clairedevlinmusic
https://www.youtube.com/clairedevlinmusic
https://www.instagram.com/clairedevlinmusic
Tickets $20 (Students $15) now
charge by phone (778) 421-2427, cash @Rollin Arts & Gayle's Fashions, online http://bpt.me/4536636, service charges may apply
FMI http://alberni.ca/events/35217   https://www.facebook.com/events/201602510965216/
Char's Landing 19+ (accompanied kids welcome) 4815 Argyle @5th Port Alberni V9Y 1V9 Tel: 778-421-2427 www.charslanding.com