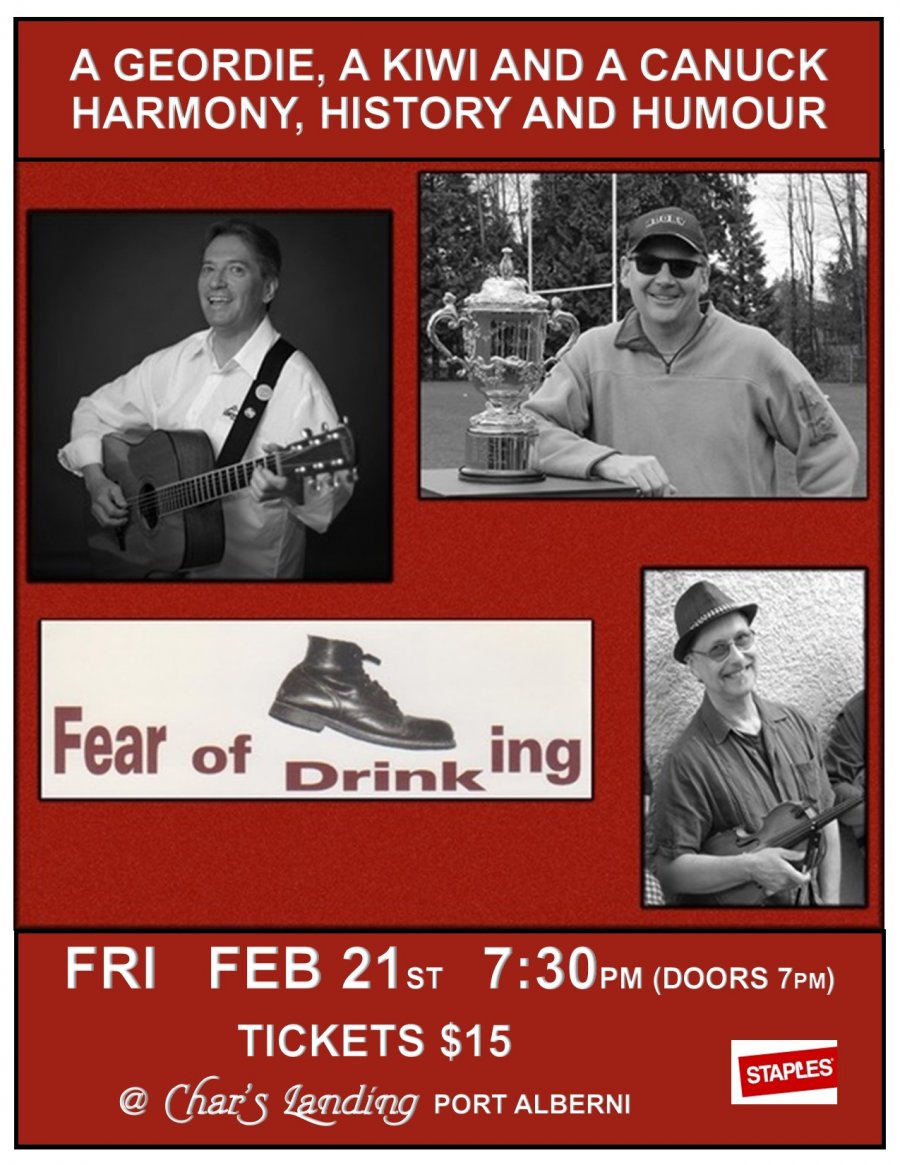 Date:
Friday, February 21, 2020 -

7:30pm

to

9:30pm
Contact:
info@charslanding.com 778-421-2427
Fri, Feb 21st, 7:30pm (doors 7), Tim Readman & Fear of Drinking - Celtic
The music is mainly Celtic folk with two of us on guitar and vocals with a fiddler/mandolin player.
A Geordie, a Kiwi and a Canuck. Harmony, History and Humour
Blended together in traditional and original Folk, Celtic, British, and Down Under stylings (throw in the odd Pogues ditty), Englishman Tim Readman, paired with New Zealander Gerard Kerr, and supported by Canadian multi-instrumentalist Tom Neville, have reunited to present Fear of Drinking, the sequel. You're in for a fun filled evening of entertaining and eclectic music.
Tim Readman (vocals/guitar), has been a stalwart part of the BC and Canadian folk music scenes for a long time since emigrating from North Eastern England. Besides producing and artistically directing festivals, as well as writing for acclaimed roots music magazines Penguin Eggs and the Rogue Folk Club, he is a consummate performer and songwriter. He's made a huge and positive impact on his adopted hometown and country. His band, Fear of Drinking, was a much loved staple in the Vancouver Celtic and Folk scene for a good 10 years in the 1990's. He has also opened for and joined with acclaimed Canadian comedy troupe The Arrogant Worms on many occasions. It's quite the eclectic career. His production company Big City Productions has produced recordings and videos for many other folk and popular music acts. He was the Artistic Director at the Vancouver Celtic Fest for a couple of years and still contributes.
Gerard Kerr (vocals/guitar/bodhran), is a Vancouver based singer songwriter, guitar and bodhran player hailing from Southland, New Zealand where he began performing in the local folk clubs and performer stages. While always meaning to audition for Led Zeppelin he ended up on the folk/traditional/celtic side of things learning the songs and stories of the early Australasian settlers. Moving to Vancouver he became a founding member of the infamous Fear of Drinking playing "a reckless musical repertoire, fearless tunes, and dangerously captivating stage performance."
Tom Neville (vocals/fiddle/mandolin), a member of Fear of Drinking for over 6 years in the 1990's Tom has also been very busy freelancing in many other bands and productions throughout Canada over an almost 4 decade span. Since moving to Oceanside from Vancouver over 3 years ago, Tom has kept busy integrating himself into the local music scene. He can be heard playing with local artists such as the Gerry Barnum trio, Bev Finch (Finch and the Fiddler), folk icon Rick Scott and Nico Rhodes, Django styled quartet Typsy Gypsy Jazz and blues stalwarts Blue Dog Ramble, amongst others. Tom's playing offers up a wide variety of musical tastes; Folk, Celtic, Blues, Popular, Jazz, Country and Ethnic flavours performed in many varied settings. In 2001 he released his first solo CD, "Highly Strung", a collection of original and traditional material. Some career highlights include a command performance for the Duke and Duchess of Kent at the National Arts Centre in Ottawa (backing Joelle Rabu), performing with Danny Kaye and the Peking Pops Orchestra at Expo 86, and recording and performing with Juno award winner James Kellaghan
Tickets $15
charge by phone (778) 421-2427, cash @Rollin Arts & Gayle's Fashions, online http://bpt.me/4504582, service charges may apply
FMI http://alberni.ca/events/35152   https://www.facebook.com/events/878218785969573/
Char's Landing 19+ (accompanied kids welcome) 4815 Argyle @5th Port Alberni V9Y 1V9 Tel: 778-421-2427 www.charslanding.com