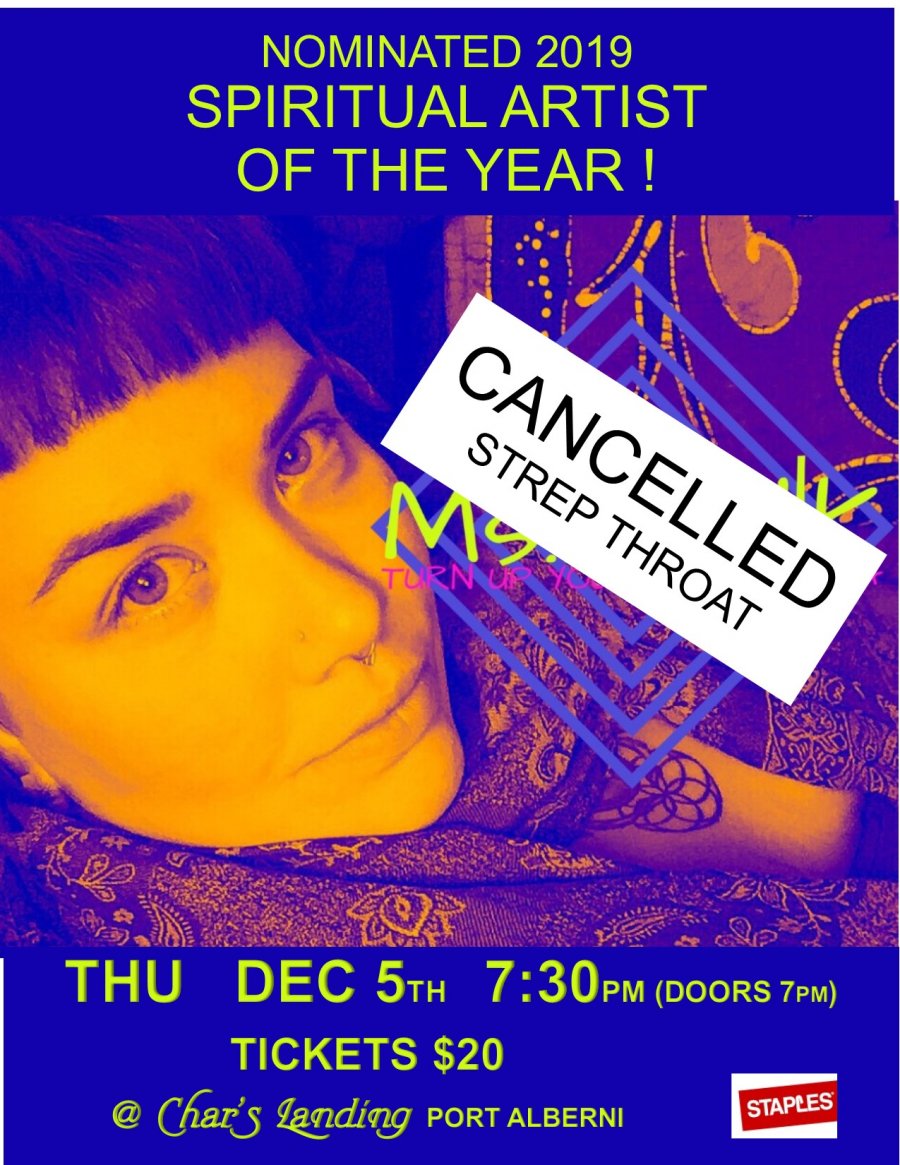 Date:
Thursday, December 5, 2019 -
Contact:
info@charslanding.com 778-421-2427
Dec 5th 10am Ms.PAN!K has come down with strep throat this morning and sadly has had to cancel her whole weekend dates.  She has sent her most sincere apologies.  Please join me in wishing a speedy recovery.  Char.
https://www.albernivalleynews.com/entertainment/west-coast-poet-and-songwriter-creates-soundscapes-at-chars-landing-in-port-alberni/
Thu, Dec 5th, 7:30pm (doors 7), Ms.PAN!K Haida Loop Poet
Femme-Powered - Loop pedal-driven Alt-Indie, hip-hop, Neo -Folk & Soul influenced production.
Haida Loop Poet & Wholesome*MC Ms.PAN!K creates dynamic soundscapes with her guitar, voice & loop station.
Rich layered vocal harmonies stacked on looped-melodies are mixed with conscious rhymes and her soul-full lyrics creating experimental loop poetry.
Ms.PAN!K weaves poetic verses into dynamic loop-crafted melodies, often improvised and tailored for the energy of each audience, her music is meant to drop some healing wisdom to inspire & entertain.
K'iinduu- Aus Vira Danyk is originally from the Unceded Territory of her Xaayda Ancestors & The HAIDA Nation Member to the K̲aayahl 'Laanaas Clan --- Raised in the Village of Skidegate on the beautiful and remote island archipelago of Haida Gwaii on the Wild West Coast of what is now called British Columbia, Canada. Long Term Resident on Unceded Tla-o-qui-aht Territory Tofino, BC.
Ms.PAN!K is a Western Canadian Music Awards 2019 Nominee - for "Spiritual Artist of the Year"
https://breakoutwest.ca/awards/music-awards
2018 Bell Media Prize Recipient to attend Canada's Music Incubator Artist Entrepreneur Program in Toronto, ON!
#TIMETOPANIK #TURNUPYOURINNERFREQ #INNERFREQ #LOOPPOET
https://panikdanyk.bandcamp.com/   https://youtu.be/clJW-4SUcvc
Tickets $20 on sale now
charge by phone (778) 421-2427, cash @Rollin Arts & Gayle's Fashions, online http://bpt.me/4443249, service charges may apply
FMI http://alberni.ca/events/35000   https://www.facebook.com/events/784855835287737/
Char's Landing 19+ (accompanied kids welcome) 4815 Argyle @5th Port Alberni V9Y 1V9 Tel: 778-421-2427 www.charslanding.com