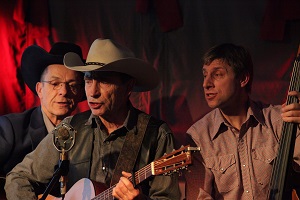 Date:
Saturday, November 9, 2019 -
Contact:
info@charslanding.com 778-421-2427
https://www.albernivalleynews.com/entertainment/banff-park-wardens-take-musical-tour-to-port-alberni/
Sat, Nov 9th, 7:30pm (doors 7), The Wardens – Music From the Mountains
"life on the trail, mountain rescue, grizzly bears, wildfire" songs/stories/slide show
Trio from Canmore Alberta.  All performed by us real park wardens from Banff and Glacier (B.C.) National Parks
The Wardens don't just sing about the land, they're part of it. With haunting three-part harmonies and chilling tales, The Wardens' mountain music rises from land they've protected as rangers in the Rocky Mountain national parks.
With performances equal to their mastery of the ranger trade, The Wardens – Scott Ward, Bradley Bischoff and Ray Schmidt – are a Banff National Park-based trio whose stories rise from the very land they've protected for the past 60+ years.
 
The Wardens' mountain music, blending folk, roots and western styles, is a piece of Canadiana reflecting the pristine wilderness of the Rocky Mountains. The trio have performed at Folk Alliance International, Canmore Folk Fest, Alberta Showcase and shared the stage with Blue Rodeo, Paul Brandt, Scenic Route to Alaska and Ian Tyson.
 
BRADLEY BISCHOFF – Vocals, lead and rhythm guitar.Stationed horses for seventeen days at a time, Bradley penned many songs by the dim cabin lights and the dusky summers spent in the high alpine ranges. Bradley was a founding member of the popular Alberta Swing/Rockabilly band The Free Rangers.
 
RAY SCHMIDT – Vocals, upright bass, mandolin.Currently posted in Rogers Pass, British Columbia, Ray works with grizzly bears in the interior rainforest of Glacier National Park. Ray founded The Wardens in 2009 with Scott Ward during the national park warden centennial after discovering the rich depth of music and stories within this region of Canada. Translating the high lonesome sound of the Kentucky hills to those of the Rocky Mountains, Ray's vocals amplify the spirit of The Wardens' Mountain music.
 
SCOTT WARD – Vocals, fingerstyle guitar.A national park warden for over 30 years in Banff National Park, Scott's music stems from a life lived in the deep wilderness of the Canadian Rockies as a horseman, search-and-rescue dog handler and technical alpine specialist.
 
"The quintessential mountain-culture concert experience."
~ Jamie Bliss, Kootenay Mountain Culture Magazine
 
http://thewardensmusic.com/   https://youtu.be/iqhSQeiDeJE
Advance $20 (Showdate $25 / Kids $15) now
charge by phone (778) 421-2427, cash @Rollin Arts & Gayle's Fashions, online http://bpt.me/4423053, service charges may apply
FMI http://alberni.ca/events/34935   https://www.facebook.com/events/2438049986442115/
Char's Landing 19+ (accompanied kids welcome) 4815 Argyle @5th Port Alberni V9Y 1V9 Tel: 778-421-2427 www.charslanding.com