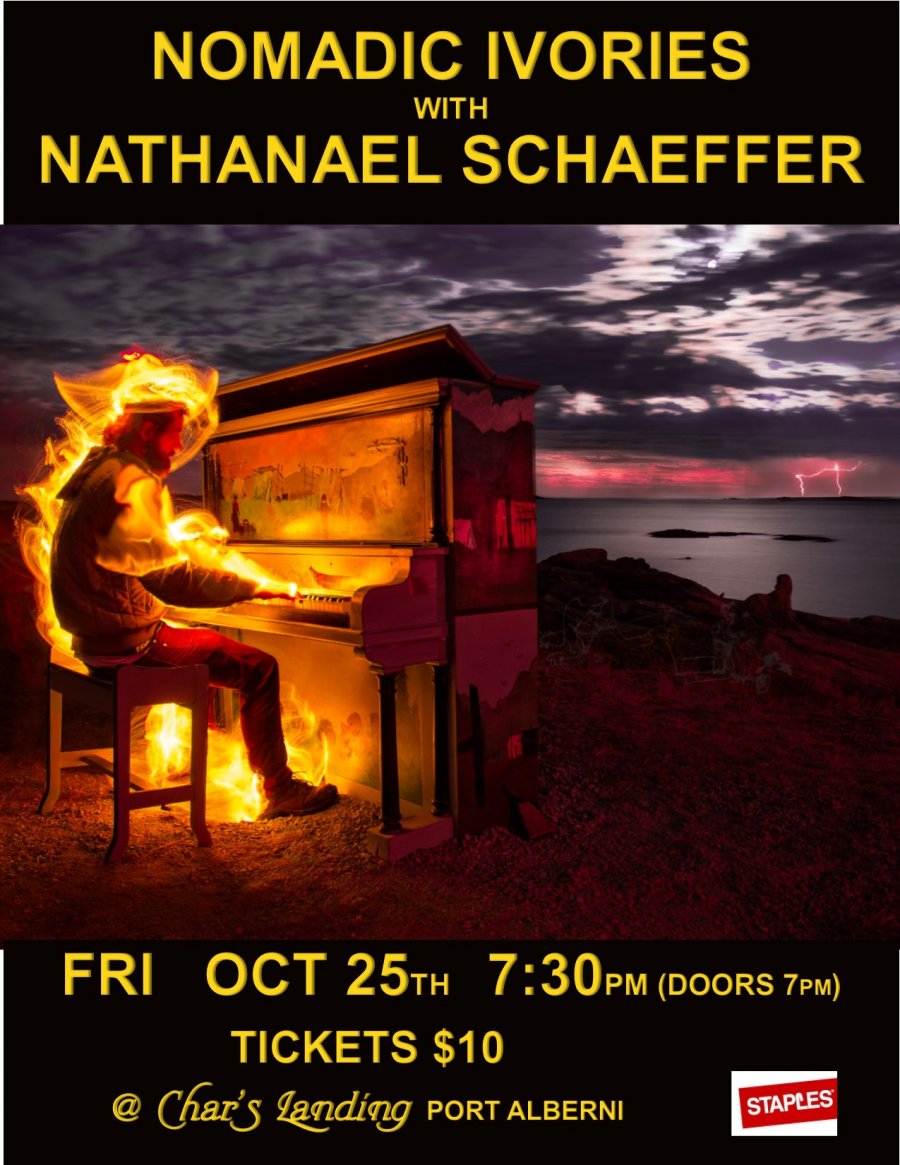 Date:
Friday, October 25, 2019 -
Contact:
info@charslanding.com 778-421-2427
Fri, Oct 25th, 7:30pm (doors 7), Nomadic Ivories with Nathanael Schaeffer
Nathanael Schaeffer with a microphone, a guitar, and a piano; storytelling with sound.
No one genre lets this music breathe, so we will discover what the evening calls for, and hope to resolve into peace.
Char's Landing is licensed, but feel free to bring your own food, relax with some friends, and enjoy a musical adventure.
Nomadic Ivories:  A half decade ago, after a youth full of a love, hate musical journey of lessons, a series of life changing events led Nathanael to realise his life purpose.  Since then he has shifted from inwardly developing as a being, with music in and out of focus, to being dedicated into giving his gift of music to the world.  From the humbling streets, to remote forests and beaches, to the fanciest of keys; sharing with the homeless, those with stockpiles, and everyone in between; he moves forward, growing, hunting pianos with a guitar slung over his shoulder.  Composing and performing, problem solving; how to step and thrive while truly dedicated to living an art form in todays society, he follows the path.  A carefully sculpted trail of a nomad leaves a resonance.  Rooted in raw, bare, homely foundations an infrastructure sprouts; a colourfully, textured vibration of medicine and imagination candy. 
Tickets $10 available now
charge by phone (778) 421-2427, cash @Rollin Arts & Gayle's Fashions, online http://bpt.me/4387587, service charges may apply
FMI http://alberni.ca/events/34885   https://www.facebook.com/events/491500051681965/
Char's Landing 19+ (accompanied kids welcome) 4815 Argyle @5th Port Alberni V9Y 1V9 Tel: 778-421-2427 www.charslanding.com