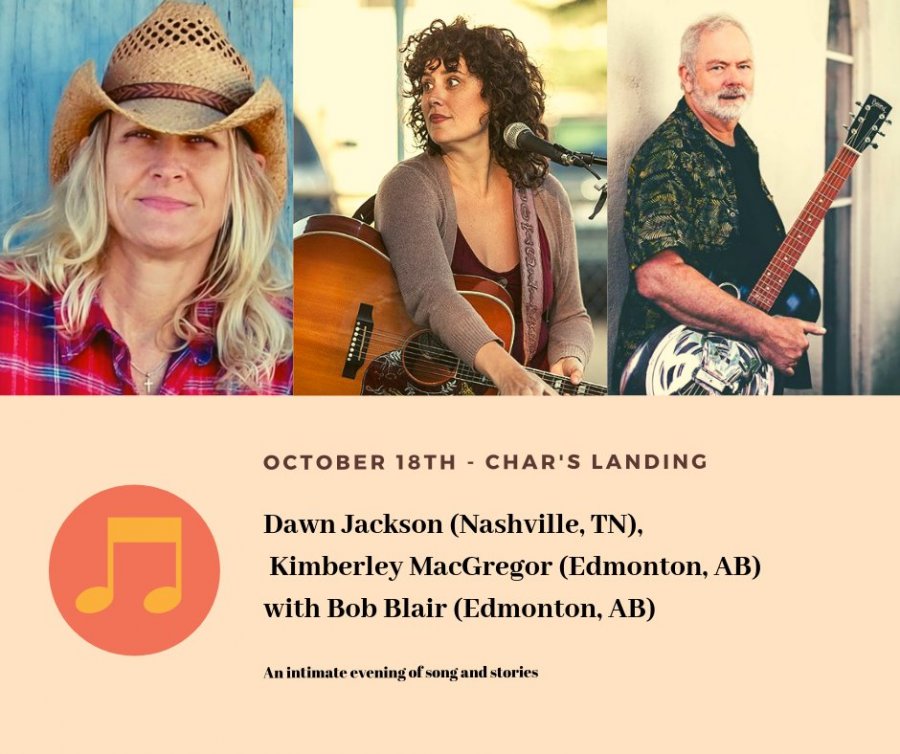 Date:
Friday, October 18, 2019 -
Contact:
info@charslanding.com 778-421-2427
Fri, Oct 18th, 7:30pm (doors 7), Dawn Jackson, Kimberley MacGregor and Bob Blair
Dawn Jackson grew up plucking strings on the guitars hanging on the walls of her grandfather's Sho-Bud Guitar Company in Nashville, Tennessee. A branch off the pedal steel pioneering Jackson family, which has produced some of the most artistic and emotive instruments in the world, she followed the string pulls of her music-woven DNA strands to continue the tradition of creating music that expresses both heartache and hope.
Her authentic storytelling style of songwriting paints lyrical images, braided with melodic and atypical chord progressions, all complemented by lush, full and moody vocals, topped with a hint of inescapable twang.
A reformed bank manager, Kimberley realized she was doing a successful job of living someone else's life—and a poor job living her own. In 2013, she launched her original songs into the world and took centre stage.
She has since released two full-length albums and was awarded Female Artist of the Year at both the 2015 and 2016 Edmonton Music Awards.
She lovingly crafts and passionately performs songs that will move your heart, change your mind and stomp your feet. Weaving seamlessly between blues, folk and rock, her common threads are strength, vulnerability and badassery, always sizzling with soul.
https://kimberleymacgregor.com/   https://youtu.be/eO6-al3l3tw
Bob Blair divides his time between Edmonton, Alberta and Gabriola Island, British Columbia. A multi-instrumentalist and singer, Bob regularly performs on guitar, pedal steel guitar, dobro and Weissenborn. As a pedal steel guitarist Bob gained his early experience playing steadily on the Eastern Ontario and Toronto club circuit. In addition to live performances across Canada with numerous artists as well as solo appearances, Bob has been a session player on a number of CD's and jingles. He has performed frequently at steel guitar shows in Canada and the United States and in particular appears frequently at the annual Texas Steel Guitar Association Jamboree in Dallas.
Advance $10 (Showdate $15 / Kids12- $10) now
charge by phone (778) 421-2427, cash @Rollin Arts & Gayle's Fashions, online http://bpt.me/4361264, service charges may apply
FMI http://alberni.ca/events/34877   https://www.facebook.com/events/2214226792039159/
Char's Landing 19+ (accompanied kids welcome) 4815 Argyle @5th Port Alberni V9Y 1V9 Tel: 778-421-2427 www.charslanding.com