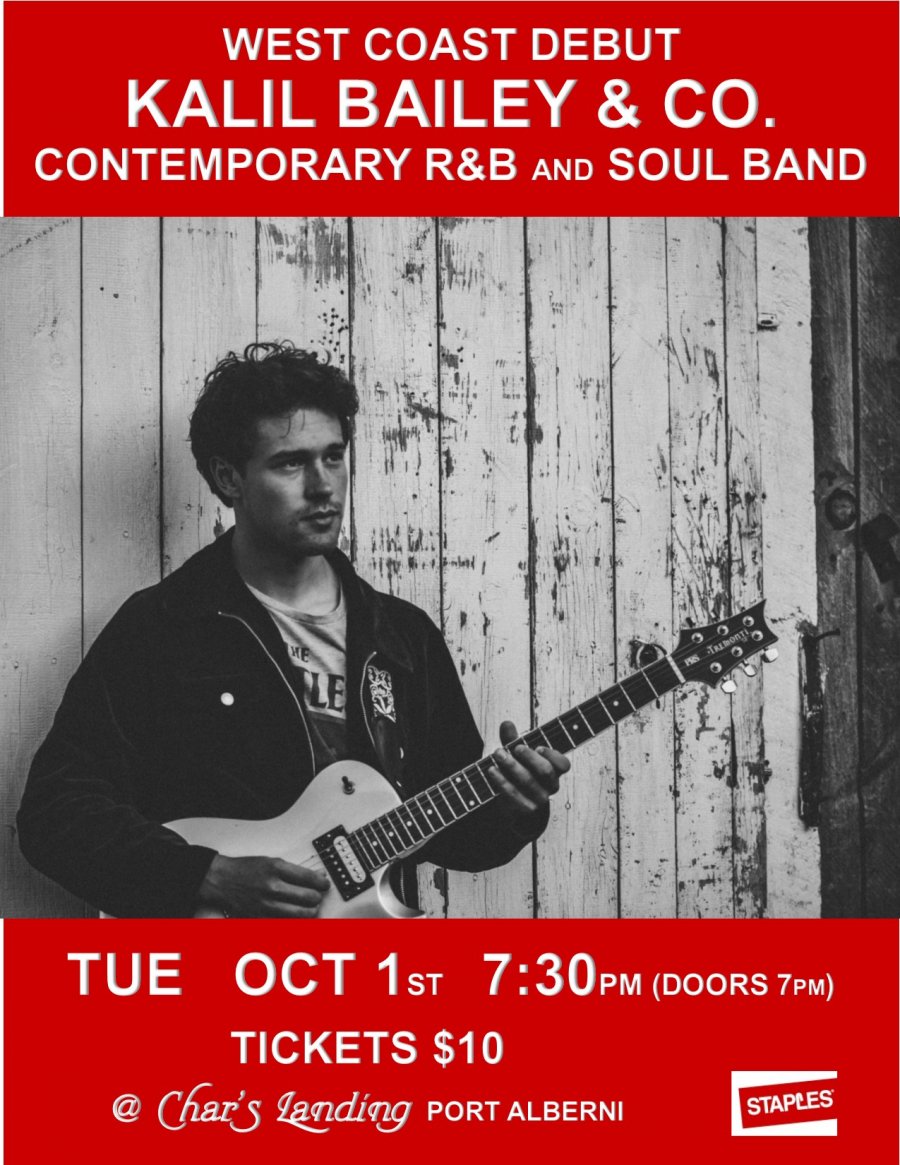 Date:
Tuesday, October 1, 2019 -
Contact:
info@charslanding.com 778-421-2427
Tue, Oct 1st, 7:30pm (doors 7), Kalil Bailey & Co.
A guitar and vocal driven 4 piece Contemporary R&B and Soul band, with influences from Blues, Jazz, and pop music
A 19-year-old singer and guitarist from Perth, Ontario, Kalil Bailey grew up on the delicate folk of Sarah Harmer and the high energy atmospheric rock of Half Moon Run. From these roots has grown a love of funk and all things groovy, inspiring an upbeat blend of soul, pop, and rock. Kalil spent his last year attending the prestigious Humber College in Toronto, studying jazz performance. There he honed his technical abilities and immersed himself in the Toronto music scene, taking inspiration from its diversity and depth. Kalil's energetic stage presence and soulful delivery has been developed playing pubs, private events and festivals across Ontario over the past 6 years.
Making his West Coast debut this September, we're very excited to announce that Kalil, alongside his band of Vancouver Island talent will be playing one night only at Char's Landing in Port Alberni!
Acoustic Cover: https://soundcloud.com/kalil_bailey/dandelions-in-bullet-holes-sarah-harmer-cover
Tickets $10 available now
charge by phone (778) 421-2427, cash @Rollin Arts & Gayle's Fashions, online http://bpt.me/4357212, service charges may apply
FMI http://alberni.ca/events/34874   https://www.facebook.com/events/1145272128998297/
Char's Landing 19+ (accompanied kids welcome) 4815 Argyle @5th Port Alberni V9Y 1V9 Tel: 778-421-2427 www.charslanding.com