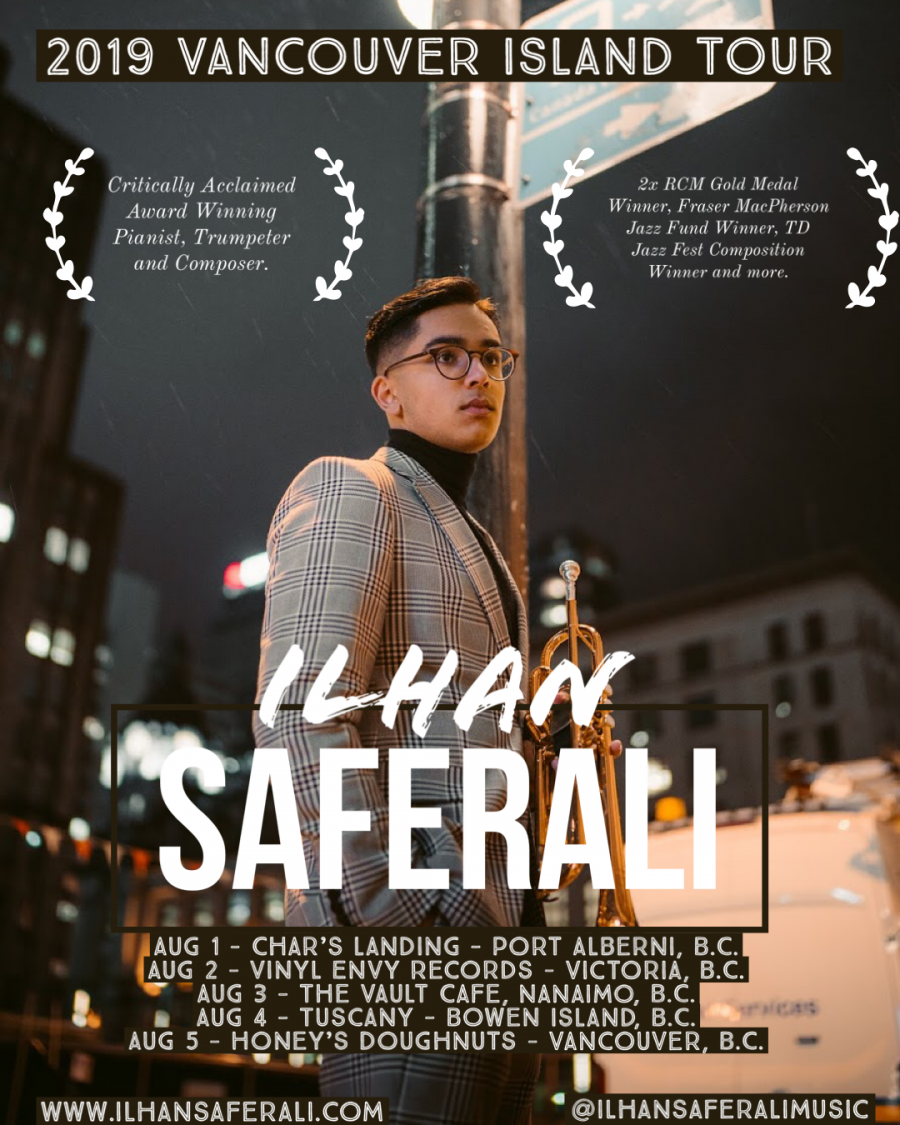 Date:
Thursday, August 1, 2019 -
Contact:
info@charslanding.com 778-421-2427
Thu, Aug 1st 7:30pm (doors 7), Ilhan Saferali Jazz Quartet
This show marks the first show of my tour along Vancouver island! I hope you can make it out. Very excited to be playing with some great young jazz musicians from our province!
Ilhan Saferali: Trumpet
Elysia Biro: Piano
Brock Meades: Bass
Riley Dibble: Drums
Ilhan Saferali is starting young at getting his name out on the jazz scene. Ilhan, playing trumpet and piano, has accomplished a lot for himself as a young musician. Ilhan has played with Grammy award wining musicians such as Chucho Valdes and Kamasi Washington, and has worked with the David Suzuki Foundation for their ECOmusicology project. Ilhan was recently interviewed about his career and his music on CBC radio Canada. Ilhan's playing ability is very versatile; playing Jazz, Rock, Funk and Latin music. Ilhan's piano style takes from classic piano players such as Bill Evans and Oscar Peterson and is heavily influenced by modern jazz players such as Brad Mehldau. Ilhan's notable accomplishments are, 2017 Fraser McPherson Jazz Fund finalist, 2 time Highest RCM mark in British Columbia, Scholarship to the Humber jazz workshop, Best Senior Musician at Kiwianis Jazz festival, 3000 dollar scholarship to Humber college, and Receiving a 5,000 dollar scholarship to Berklee School of music 5 week summer intensive 2 years in a row. Ilhan now composes complex modern jazz arrangements and plays theatres and halls alike. His sound is very mature and his soloing is undoubtedly complex for his age. Ilhan regularly gigs around town with students from the Capilano University jazz program. Ilhan's peers look up to him as an inspiration and his teachers look at him as the future of Vancouver and global jazz scene.
Tickets $12 available now
charge by phone (778) 421-2427, cash @Rollin Arts & Gayle's Fashions, online http://bpt.me/4294722, service charges may apply
FMI http://alberni.ca/events/34733   https://www.facebook.com/events/459883011518670/
Char's Landing 19+ (accompanied kids welcome) 4815 Argyle @5th Port Alberni V9Y 1V9 Tel: 778-421-2427 www.charslanding.com