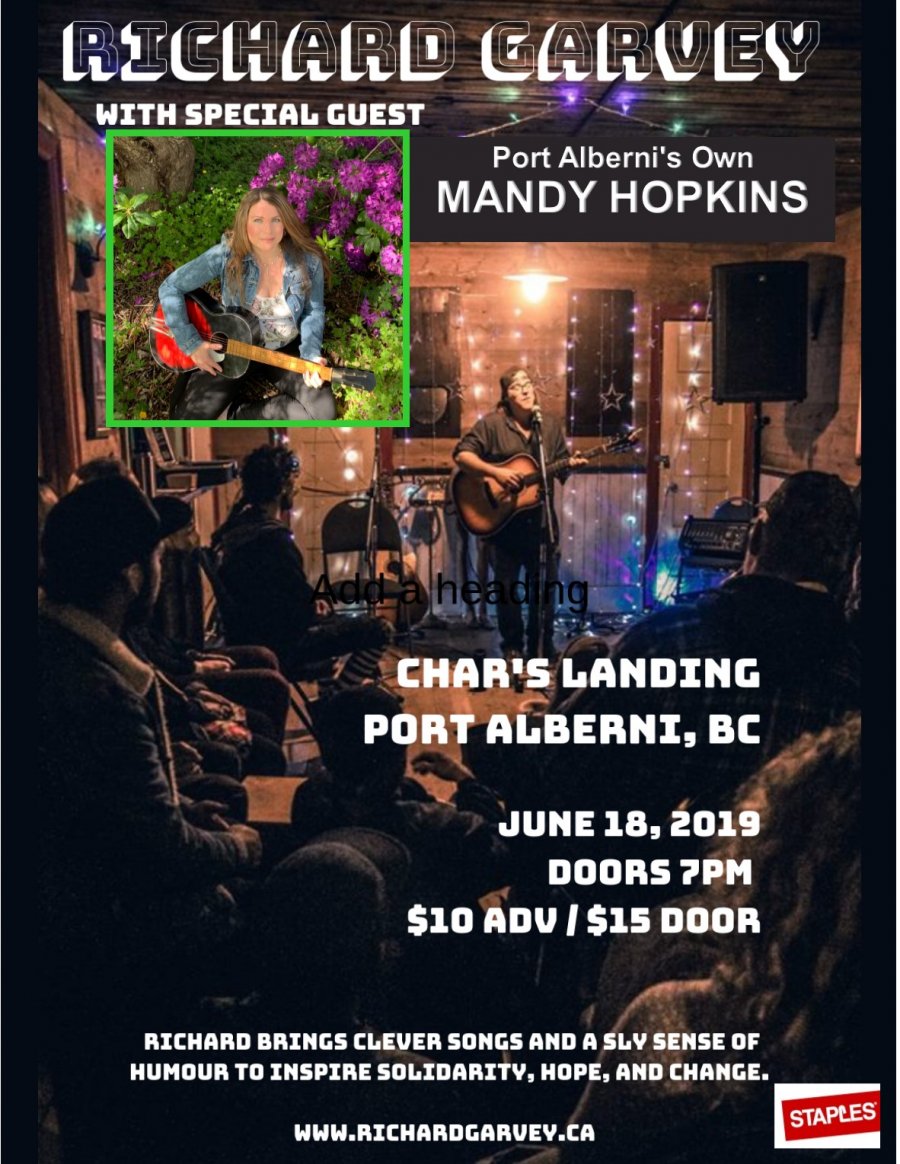 Contact:
info@charslanding.com 778-421-2427
Tue, Jun 18th, 7:30pm (doors 7), Richard Garvey / Musician & Arts Organizer + Mandy Hopkins
Richard Garvey is guitar-strumming, banjo-plucking, and sing-along-starting performer and community organizer from Kitchener. His award winning songs explore the highs and lows of love, injustice, and the marbled mess of the human condition. Whether he's playing to a living room or an amphitheatre, Richard brings clever songs and a sly sense of humour to inspire solidarity, hope, and change.  If you're looking for the latest incarnation of world-changing, foot-stomping, and heart-filling folk music, see Richard Garvey.
www.richardgarvey.ca/   https://youtu.be/fXDf92UA2ww
Mandy Hopkins.  I'm a small-town girl born and raised in beautiful Port Alberni. Music has been a part of my life for as long as I can remember, whether it be singing in a choir or musical, playing my violin with Phil's Harmonics, or singing with my old group the Shutter bugs. I've competed in multiple music festivals around the island, winning on occasion. I have also sung as a duet for the closing ceremony at the BC Winter Games in 2004. Recently, I have been learning how to play the acoustic guitar and dabbling in writing my own music.  Typically, I play cover songs from my favorite artists, in country, rock, bluegrass and other genres; however, with the assistant of local producer John Greenberg, I'm hoping to introduce some more original music to my playlist.
https://www.facebook.com/mandy.hopkins.35977
Advance $10 (Showdate $15 / Kids12- $10) now
charge by phone (778) 421-2427, cash @Rollin Arts & Gayle's Fashions, online http://bpt.me/4255552, service charges may apply
FMI http://alberni.ca/events/34390  https://www.facebook.com/events/374508680074957/
Char's Landing 19+ (accompanied kids welcome) 4815 Argyle @5th Port Alberni V9Y 1V9 Tel: 778-421-2427 www.charslanding.com