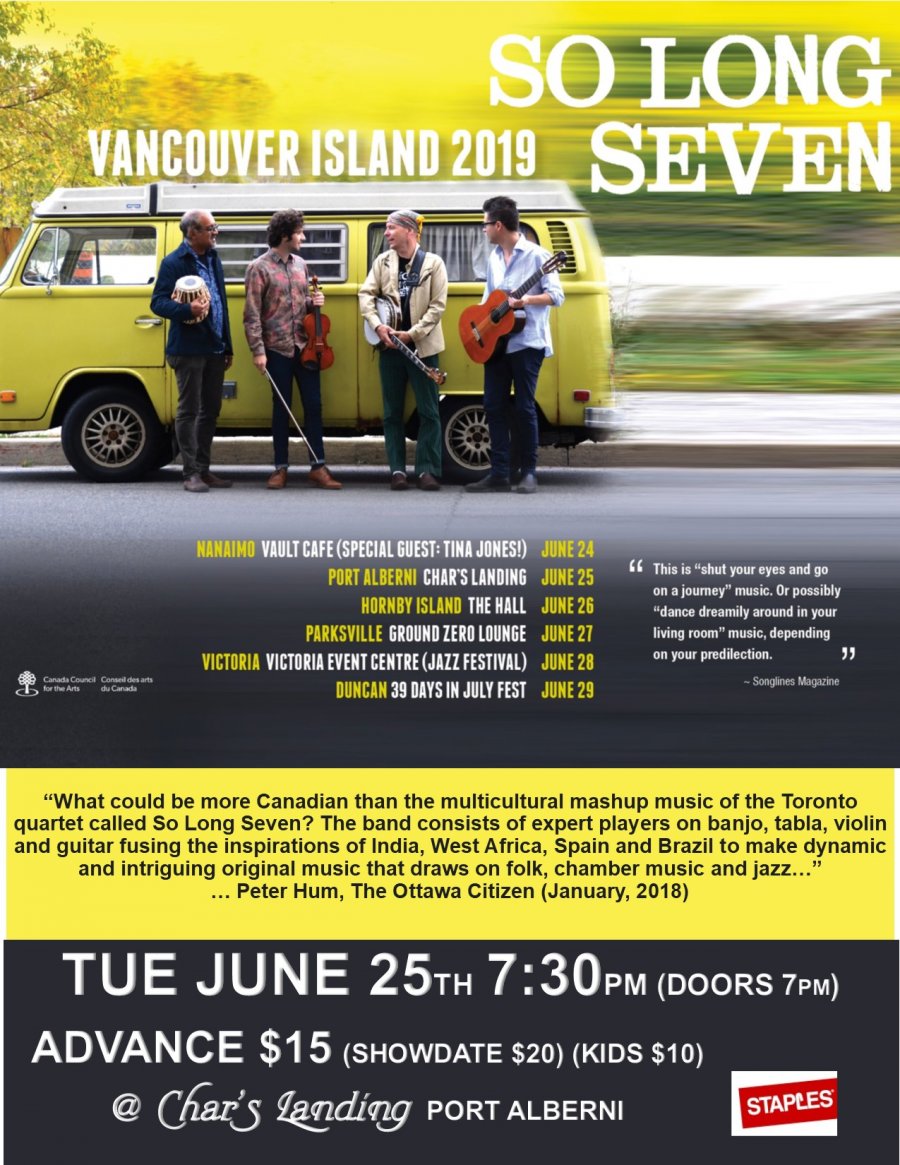 Contact:
info@charslanding.com 778-421-2427
Tue, Jun 25th, 7:30pm (doors 7), Toronto's So Long Seven Quartet
Acoustic music quartet So Long Seven make their debut in BC with a six night tour of Vancouver Island. #acoustic #world #jazz
THE BAND: Tim Posgate: banjo, Ravi Naimpally: table, Neil Hendry: guitar, William Lamoureux: violin
2018 HIGHLIGHTS:
- Kala Kalo tops the university/community radio station charts and stays in the top positions for three months
- First European Tour: Czech Republic, Germany, Netherlands and Belgium (November 2018)
- Nomination at Folk Music Awards 2019 in the category instrumental group of the year
A FEW QUOTES:
This is "shut your eyes and go on a journey" music. Or possibly "dance dreamily around in your living room" music, depending on your predilection…. it's just subtle, original music… Kala Kalo has a freshness and clarity likely to hold strong appeal to anyone
with an interest in idiosyncratic folk, world, and jazz-based music."
… about the latest album Kala Kalo, Li Robbins, Songlines (August, 2018)
"What could be more Canadian than the multicultural mashup music of the Toronto quartet called So Long Seven? The band consists of expert players on banjo, tabla, violin and guitar fusing the inspirations of India, West Africa, Spain and Brazil to make dynamic and intriguing original music that draws on folk, chamber music and jazz…"
… Peter Hum, The Ottawa Citizen (January, 2018)
Video link: https://www.youtube.com/watch?v=h8nOO8ek2kY
Website: www.solongseven.com   www.facebook.com/pg/solongseven
Music: https://solongsevenmusic.bandcamp.com/releases
Advance $15 (Showdate $20 / Kids12- $10) now
charge by phone (778) 421-2427, cash @Rollin Arts & Gayle's Fashions, online http://bpt.me/4253122, service charges may apply
FMI http://alberni.ca/events/34377   https://www.facebook.com/events/743293689829190/
Char's Landing 19+ (accompanied kids welcome) 4815 Argyle @5th Port Alberni V9Y 1V9 Tel: 778-421-2427 www.charslanding.com