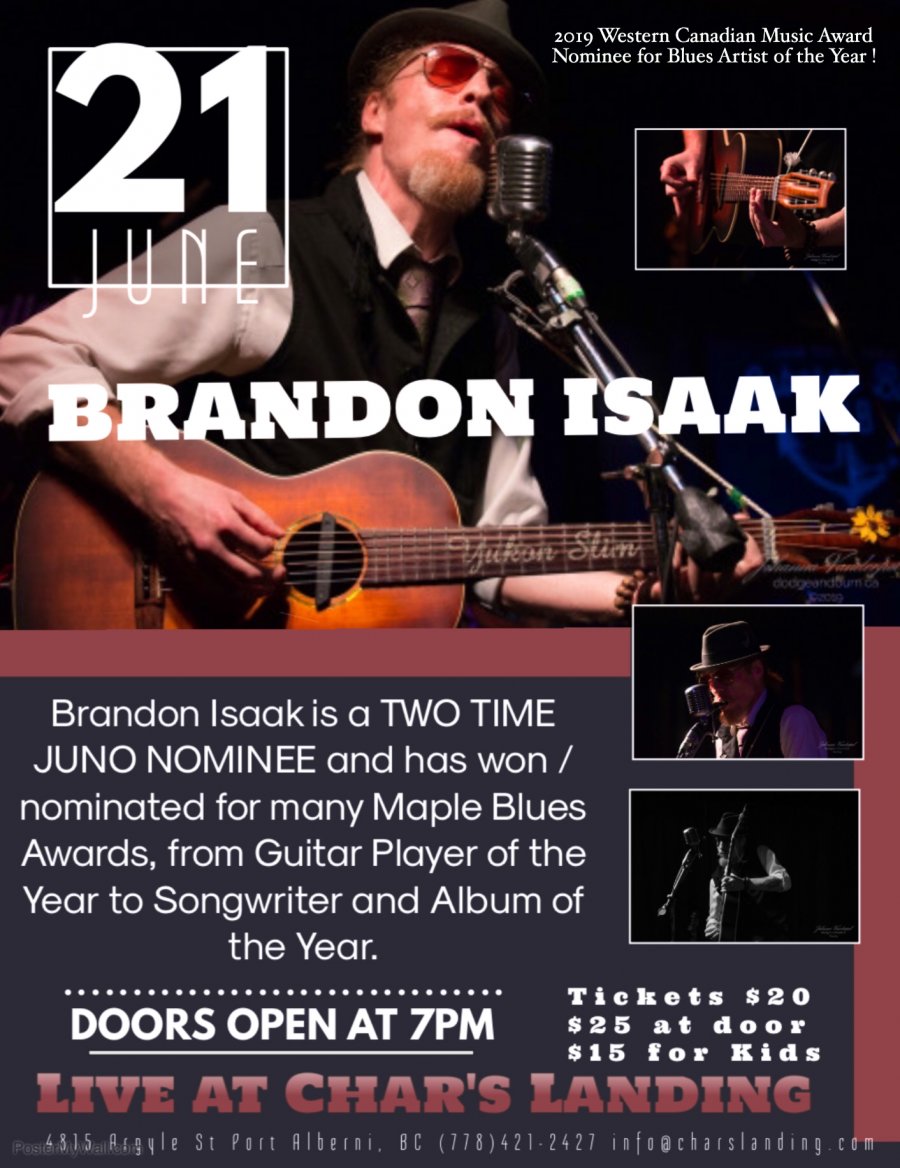 Contact:
info@charslanding.com 778-421-2427
Fri, Jun 21st, 7:30pm (doors 7), Brandon Isaak & his one man orchestra
This international touring roots and blues artist captivates his audience and takes them on a journey like a ring master in a circus. His music is passionate and straight from the heart and he can put his listeners in a spellbound trance or keep their feet tapping and hands clapping with his strong interaction with his audiences. Brandon Isaak always puts the song and the lyrics first. The recording can be primitive or simple, but the song and lyrics are the roots of the tree.
His last CD was nominated for a 2018 Juno Award for "Blues Album the Year" (Big City, Back Country Blues) with fellow band mates Kenny Wayne and Tim Williams. His new record (Rise n' Shine) heads in a slightly different direction than his previous two solo outings. It's more of a band recording, live with minimal microphones and more special guests sitting in throughout the CD. Listeners can expect smart, engaging lyrics and well thought out arrangements, all with a warm old school vibe. Not just putting out another overly produced blues record with typical blues lyrics was the intent on this latest release. This album has themes of life, love, acceptance, spiritualism and the sixth sense.
Brandon's affinity for the rawness and spontaneity of the blues is second to none, as anyone who has had the privilege of being a part of his audience will tell you. He brings a firebrand style of guitar as well as incredibly stirring vocals that truly has to be witnessed to be appreciated! He is very much in the moment as he rips it up, and we know you'll be impressed with the caliber of showmanship within his performance of songs & stories by this great Canadian artist.
"Brandon Isaak's original blues songs ring with authenticity and wit and his singing, guitar and harmonica playing are the living spirit of the best of the blues today! I consider Brandon to be a national treasure!"
- Jack Lavin, Powder Blues Band
https://www.brandonisaak.ca/   https://youtu.be/lN4pYxjErxw   
https://brandonisaak1.bandcamp.com/track/i-wanna-be-your-man
https://www.rootsmusicreport.com/charts/view/album/state/british-columbia/weekly/2019-04-27/2019-04-27
Advance $20 (Showdate $25 / Kids12- $15) now
charge by phone (778) 421-2427, cash @Rollin Arts & Gayle's Fashions, online http://bpt.me/4253082, service charges may apply
FMI http://alberni.ca/events/34376   https://www.facebook.com/events/566418507188680/
Char's Landing 19+ (accompanied kids welcome) 4815 Argyle @5th Port Alberni V9Y 1V9 Tel: 778-421-2427 www.charslanding.com