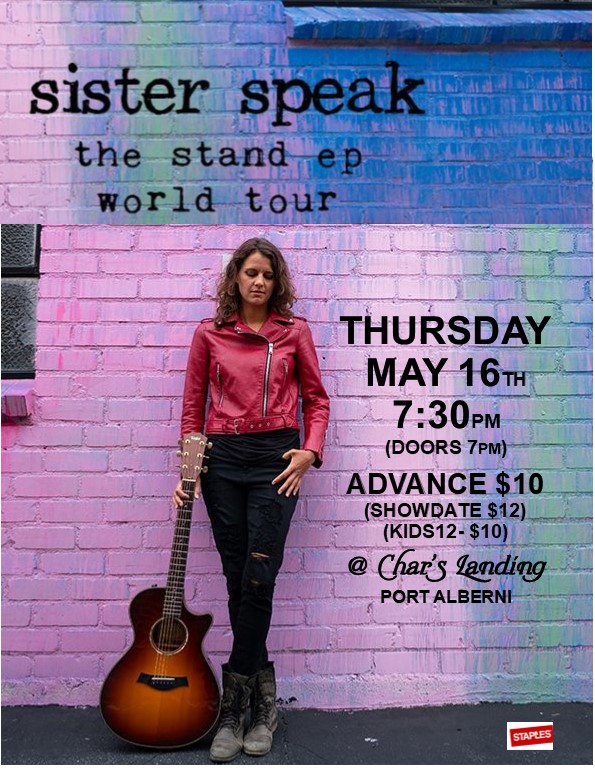 Contact:
info@charslanding.com 778-421-2427
Thu, May 16th, 7:30pm (doors 7), Sister Speak – The Stand EP World Tour - - Alt-Folk, World & Blues
Sister Speak returns to her Canadian roots and stops in Port Alberni as part of The Stand EP World Tour!
Sister Speak is on a world tour in support of sophomore record, 'The Stand EP.' The tour makes stops in Germany, USA, Canada, Central America and more.  Front woman Sherri Anne grew up in Victoria BC and spent her childhood on the island.  Now based in Los Angeles, she returns to her home region to share her new music and stories from the road!
Sister Speak has successfully headlined legendary music clubs in California and BC, played at various festivals and events worldwide and shared the stage with Air Supply, Kandace Springs, Chris Isaak and Xavier Rudd among others. The live show combines passionate indie-rock, acoustic-blues and world music. Sponsors/partners: Taylor Guitars, D'addario, Jagasilk Tea
Sister Speak (Los Angeles CA / Victoria BC):
Web: http://www.sisterspeakmusic.com/
Music: https://soundcloud.com/sisterspeak/sets/topreleases
 Live Solo Video (The Stand): https://youtu.be/pCI4-KLeveo
Official Music Video: The Stand - https://youtu.be/eRay1vhS0Bw
Advance $10 (Showdate $12 / Kids12- $10) now
charge by phone (778) 421-2427, cash @Rollin Arts & Gayle's Fashions, online http://bpt.me/4228915, service charges may apply
FMI http://alberni.ca/events/34318   https://www.facebook.com/events/2308785292732782/
Char's Landing 19+ (accompanied kids welcome) 4815 Argyle @5th Port Alberni V9Y 1V9 Tel: 778-421-2427 www.charslanding.com