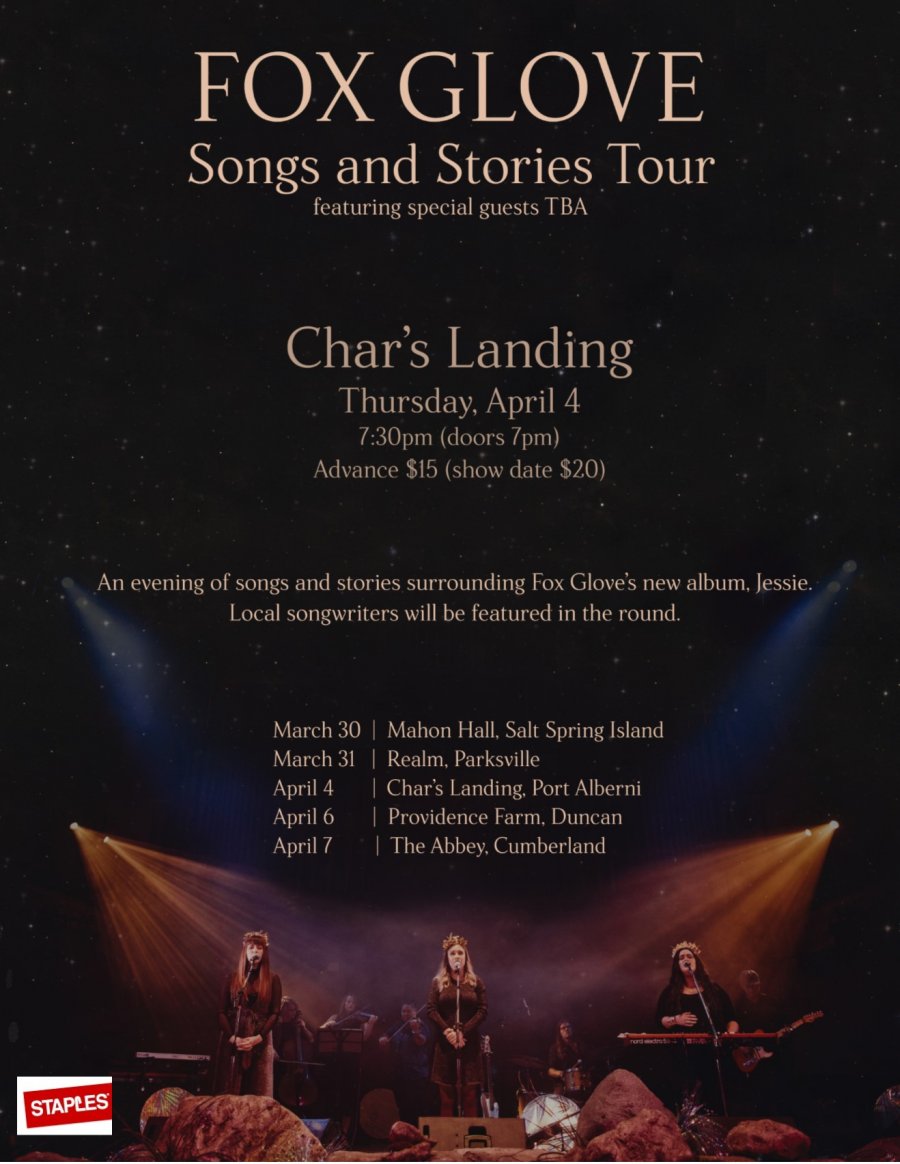 Date:
Thursday, April 4, 2019 -
Contact:
info@charslanding.com 778-421-2427
Thu, Apr 4th, 7:30pm (doors 7), Fox Glove - harmony infused alt-folk trio
Ethereal harmonies floating amidst cinematic soundscapes, Fox Glove exists somewhere in the realm of inky alt-folk with hints of dream rock. Based in Victoria, BC, this group is known for their diverse voices and range in sound, and offer everything from sensuous melancholic ballads to spellbindingly strident anthems. A crowd favourite in the BC music scene, Fox Glove annually headlines the famed Alix Goolden Hall in Victoria, selling out the 800 seat theatre with their self-produced LOVE IN – an immersive assembly of music, art, community, and collaboration. With performances across the country, multiple festival appearances, and the release of their first full-length album, Jessie, 2019 is proving to be a catalyst year for this captivating group. Often drawing comparisons to Joseph and The Staves, Fox Glove delivers passion, potency, and a mesmeric live performance that will leave you forever changed.
The Songs and Stories Tour of Spring 2019 is in support of the release of Jessie, which will be available on all streaming platforms at the beginning of April. Hard copies of the album will be available at Char's Landing on the night of the show.   https://www.foxglovemusic.ca/
Listen to Fox Glove's most recent single here: https://bit.ly/2SJcfk1
Watch Fox Glove here: https://www.youtube.com/watch?v=FwXGmZX-6uE
Special Local Songwriter Guests will be featured in the round TBA.
Advance $15 (Showdate $20 / Kids12- $10) now
charge by phone (778) 421-2427, cash @Rollin Arts & Gayle's Fashions, online http://bpt.me/4112058, service charges may apply
FMI http://alberni.ca/events/34123   https://www.facebook.com/events/2106617959406419/
Char's Landing 19+ (accompanied kids welcome) 4815 Argyle @5th Port Alberni V9Y 1V9 Tel: 778-421-2427 www.charslanding.com