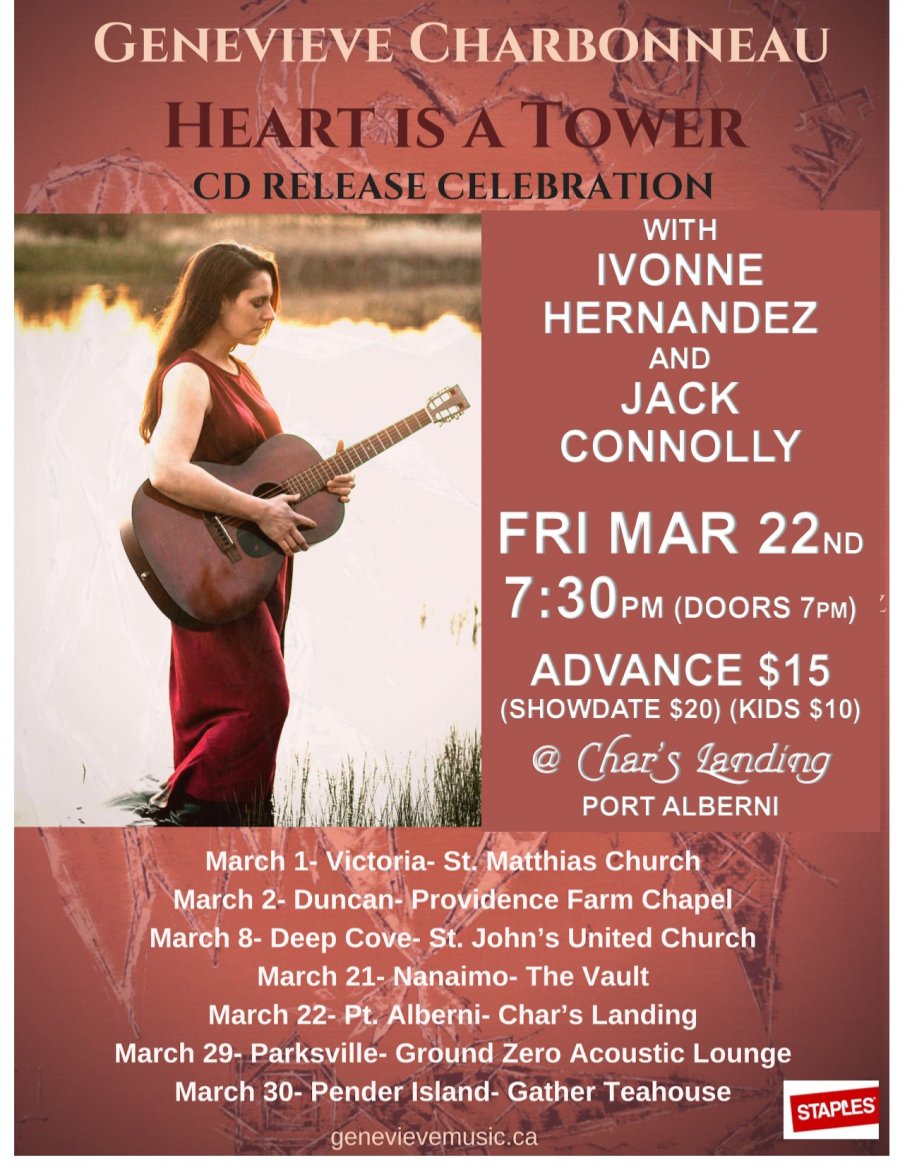 Contact:
info@charslanding.com 778-421-2427
Fri, Mar 22nd, 7:30pm (doors 7), Genevieve Charbonneau – original folk-roots
Accompanied by Jack Connolly on guitar and Ivonne Hernandez on fiddle.
2017 BC songwriting competition winner.   "Heart is a Tower" Album Release Celebration!
"Genevieve is a talented artist who brings a genuine freshness to the roots and folk and bluegrass music she creates. She writes great songs, engages audiences with ease, and is the kind of community-minded artist and human being that we could frankly, use a lot more of." (Kelly Nakasuka, AD IFF)
Award-winning Island singer-songwriter Genevieve Charbonneau is showcasing her latest collection of heartfelt songs in an island tour starting March 1. Her album, entitled "Heart is a Tower" is the first album recorded at SLS Studios, the new state-of-the-art recording studio at Shawnigan School, run by Grammy-winning engineer Steve Smith out of Seattle. Charbonneau, who won the 2017 BC songwriting competition, spent months in the studio fine-tuning the love and family-themed songs with producer and fellow songwriter Jack Connolly. The result is a stunning album with firm folk roots but high production values. Charbonneau will be accompanied by Jack Connolly on guitar and Ivonne Hernandez on fiddle.
http://genevievemusic.ca   https://www.youtube.com/watch?v=R2ijQ5G2fwc   https://www.youtube.com/watch?v=3_BAKjLqENI
Advance $15 (Showdate $20 / Kids $10) now
charge by phone (778) 421-2427, cash @Rollin Arts & Gayle's Fashions, online http://bpt.me/4077323, service charges may apply
FMI http://alberni.ca/events/34054  https://www.facebook.com/events/2068887343199766/
Char's Landing 19+ (accompanied kids welcome) 4815 Argyle @5th Port Alberni V9Y 1V9 Tel: 778-421-2427 www.charslanding.com