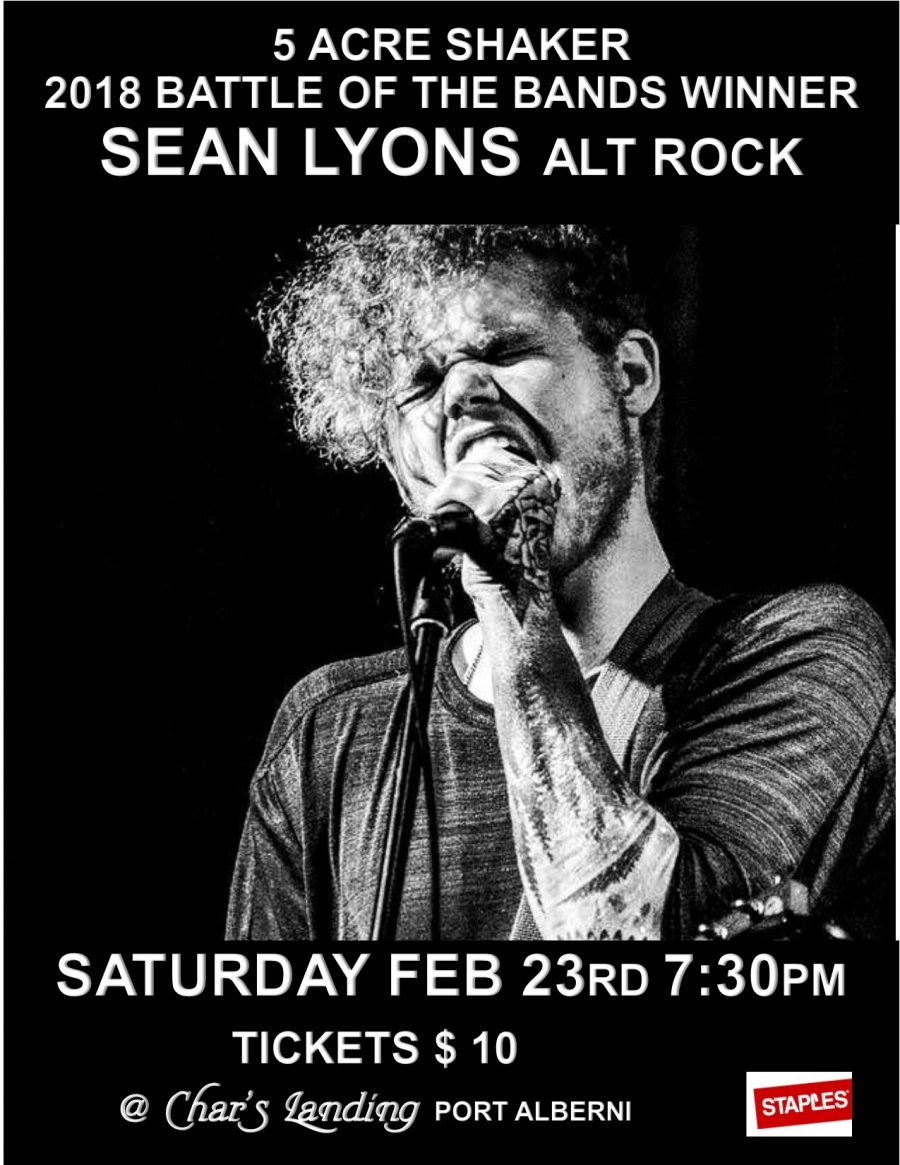 Date:
Saturday, February 23, 2019 -
Contact:
info@charslanding.com 778-421-2427
Port Alberni's own Sean Lyons and Lucas Bosma Feb 23rd @Char's
https://www.albernivalleynews.com/entertainment/battle-of-the-bands-winner-set-to-perform-at-chars-landing/
Sat, Feb 23rd, 7:30pm (doors 7), Port Alberni's own Sean Lyons alt rock
– 5 Acre Shaker Battle of the Bands Winner 2018 !
Sean Lyons is a 23 year old alternative artist from Port Alberni, the heart of Vancouver Island. He has established himself as a well known musician around the Vancouver music scene through an ambitious series of passionate live performances, persistent audio releases via well known streaming platforms (ITunes, Spotify, etc.) and music videos that can be found on YouTube.
Sean is the first place winner of the 2018 The Zattzoo Project- Association in Port Alberni https://www.facebook.com/ZattzooProject/ , a competition which landed a spot for his band "Sean Lyons and the Good Boys" in the 2018 Five Acre Shaker Music Festival later that year. Since then, he has been working with a variety of producers for new songs to be released this year.
2018's "Roller Coaster" touches on a variety of genres, catchy vocal melodies and impactful lyrics such as those on the EP's title track "Roller Coaster". The song sheds light on the current fentanyl crisis that's been going on, a subject Canadians are all too familiar with.
"Week comes to an end
Overdose with my friends
Seems like every night
We found new ways to get high"
"Roller Coaster" can be found online through a variety of platforms such as ITunes/Apple Music, Spotify. Google play, Deezer, SoundCloud, and Tidal under the artist name "Sean Lyons".
SOCIAL MEDIA:
Instagram: @seansingsokay
@seanandthegoodboys
Facebook.com/seansingsokay
/seanandthegoodboys
Seansingsokay/tumblr.com
Snapchat: seansingsokay
https://www.albernivalleynews.com/entertainment/sean-lyons-wins-2018-battle-of-the-bands-in-port-alberni/
Tickets $10 now  
charge by phone (778) 421-2427, cash @Rollin Art Centre, online http://bpt.me/4069862, service charges may apply
FMI https://alberni.ca/events/34023   https://www.facebook.com/events/340691203197023/
Char's Landing 19+ (accompanied kids welcome) 4815 Argyle @5th Port Alberni V9Y 1V9 Tel: 778-421-2427 www.charslanding.com