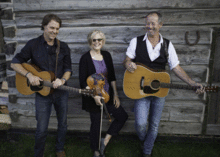 Date:
Thursday, January 31, 2019 -
Contact:
info@charslanding.com 778-421-2427
Thu, Jan 31st, 7:30pm (doors 7), BTU (Bentall, Taylor, Ulrich) – Legendary Canadian singer-songwriters
The trio first played together in 2007 at a Bluebird North songwriters' concert on their home island – Bowen Island. They subsequently recorded two albums together and have continued to enjoy the touring together whenever their schedules permit.   
Barney Bentall travelled extensively in the late-'80s and '90s before trading rock-and-roll for the life of a cattle rancher in the Cariboo in 2000. Bentall still owns the ranch, but eventually couldn't resist the music. In 2006, he resumed recording and touring, releasing three solo albums. His most recent is The Drifter and The Preacher on True North Records. His popular annual Cariboo Express tour just celebrated it's 13th year raising  critical funds for food banks and charities across Western Canada.
Shari Ulrich's finesse fiddle and mandolin and work with the Pied Pumkin and the Hometown Band paved the way for her solo career as a touring songwriter. 2014 her 8th solo album earned her "Songwriter of the Year" at the CFMA's. It is her 24th release including her work with the Pumkin, UHF, BTU, and CFMA winner The High Bar Gang (a 7 piece bluegrass band with Barney) She is releasing her new album with the working title "Rocky Shores" in 2019.
Tom Taylor has spent most of his musical career playing in the Vancouver cult band "She Stole My Beer". He has released 3 solo albums and carries on the classic tradition of the singer/songwriter - a troubadour who can effortlessly draw listeners into his world. Tom's work was in part the catalyst for Barney and Shari wanting to form the trio.
www.facebook.com/tomtaylormusic
https://www.youtube.com/watch?v=vxrBmi1pz1Q
https://www.youtube.com/watch?v=d0kgGyYEU3A
Advance $25 (Showdate $30 / Kids12- $15) now
charge by phone (778) 421-2427, cash @Rollin Art Centre, online http://bpt.me/4030563, service charges may apply
FMI https://alberni.ca/events/33821   https://www.facebook.com/events/331480164362947/
Char's Landing 19+ (accompanied kids welcome) 4815 Argyle @5th Port Alberni V9Y 1V9 Tel: 778-421-2427 www.charslanding.com