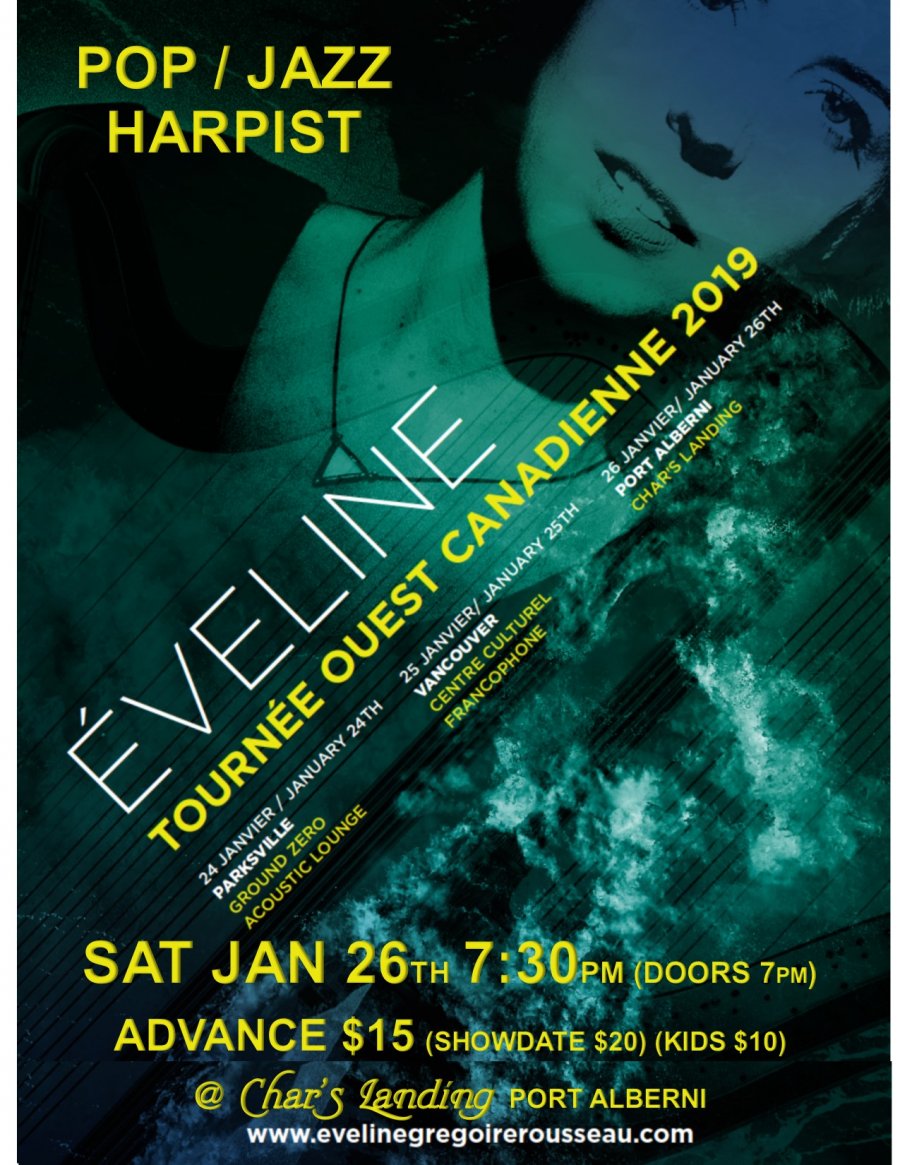 Date:
Saturday, January 26, 2019 -
Contact:
info@charslanding.com 778-421-2427
https://www.albernivalleynews.com/entertainment/montreal-harpist-eveline-rousseau-performs-at-chars-landing/
Here is my new video, just released!   Eveline   https://www.youtube.com/watch?v=kmTV5hiMClE
Sat, Jan 26th, 7:30pm (doors 7), Eveline Rousseau– pop/jazz harpist
ÉVELINE-WestCoastTour 2019   Harpist and singer known for her significant contribution to several projects (The Barr Brothers, Pierre Lapointe, Ingrid St-Pierre, Philip B, Karen Young, Coral Egan, Martin Leon, ...), Éveline has an original background spanning a myriad of musical genres. After 26 years of harp playing,  she continues her journey  to demystify the harp, taking the less trodden path of popular music and creation.  She is a founding member of Solawa, world music group who won many prizes (ICI Musique, Vision Diversité), and of Cordâme, a  jazz-classical sextet. With a first eponymous album released on March 30 under URSH Records, the singer-songwriter rejects habit and commonplace, and reveals herself in a very passionate way. At times art-pop, at times indie-classical, but always touching, Éveline's personal universe is one of sweet yet captivating discoveries.  She is accompanied tonight by François Jalbert(guitar), Olivier Babaz(bass), and Mark Nelson(drums).
www.evelinegregoirerousseau.com   https://www.youtube.com/watch?v=6pd9JBkOCrQ
https://www.youtube.com/watch?v=56SPEw9Fsyo    https://veline1.bandcamp.com
Advance $15 (Showdate $20 / STUDENTS $10) now
charge by phone (778) 421-2427, cash @Rollin Art Centre, online http://bpt.me/4028676, service charges may apply
FMI https://alberni.ca/events/33819   https://www.facebook.com/events/364456174318700/
Char's Landing 19+ (accompanied kids welcome) 4815 Argyle @5th Port Alberni V9Y 1V9 Tel: 778-421-2427 www.charslanding.com