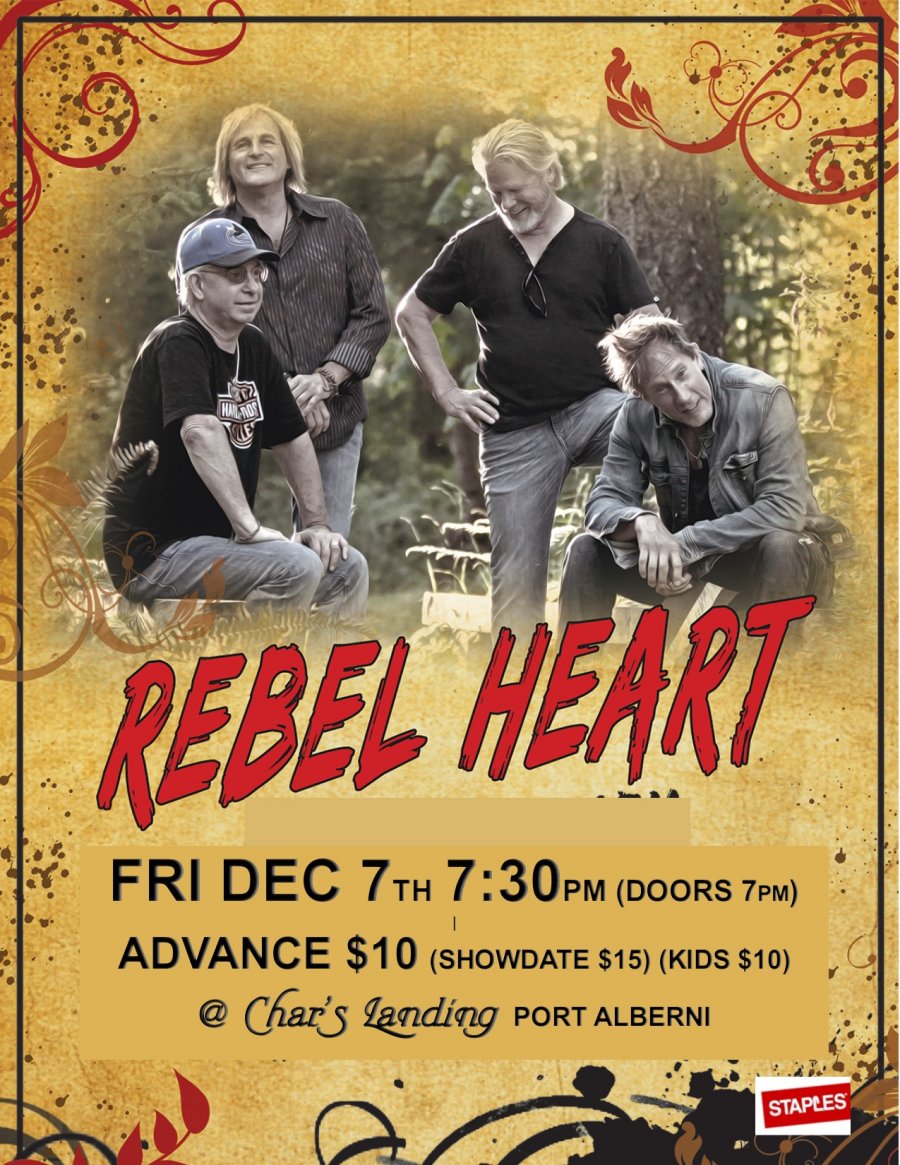 Date:
Friday, December 7, 2018 -
Contact:
info@charslanding.com 778-421-2427
Fri, Dec 7th, 7:30pm (doors 7), Rebel Heart – All Original Classic Rock   *NEW DATE*
Rebel Heart CD Release party #2.
Well.... the Rebelheart band are four guys....who never gave up that dream.
Charlie, Jim, Josh and Jon all set aside music careers to raise families...
.... but they never forgot the dream or their passion.
And.... now that the kids are grown they're back and rockin'!!
Hailing from the Independent Republic of Vancouver Island they connected with fellow Islander and veteran rocker, Paul Laine. Paul's 35 year career began with a solo record produced by the legendary Bruce Fairburn, and then continued, fronting bands Danger Danger, Dark Horse and the Defiants. Along the way he's contributed to albums by the Scorpions, Poison and others, and now creates music for television and film.
With Paul, Rebelheart's first CD of 6 songs stakes out a wide territory in the classic rock genre. With a sensibility that only time could bring to their music, the songs are a blend of the social commentary of Steve Earl combined with the wry humour of Warren Zevon. "Self Made Man" is a hard hitting protest song borne out of the "99" movement.
"Yuk Fu" is a tongue in cheek call to just let it all out, and the song "Rebel Heart" speaks to those who choose to walk a different path.
Clearly these guys have something to say.....
www.therebelheartband.com   www.facebook.com/RebelHeartRockBand/
Advance $10 (Showdate $15 / Kids12- $10) now
charge by phone (778) 421-2427, cash @Rollin Art Centre, online http://bpt.me/3907955, service charges may apply
FMI https://alberni.ca/events/33741   https://www.facebook.com/events/631549127243367/
Char's Landing 19+ (accompanied kids welcome) 4815 Argyle @5th Port Alberni V9Y 1V9 Tel: 778-421-2427 www.charslanding.com