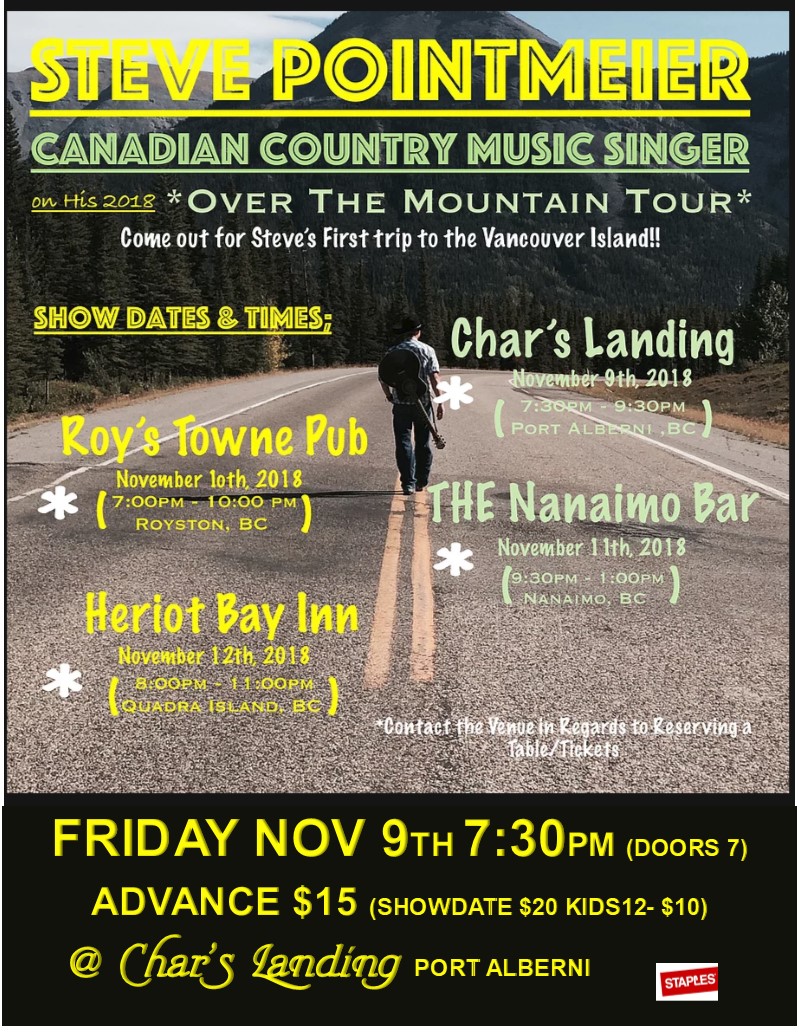 Date:
Friday, November 9, 2018 -
Contact:
info@charslanding.com 778-421-2427
Fri, Nov 9th, 7:30pm (doors 7), Steve Pointmeier – Over the Mountain Tour - Country music
Living somewhere on the right side of the line nowadays is where you'll find this Sarnia born Canadian who has made his home in Calgary, Alberta for the better half of his Life.  But it wasn't always this way. You'll hear it when he sings and you'll see it in his eyes as you look and see a man who no longer takes life for granted. Steven sings from the heart and with conviction as you're drawn into his music which is as honest as Steve himself.  With influences rooted deep in Country musics past like Marty Robbins, Conway Twitty and Merle Haggard. To present greats Garth Brooks, Kenny Chesney, Eric Church, Jason Aldean, and Brothers Osborne. As well as Music from all genre's from Billy Joel to Lady Gaga.  But in the end, it's Music and it should be fun as well as Good....  ...Like Steve himself says:   "I used to chase a dream, now I live it."
https://youtu.be/05jTn-BTNrk    https://youtu.be/qMwWL96Hvzg   http://stevepointmeier.wixsite.com/mysite 
http://instagram.com/stevenpointmeier   http://m.facebook.com/stevepointmeier/   
Advance $15 (Showdate $20 / Kids12- $10) now
charge by phone (778) 421-2427, cash @Rollin Art Centre, online http://bpt.me/3759072, service charges may apply
FMI https://alberni.ca/events/33677   https://www.facebook.com/events/725800951132882/
Char's Landing 19+ (accompanied kids welcome) 4815 Argyle @5th Port Alberni V9Y 1V9 Tel: 778-421-2427 www.charslanding.com