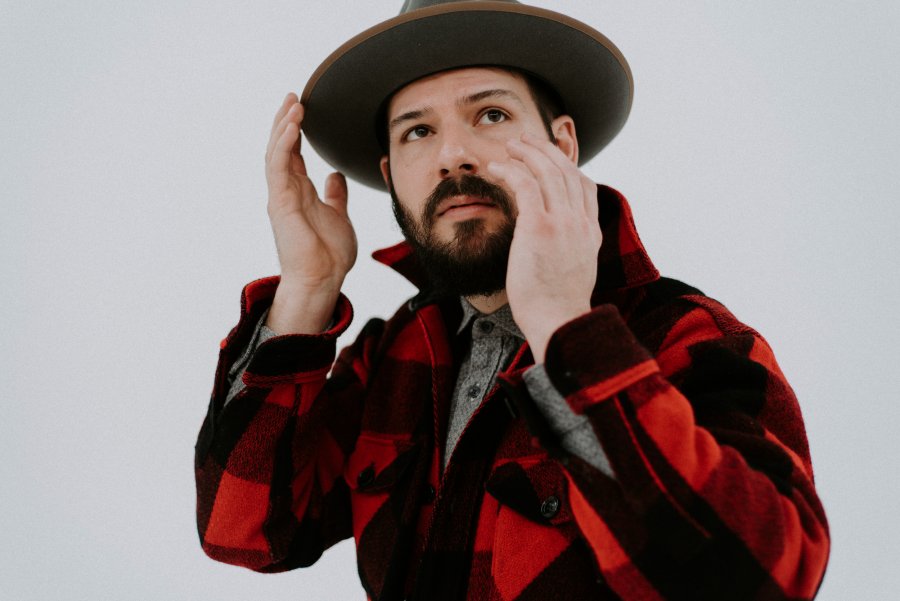 Date:
Monday, October 15, 2018 -
Contact:
info@charslanding.com 778-421-2427
Mon, Oct 15th, 7:30pm (doors 7), Ben Kunder Better Human Album Release – singer songwriter *NEW TIME*
·  "a masterfully crafted, soul-tapping new collection of songs that will ignite warmth, sympathy and joy"
- Canadian Beats Magazine, "Better Human"
·  "Ben Kunder's Better Human is beautiful all over the place" 9/10 - Exclaim!
Expertly navigating that rarefied space between elegiac folk and accessible pop, Toronto-based singer/songwriter and multi-instrumentalist Ben Kunder has emerged as one of the most electrifying musicians on the indie scene and a sought-after live performer. Kunder's dazzling sophomore album "Better Human", is set for release on Friday, June 29, and is poised to dominate 2018. Real life anchors most of "Better Human", the record exploring compelling themes like the birth of a child, the struggle for life balance, the workday reality propping up our outward façade, largely illuminating the human struggle to navigate through the world while sharing darkness in order to see the light. Produced alongside Aaron Goldstein at Baldwin Street Sound, guests include Oh Susanna, Jim Guthrie, Paper Bird/Bahamas singer Carleigh Aikins, Sarah McDougall, Ladies of the Canyon's Maia Davies and Anna Ruddick, Arkells drummer Tim Oxford, keyboardist Anthony Carone, violinist Drew Jurecka, and Wintersleep drummer Loel Campbell, among others. Propelled variously by strings, pedal steel, keyboards, percussion, guitar, bass, and those spectacular before-mentioned voices  renders small moments in precise detail, making his songs both accessible and, occasionally, downright palpable.
MORE ABOUT BEN KUNDER |
His 2015 debut "Golden" garnered critical acclaim and airplay from many respected international radio programs in Spain, the Netherlands, Germany and Italy, along with airplay and interviews at BBC1 and BBC2 in the UK and at RTE in Ireland. He has shared stages with Sarah Harmer, NQ Arbuckle, Andy Maize (Skydiggers) and New Zealand's Marlon Williams to name a few and has toured across Canada and Europe. Ben has showcased at Folk Alliance International, NXNE and Canadian Music week and has  charted on college radio Canada-wide and his single 'Half Moon' was the #2 song of CBC Music: :Sonica's Top 50 Songs of 2015.
"Soulful country-pop with a voice to die for…" - Jeremy Searle, AmericanaUK (UK)
SOCIAL MEDIA |
Website: www.benkunder.com
Facebook: www.facebook.com/benkundermusic/
Twitter:  www.twitter.com/benkundermusic
Instagram: www.instagram.com/benkundermusic/?hl=en
Youtube:  www.youtube.com/channel/UClJmHQm3KDJeb0x1ReComyw
"Every line comes from his heart and soul – like we are privileged to listen to the soundtrack of his life, both the darkness and the light." - Canadian Beats Magazine
AUDIO VISUAL |
!!NEW!!
"Come On" CBC-q Session (LIVE): https://www.youtube.com/watch?time_continue=208&v=QO3O5rEebiA
"Hard Line" Southern Souls (LIVE)-  https://vimeo.com/268332985
!!OLDIES BUT GOODIES!!
"Golden" Southern Souls: https://www.youtube.com/watch?v=BxW6WI0dji4
"Night Sky" Southern Souls: https://www.youtube.com/watch?v=nWZnYa-TkeM
"Better Days" Feat. Sarah MacDougall, Analog Songs: https://www.youtube.com/watch?v=QCE8sdXE3Jk
www.benkunder.com   https://www.youtube.com/watch?v=QO3O5rEebiA
Advance $15 (Showdate $20 / Kids12- $10) now
charge by phone (778) 421-2427, cash @Rollin Art Centre, online http://bpt.me/3621973, service charges may apply
FMI https://alberni.ca/events/33585   https://www.facebook.com/events/214174442786196/
Char's Landing 19+ (accompanied kids welcome) 4815 Argyle @5th Port Alberni V9Y 1V9 Tel: 778-421-2427 www.charslanding.com