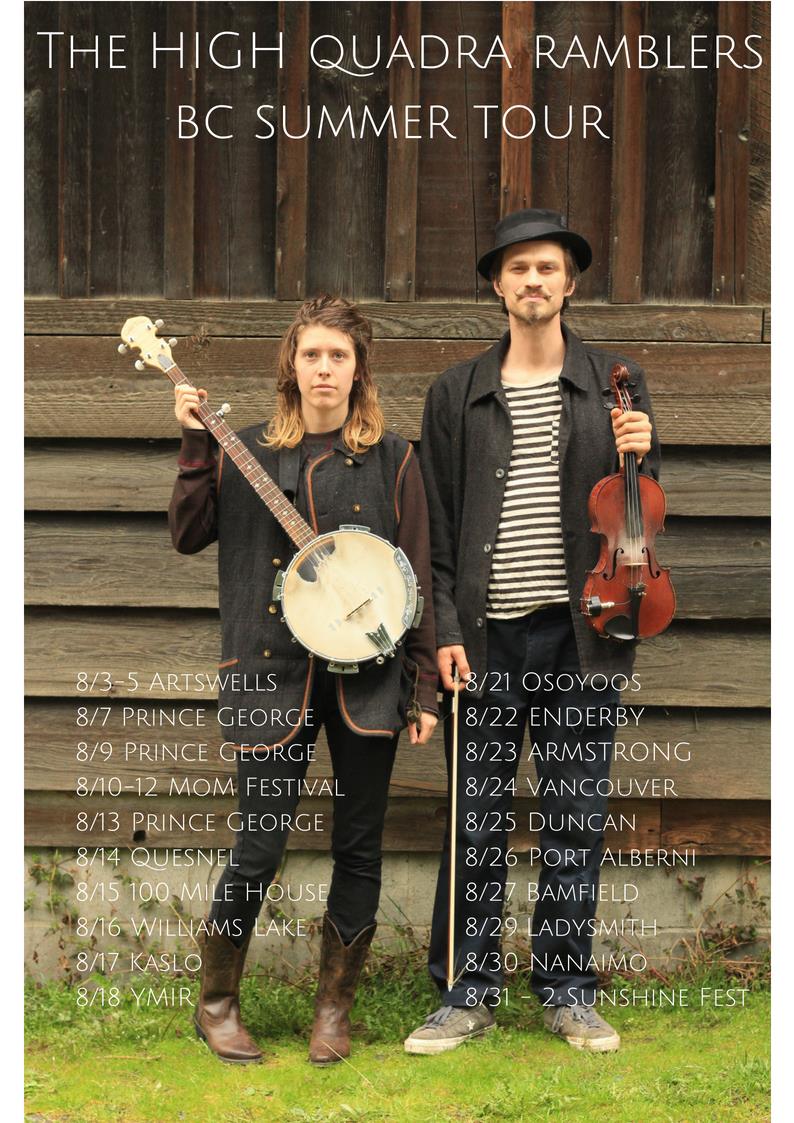 Date:
Sunday, August 26, 2018 -
Contact:
info@charslanding.com 778-421-2427
Sun, Aug 26th, 7pm (doors 6), The High Quadra Ramblers – oldtime/folk/celtic
The High Quadra Ramblers are Mack Shields on fiddle and vocals and Kaitlin Chamberlin on banjo, vocals and stepdancing: a powerhouse duo creating their own interpretation of traditional music. They fuse appalachian oldtime with celtic, classical, cajun and original compositions. Hailing from the East Coast and the West Coast, these ramblers bring both sides of the continent together for the love of traditional music.
The Ramblers were formed during the cold long winter over a need for mournful appalachian mountain tunes and a love of traditional music. Mack has played fiddle since he was 8, winning Fiddle competitions and playing all around the continent developing his wild, syncopated style. Mack has played in many bands over the years including the Tequila Mockingbird Orchestra, OQO, Ain't Dead Yet, The Wicks and Kodou (a collaboration with renowned classical pianist Shoko Inoue). Kaitlin picked up the banjo after playing guitar and piano all her life and found a rhythmic, melodic bliss. She is the recipient of the Victoria Bluegrass Association Nimblefingers bursary and plays in the roma-ragtime-klezmer duo Button & String.
Banjo and fiddle are a timeless partnership of instruments. With beautiful oldtime vocal harmonies and skilled instrumentation, they weave intricate notes over the droning backdrop of clawhammer banjo. They play a wide range of traditional music, from metis to celtic, appalachian, bluegrass, cajun and roots. Expect high-energy hillbilly hoedowns to droney, middle-eastern inspired instrumentals. Set to release their second album, the Ramblers are on fire to share their gritty, heartfelt energy with the world.
http://www.highquadraramblers.com
kaitlinchambo.wixsite.com/highquadra   https://vimeo.com/254257571
thehighquadraramblers.bandcamp.com   facebook.com/highquadra
Advance $15 (Showdate $20 / Kids $10) now
charge by phone (778) 421-2427, cash @Rollin Art Centre, online http://bpt.me/3589277, service charges may apply
FMI http://alberni.ca/events/33230   https://www.facebook.com/events/2099792527006808/
Char's Landing 19+ (accompanied kids welcome) 4815 Argyle @5th Port Alberni V9Y 1V9 Tel: 778-421-2427 www.charslanding.com