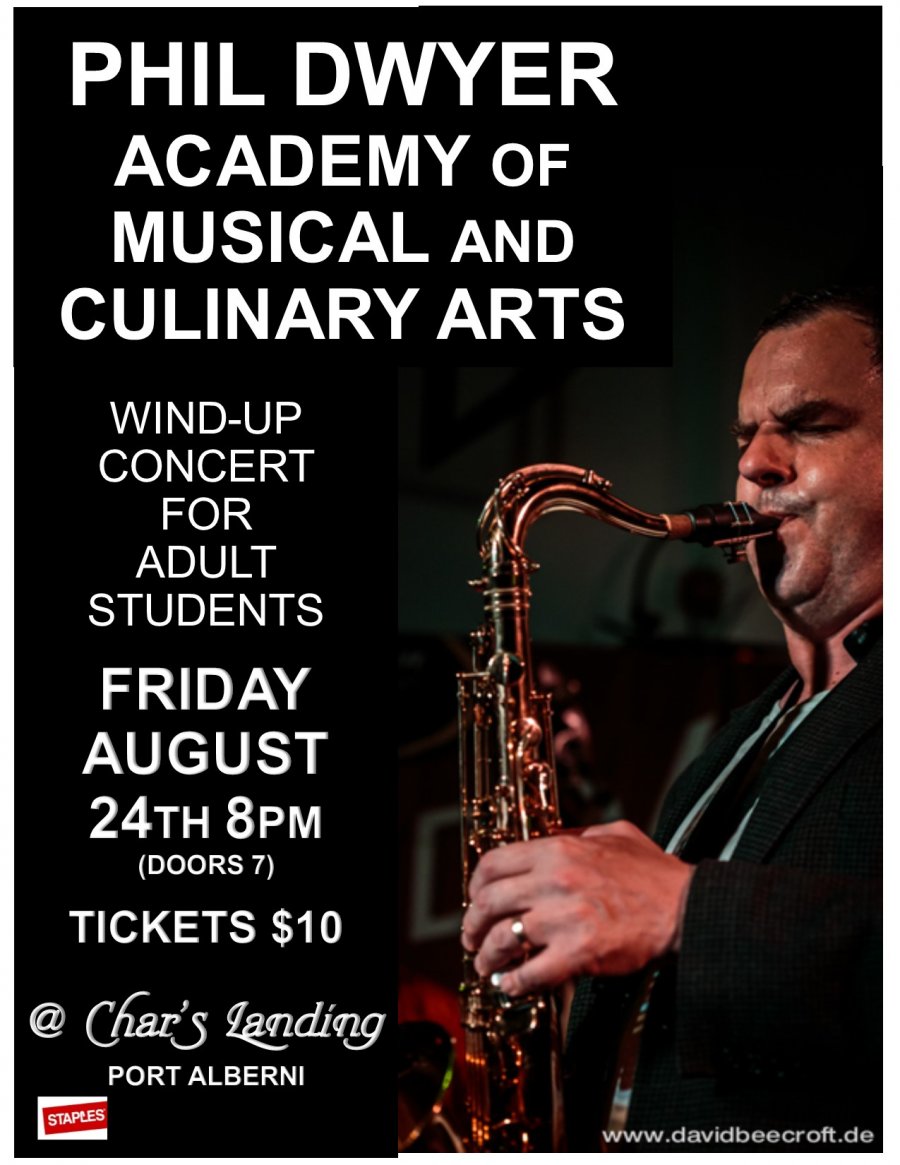 Date:
Friday, August 24, 2018 -
Contact:
info@charslanding.com 778-421-2427
Fri, Aug 24th, 8pm (doors 7), Phil Dwyer Academy of Musical and Culinary Arts – wind up concert
"wind-up concert for adult students of the Phil Dwyer Academy of Musical and Culinary Arts"
Back 2005 JUNO Award winner Phil Dwyer and his wife Theresa opened the Phil Dwyer Academy of Musical Culinary Arts in their Qualicum Beach home. Between 2005 and 2009 the camp grew from eight students in their living room to over 100 students and a couple of dozen faculty, and a month-long music festival.  From 2011-2014 Phil's schedule precluded taking on such an ambitious program, but the PDAMCA adult camps continued, with participants from across Western Canada meeting in Qualicum to share their love of music and enjoy delicious food prepared by guest chefs. Most of the participants have careers outside of music, or are retired, but play at a very high level, and their wind-up performances were always a highlight of the summer for Oceanside music fans.  Over a dozen gifted musicians will perform in various configurations playing classic swinging jazz arranged especially for this evening's performance.  
https://mcmillanartscentre.com/school-for-creative-arts/the-phil-dwyer-academy-of-music-culinary-arts/
https://geoffmobile.com/blog/?s=phil+dwyer+&x=0&y=0
http://www.phildwyer.com/   https://youtu.be/WY0h9ULjMW8
Tickets $10 available now
charge by phone (778) 421-2427, cash @Rollin Art Centre, online http://bpt.me/3574933, service charges may apply
FMI http://alberni.ca/events/32813  https://www.facebook.com/events/187197868812861/
Char's Landing 19+ (accompanied kids welcome) 4815 Argyle @5th Port Alberni V9Y 1V9 Tel: 778-421-2427 www.charslanding.com