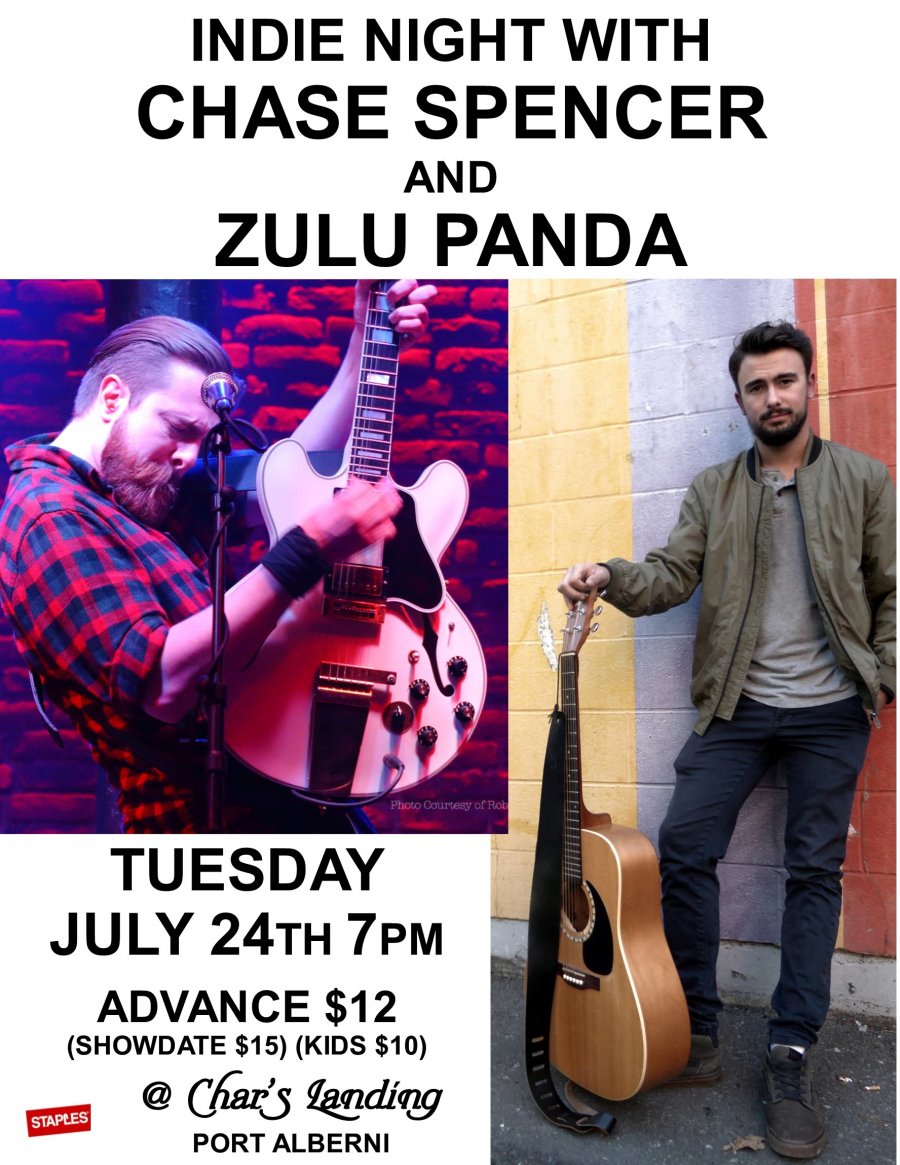 Contact:
info@charslanding.com 778-421-2427
Tue, Jul 24th, 7pm (doors 6), Chase Spencer and Zulu Panda – indie
Zulu Panda is folksy charm and raw passion, delivered with an outstanding live presence. Hailing from Vancouver BC, this indie-rock singer-songwriter performed and recorded in every province and territory to commemorate the 150th anniversary of Canada in 2017. His music combines heartland rock with grunge while maintaining a pop sensibility. His dynamic sound is matched nicely with warm melodies and Dylanesque storytelling. He is a troubadour of sound, stage and beard.
In addition to Zulu Panda's One-Fifty Recording Project, he is preparing to release a new full-band studio EP album this year. This will mark his second venture into professional recording after the success of his debut studio EP 'Two-Way Street (Not War)' in 2016. Always thinking outside the box, this album was made available everywhere online and on custom guitar-shaped wooden USB drive.
Zulu Panda began his pursuits as an independent singer-songwriter in 2013 after the release of his self-produced full-length album, 'Hope All Abandoned.' That year, he was named semi-finalist in the international 'Song of the Year' songwriting contest and graduated with top marks from Langara College's Singer-Songwriter Certificate Program. Since then, he has toured most of Canada, the western United States and parts of China, in addition to developing a local Vancouver cult fan base. He continues
to work with industry professionals (including songwriter Deborah Holland of Animal Logic and producer Adam Fulton) to further develop his sound. His plans for the future include co-writing a musical adaptation of a 1980's action movie as well as touring more of North America and Europe. During the summer of 2018 he will be touring all over Canada.
http://www.wesleydavidscott.com/   https://www.youtube.com/watch?v=3qf-hPwQSWg
http://www.facebook.com/zulupanda   https://open.spotify.com/artist/5NSUDNSP9mEZdMTX4QAMkS
https://www.youtube.com/channel/UCaFT20-PJvQ1yBHFjPoc3Mg   http://zulupanda.bandcamp.com/
https://twitter.com/zulu_panda   https://www.instagram.com/zulu_panda/   https://soundcloud.com/zulupanda
Chase Spencer has his roots in his hometown of Port Alberni, BC, a place where his musical tastes matured listening to country, pop and classic rock. It's here his own blend of these genres and the island indie/roots style around him could form.  Growing up playing anything he could get his hands on, Chase developed a knack for being able to be his own band.  After several garage band attempts with friends and a few decently recorded songs under his belt, Chase decided to record his own full album.  He enlisted the help of Marty Schoeps at Electric City Sound in Victoria BC to help him sculpt his ideas and shape his sound. He then released his debut single, "I Wanted You", in the early summer of 2015 and, "A Little Bit Of Love", in February 2016. With great reviews on his first singles, he was ready to release his debut album.  "Feel Alive" was release in May 2016 in Chase's hometown Port Alberni. Char's Landing saw it's largest crowd ever with his CD release.  After playing several shows on Vancouver island that summer he ventured on a two month Vietnam tour opening for Los Borrachos as well being the drummer for their band. He played countless shows to a great success and managed to form a following in Ho Chi Minh City.  Since then he has been constantly writing and recording home demo's in Australia, and now back on Vancouver Island in preparation for his sophomore album.
http://www.chasespencermusic.com/   https://youtu.be/qEWtH4a1G6M
https://www.facebook.com/chasespencermusic/
https://open.spotify.com/artist/7mlJIgDrszyeJs2uYSmCz0?si=0wlYKLCVRUef_q7d6Z78aQ
https://www.youtube.com/channel/UCYWAsf5YmMqRFRGmvXhcfIg
Advance $12 (Showdate $15 / Kids $10) now
charge by phone (778) 421-2427, cash @Rollin Art Centre, online http://bpt.me/3514301, service charges may apply
FMI http://alberni.ca/events/31865    https://www.facebook.com/events/249933822423333/
Char's Landing 19+ (accompanied kids welcome) 4815 Argyle @5th Port Alberni V9Y 1V9 Tel: 778-421-2427 www.charslanding.com