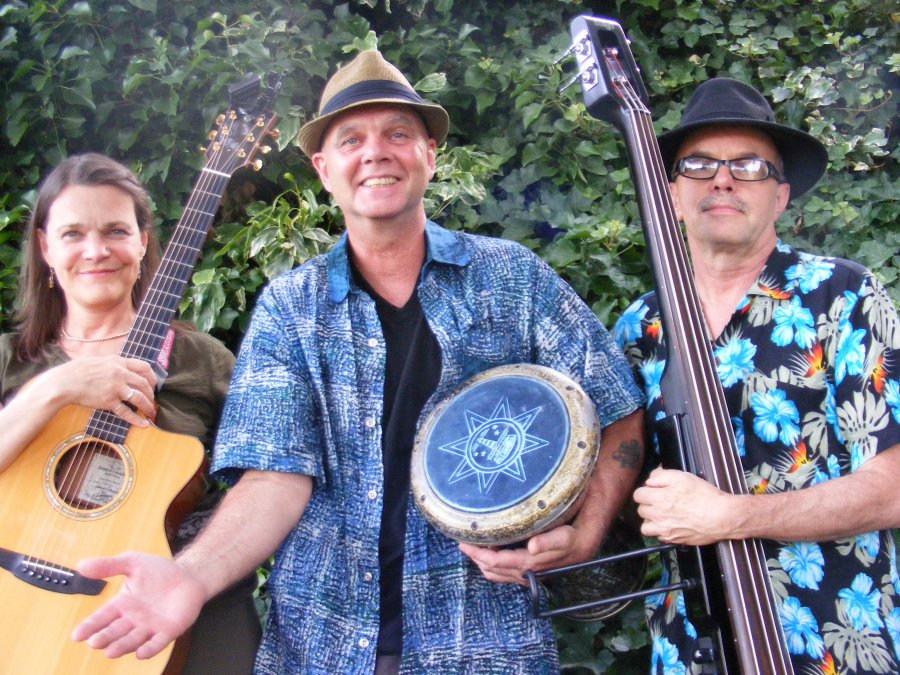 Contact:
info@charslanding.com 778-421-2427
Sat, May 11th, 7:30pm (doors 7pm), TerraZetto – Warm Zesty Continental Music
https://www.albernivalleynews.com/entertainment/find-your-groove-with-hand-drums-in-port-alberni/
TerraZetto's music hails from Continental, Latin, and Americana roots, and is sung in French, English and Portuguese.  They blend their original compositions with hand picked traditional tunes from around the world.  Then they reinvent the best works of favorite artists including Fats Waller, Sonny and Cher, Stevie Nicks, and Eddy Vedder.
The trio consists of Carrie "Beans" Ingrisano (acoustic guitar), Kenny "Boom Boom" Brault (electric upright stick bass, mandolin, Irish bouzouki), "Voodoo" Dave McGrath (unique array of percussion).  They will engage the audience as they take them on a tour of the continents with music from Central / South America, over to Europe, down to Africa / Middle East. and back to Canada.
They create a mellow vibe as an acoustic string trio.  A variety of musical styles and delivery range from the most intimate to high-energy performance. They will create a sweet zone and good feelings on stage.
https://www.reverbnation.com/terrazetto   https://youtu.be/A0GJ1QyuEBc
Advance $10 (Showdate $15 / Kids $10) now
charge by phone (778) 421-2427, cash @Rollin Art Centre, online http://bpt.me/4226741, service charges may apply
FMI http://alberni.ca/events/31144   https://www.facebook.com/events/275737746688508/
Char's Landing 19+ (accompanied kids welcome) 4815 Argyle @5th Port Alberni V9Y 1V9 Tel: 778-421-2427 www.charslanding.com
What makes us tick:
Music is a two way process. The TerraZetto project strives to share eclectic new music and smartly redesigned classics; and, we thrive on the buzz and excitement that comes back to us from our listeners.  We are seasoned composers and performers, long past the goal of fame or money; but we've never let go of the thrill that comes from connecting with an audience and lifting it up.
Bios:
Carrie Ingrisano is a singer– songwriter, half poet, who croons in English, French and Portuguese.  She swings from  Samba -Bossa style guitar into pop and reggae; and also plays electric bass.  Carrie has a voice that will make you believe in love and freedom again, and she understands how to craft a fine song.  She has played the festivals and listening rooms of Chicago,  has recorded several CDs, and is now happy to have landed here in paradise. 
Kenny "Boom Boom" Brault seasoned for Vancouver Island performer. He grooves on his electric upright stick-bass, plays leads on the mandolin and adds texture with Irish bouzouki.  Kenny is a soulful songwriter with boyish energy, and has a great ear for arranging. Kenny has also produced several CDs of original compositions, and can be found all over town backing up other musicians.
"Voodoo" Dave McGrath is well known in the drums circles and the performance community.  Dave draws from the musical traditions of Africa, Cuba, and Latin America when sharing his passion for percussion. From the laid-back rhythms of Brazilian Samba to syncopated Afro Cuban grooves or hard driving  West African Drum and Dance,  Dave always seeks to find  the place  where music is life and life is music
# # #