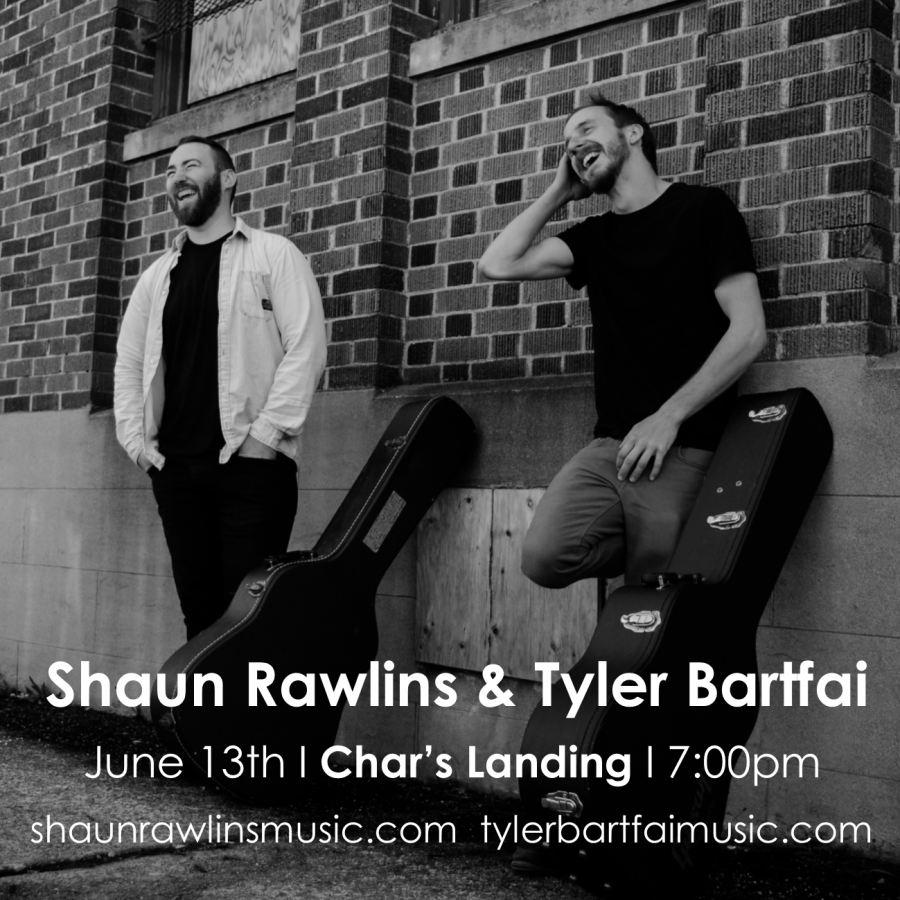 Date:
Wednesday, June 13, 2018 -
Contact:
info@charslanding.com 778-421-2427
Wed, Jun 13th, 7-9pm, Shaun Rawlins & Tyler Bartfai Vancouver Island Tour – Folk / Roots / Singer-Songwriters
Tyler Bartfai and Shaun Rawlins are hitting the road again this summer to bring their music and stories to you. They are two independent singer-songwriters with influences ranging from folk, blues, pop, and roots. 
Tyler Bartfai is a singer-songwriter from coastal Powell River B.C. His writing is influenced by a variety of genres including blues, roots, folk, and pop. Specifically, from artists such as Eric Clapton, JJ Cale, John Mayer, and Bob Dylan. His emotionally driven lyrics draw on many of life's relatable ebbs and flows. Tyler Bartfai and The Stowaways have just finished a live off the floor EP and video session 'The Score is Posted'. They hope to start a full studio album later this year.
https://www.tylerbartfaimusic.com   https://www.youtube.com/watch?v=3ouLfBfQj0w&feature=youtu.be
Shaun Rawlins is an indie folk singer-songwriter from Vancouver, BC. He writes songs about life; from the little gaps and spaces that exist in all of our lives, to love and everything in-between. His main influences are: City and Colour, Dan Mangan, Death Cab for Cutie, and Passenger. Working with producer John Webster, Shaun has self released two EP's, "Lost in Your Head" and "Clean Slate".  https://www.shaunrawlinsmusic.com
Advance $10 (Showdate $15 / Kids $10) now
charge by phone (778) 421-2427, cash @Rollin Art Centre, online http://bpt.me/3438354 , service charges may apply
FMI http://alberni.ca/events/30694   https://www.facebook.com/events/1407441512693713/
Char's Landing 19+ (accompanied kids welcome) 4815 Argyle @5th Port Alberni V9Y 1V9 Tel: 778-421-2427 www.charslanding.com