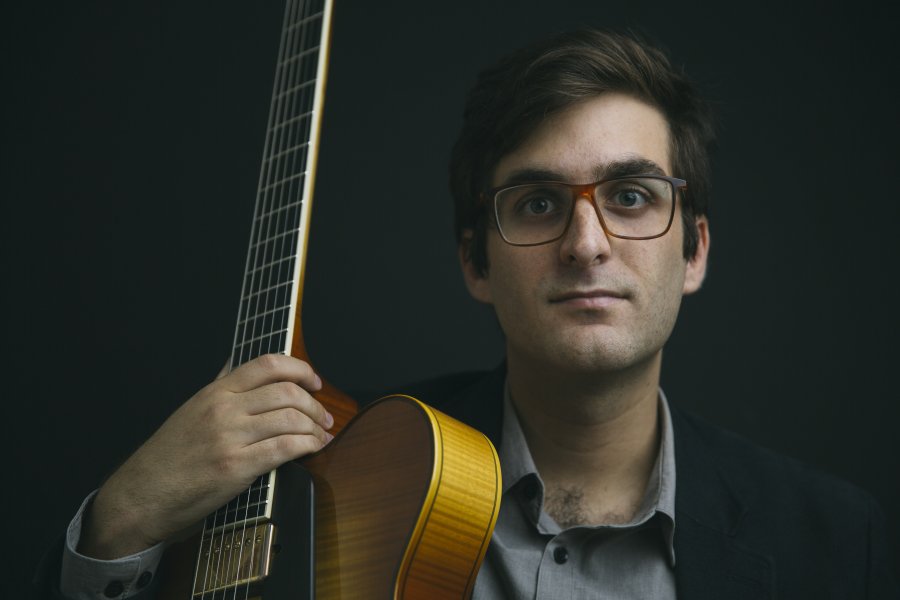 Contact:
info@charslanding.com 778-421-2427
UPDATE May 24th 12noon Malahat blocked, concert postponed to May 27th 8pm
Thu, May 24th, 7-9pm, Sam Kirmayer Jazz Quartet - West Coast Tour
Sam Kirmayer – guitar   Sean Fyfe – piano   John Lee – bass   Valerie Lacombe – drums   www.samkirmayer.com  
Featured with Sean Fyfe as well as Montreal based drummer Valérie Lacombe and Nanaimo's John Lee on bass.
Sam Kirmayer is a young musician who plays with "a fearlessness and momentum that promise much, much more to come" – Katie Malloch (CBC Jazz Beat & Tonic). Drawing inspiration from masters like Wes Montgomery and Grant Green, Sam eschews effects in favour of a clear, direct tone and maintains firm roots in the blues and hard bop traditions. Sam has performed with some of Canada's finest musicians including André White, Joel Miller, Mike Rud and Kevin Dean, who has praised him for his "excellence, honesty and power of emotion."  In 2017, CBC Music included Sam in their list of the "35 best Canadian jazz musicians under 35".
In April 2017, Sam released his debut album, Opening Statement, on Montreal label Chromatic Audio. A straight-ahead quartet date, the album features a mixed set of originals and standards, with a strong supporting cast of New York based pianist Sean Fyfe and Montreal stalwarts bassist Mike De Masi and drummer Dave Laing. In a 4 star review, All About Jazz called Opening Statement "strong-minded, well-spoken and worth relishing many more times than once."
In January 2018, Sam received the Julian Award of Excellence for Emerging Canadian Jazz Artists, which is handed out each year by CJSF 90.1FM. Never one to rest on his laurels, Sam has already recorded his sophomore album, High and Low (set for a 2018 release on Cellar Live), this time in an organ trio featuring New York based organist Ben Paterson, with Dave Laing returning on drums. Meanwhile, he maintains an active performance schedule with several weekly residencies in Montreal and frequent appearances elsewhere in Quebec and Ontario. Spring 2018 will also see Sam's first tour of the west coast.
Sam completed an Undergraduate degree in Jazz Performance at McGill University in 2016 with Outstanding Achievement and Dean's Honour List standings. He has also been the recipient of several awards and scholarships including the Oliver Jones Jazz Scholarship from Vanier College, the David Moyse Guitar Scholarship from McGill and an Artist Development Grant from FACTOR.
www.samkirmayer.com   twitter.com/samkirmayer   instagram.com/samkirmayer   facebook.com/samkirmayermusic
https://www.youtube.com/watch?v=TOqsSqG0b4A   https://samkirmayer.bandcamp.com/
Advance $15 (Showdate $20 / Kids $10) now @Rollin Art Centre, charge by phone (778) 421-2427, online http://bpt.me/3424530
FMI http://alberni.ca/events/30293  https://www.facebook.com/events/205474286709246/
Char's Landing 19+ (accompanied kids welcome) 4815 Argyle @5th Port Alberni V9Y 1V9 Tel: 778-421-2427 www.charslanding.com