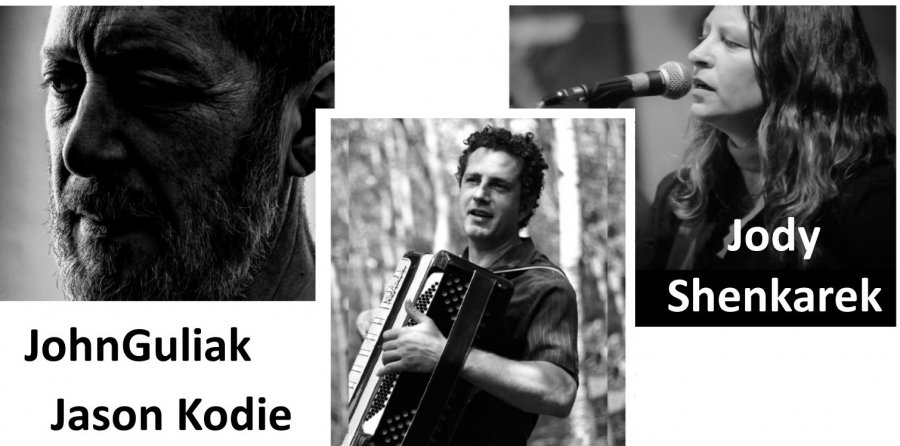 Date:
Wednesday, May 23, 2018 -
Contact:
info@charslanding.com 778-421-2427
Wed, May 23rd, 7-9pm, Concert – John Guliak's In the Round and All Together Spring 2018 Tour - Folk, Country, Pop
With guests Jason Kodie and Jody Shenkarek trading songs, supporting one another with vocals, guitar, accordion and piano.
For 3 weeks in May 2018, three unique songwriters and performers will be 'In the Round and All Together' throughout Alberta and BC. All three take the stage taking turns performing their songs, supporting each other with vocals, guitars, piano and accordion. A diverse repertoire of original material that is sure to enchant many. 
Jody Shenkarek A seasoned member of Edmonton's folk community, Jody started her musical career sometime in the early nineties as one of the founding members of Edmonton's All Woman Brothers Band. Over the years Shenkarek has been part of numerous local groups: in 1995 or 96 she formed Jody and the Millcreek Boys; soon she formed a duo alongside Gavin Dunn, opening for such names as Richard Buckner, Corb Lund, and Jay Farrar. With her full band she has shared the stage with Ruth Moody, Kyla Howran and traveled to Dauphin Country fest in Manitoba in 2011. These days you can catch Shenkarek with her band "Country Vulture" featuring Gavin Dunn on lead guitar, Brian Golightly on drums, and Tim Balash on bass guitar.
https://jodyshenkarek.bandcamp.com/   https://vimeo.com/257607616
Jason Kodie A musician from Edmonton Alberta. He began his musical training on the accordion at age five then moved to piano studies as a young adult.  Jason began his undergrad at McGill, finishing at the University of Alberta with a double major in Music and French. As a musician, he began playing in bands in a pre internet world relying on word of mouth, corded telephones and stamps.  As a sound designer he has composed for over 30 productions blending acoustic instruments with ambience and textures. As a bandmate he has performed at an array of stages from small cafés to premier venues. As a performer he has appeared in a variety of productions from small to large ensembles. As a human he is grateful.
www.jasonkodie.bandcamp.com   https://www.youtube.com/watch?v=HTuu-vec_H0&t=2s
John Guliak A Canadian singer-songwriter who has been performing roots music in Canada for over 30 years. John's music contrasts the isolation of his prairie upbringing with his later experiences in the urban landscapes of Glasgow, Winnipeg, Vancouver, Edmonton and Toronto. The songs that result from this perspective have been compared to those of other uniquely Canadian voices such as Gordon Lightfoot and Leonard Cohen. His whiskey and cigarettes baritone, described in Nerve Magazine as, "one of those character voices that should almost be trademarked," places him in the company of such singers as Merle Haggard, The Handsome Family's Brent Sparks and Rufus Wainwright .
www.johnguliak.com   https://www.youtube.com/watch?v=dDeK3Wno8Vg
Tickets $15 (Kids $10) now @Rollin Art Centre, charge by phone (778) 421-2427, online http://bpt.me/3414798
FMI http://alberni.ca/events/30077  https://www.facebook.com/events/601612240193558/
Char's Landing 19+ (accompanied kids welcome) 4815 Argyle @5th Port Alberni V9Y 1V9 Tel: 778-421-2427 www.charslanding.com