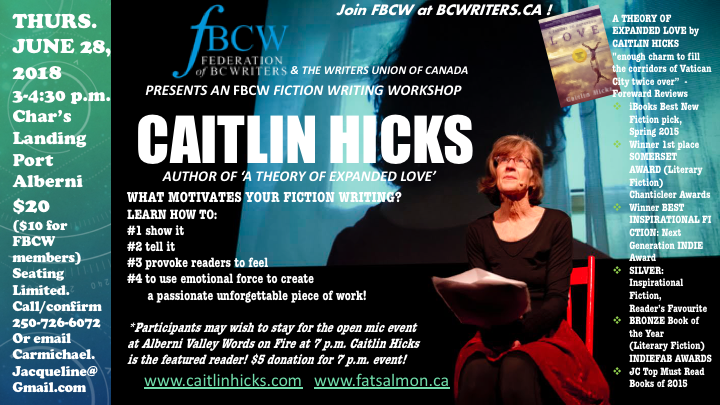 Date:
Thursday, June 28, 2018 -
Contact:
info@charslanding.com 778-421-2427
Thu, Jun 28th, 3-5pm, Writer's Workshop with Caitlin Hicks
http://alberni.ca/events/29201   https://www.facebook.com/events/2050609061862881/   www.fatsalmon.ca
Writer's workshop 3-5pm $20 FMI contact Jacqueline Carmichael 250-726-6072 Federation of BC Writers  
Thu, Jun 28th, 7-9pm, Open Mic – AV Words on Fire ! – Spoken Word Featuring Caitlin Hicks (last Thursday of each month)
Caitlin Hicks is an author, international playwright, and acclaimed performer in British Columbia, Canada. Monologues from several of her plays were featured in Smith & Kraus' series Best Women's Stage Monologues (New York). She also wrote the play, later adapted for the screen, Singing the Bones, debuting at Montreal World Film Festival.  A Theory of Expanded Love, her debut novel, won: iBooks Best New Fiction (Spring 2015); Somerset Awards ( Literary Fiction); Best Inspirational Fiction: Next Generation Indie Awards; BRONZE book of the year (Literary Fiction) INDIEFAB Awards, Silver Medal for Inspirational Fiction with Readers' Favorite and JDC Top Must Read Books of 2015.
Hicks has worked as a writer for CBS and NBC radio and has performed her fiction and non-fiction for CBC national radio. In the eighties and nineties, she toured her theatrical writing internationally. In print, her writing has been published in The San Francisco Chronicle, The Vancouver Sun, The Milwaukee Journal-Sentinel, Fiddlehead Magazine, Knight Literary Journal and other publications. Hicks was raised in a large, Catholic family in Pasadena, California.   www.fatsalmon.ca
Open Mic 7-9pm Admission by donation, suggested $5 (in lieu of hall rental). Sign up at the door. CHAR'S IS NOW KID-FRIENDLY
Bring your writing, friends, and enthusiasm.  (last Thursday of each month)
FMI contact host Stephen Novik eccentricsteve@hotmail.ca
FMI Fran Thiessen thiessenfran3@gmail.com     http://www.wordstorm.ca/    http://ascentaspirations.ca
FMI http://alberni.ca/events/17693   https://www.facebook.com/events/253122381914050/
Char's Landing 19+ (accompanied kids welcome) 4815 Argyle @5th Port Alberni V9Y 1V9 Tel: 778-421-2427 www.charslanding.com