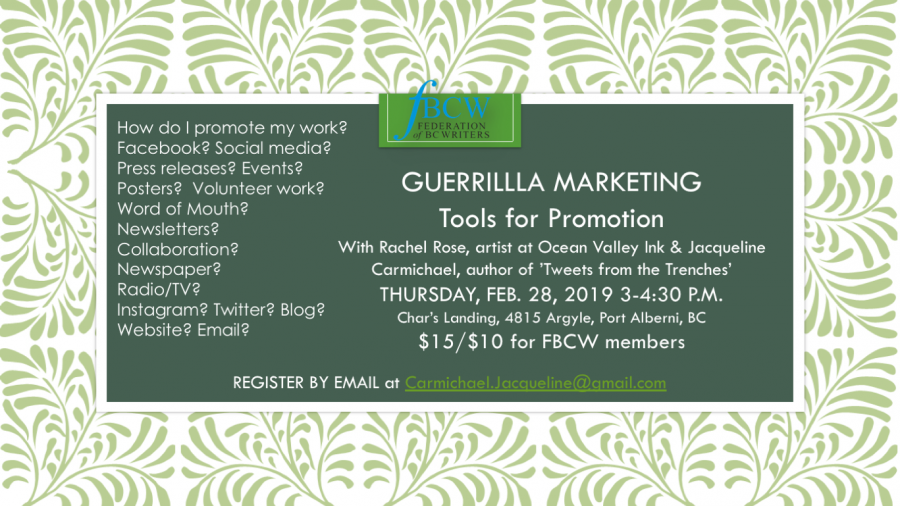 Date:
Thursday, February 28, 2019 -
Contact:
info@charslanding.com 778-421-2427
Thu, Feb 28th, 3pm (doors 2:45), Marketing your Art Workshop Featuring: Rachel Rose
There will be a workshop on marketing your art by Rachel Rose, from 3-4:30 p.m.! 
If you or your contacts have something to promote and you want to learn new tools or hone existing skills to do so, here's a great opportunity. This is just $15 (or $10 for members of Federation of BC Writers). Presenters are Rachel Rose of Ocean Valley Ink, who has a business and marketing education background and is a savvy user of guerrilla marketing techniques. Jacqueline Carmichael is the author of Tweets from the Trenches: Little True Stories of Life & Death on the Western Front, and a former newspaper editor and publisher.
FMI & RSVP to Jacqueline Carmichael 250-726-6072  Carmichael.jacqueline@gmail.com Federation of BC Writers
https://www.facebook.com/westcoastreads/
FMI http://alberni.ca/events/29201
Char's Landing 19+ (accompanied kids welcome) 4815 Argyle @5th Port Alberni V9Y 1V9 Tel: 778-421-2427 www.charslanding.com