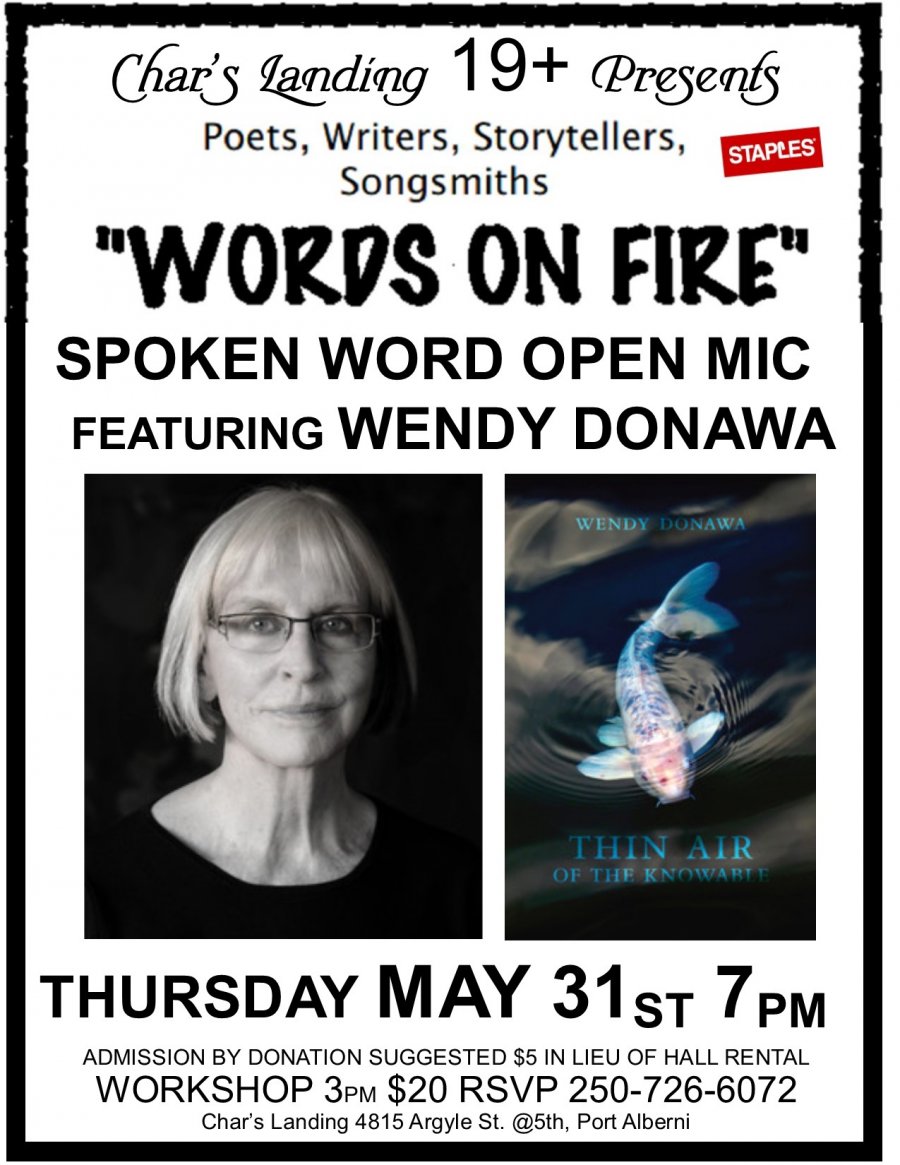 Contact:
info@charslanding.com 778-421-2427
https://www.albernivalleynews.com/entertainment/port-alberni-workshop-will-explore-music-of-poetry/
Thu, May 31st, 3-5pm Workshop, 7-9pm, Open Mic – AV Words on Fire ! – Spoken Word Featuring: Wendy Donawa
Wendy Donawa was born in Victoria, and spent much of her adult life in Barbados as an artist, educator and museum curator. She has returned to Victoria, and is a contributing editor for Arc Poetry Magazine. Her poems have appeared in journals, anthologies, and three chapbooks.  A finalist in The Malahat Review's 2013 Open Season Competition, and in the 2015 Cedric Award, she was selected for Vancouver's 2017 Poetry in Transit project. Thin Air of the Knowable is currently longlisted for the 2018 Gerald Lampert Award and the Raymond Souster award.
Poetry workshop 3-5pm $20 FMI contact Jacqueline Carmichael 250-726-6072 Federation of BC Writers
Open Mic 7-9pm Admission by donation, suggested $5 (in lieu of hall rental).  Sign up at the door.  ***CHAR'S IS NOW KID-FRIENDLY***
Bring your writing, friends, and enthusiasm.  (last Thursday of each month)
FMI contact host Stephen Novik eccentricsteve@hotmail.ca
FMI Fran Thiessen thiessenfran3@gmail.com     http://www.wordstorm.ca/    http://ascentaspirations.ca
FMI http://alberni.ca/events/29201 Char's Landing 19+ (accompanied kids welcome) 4815 Argyle @5th Port Alberni V9Y 1V9 Tel: 778-421-2427 www.charslanding.com