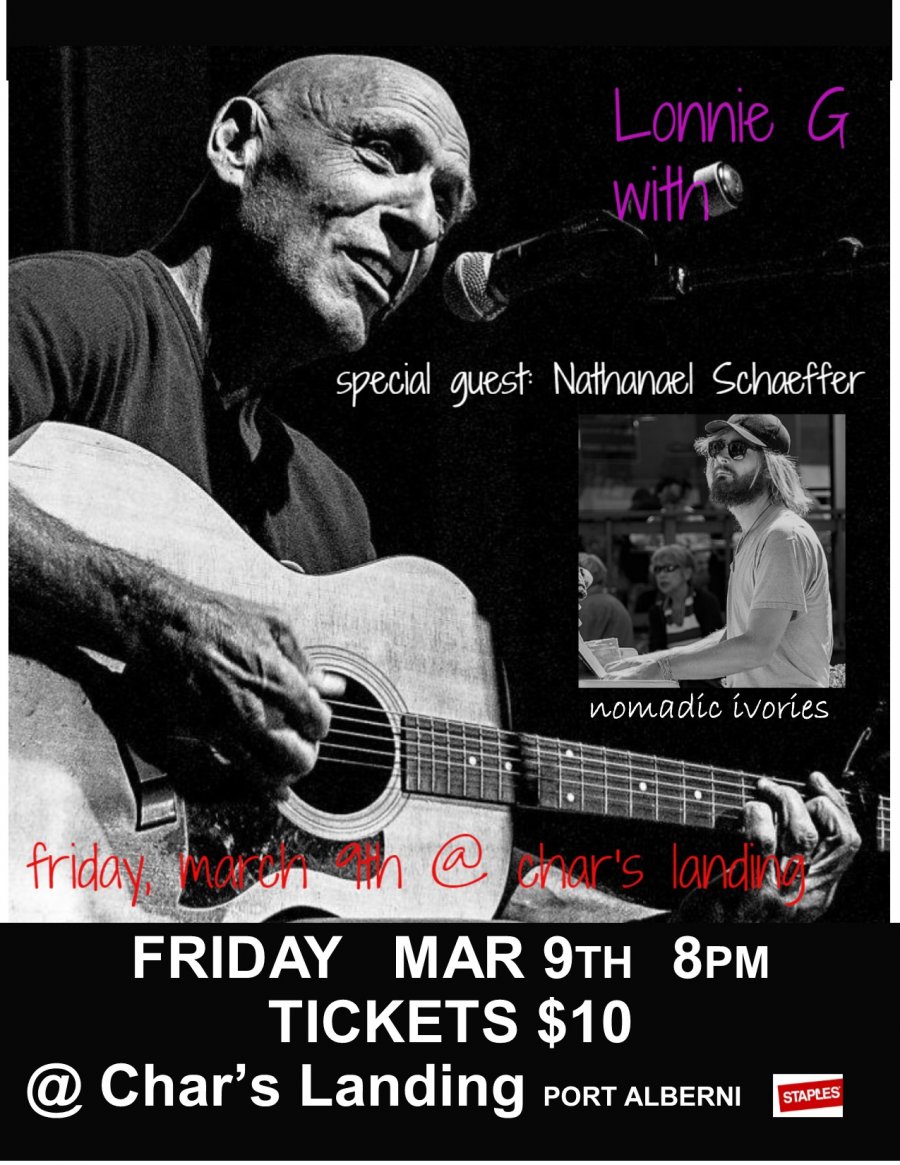 Contact:
info@charslanding.com 778-421-2427
Fri, Mar 9th, 8-10pm, Concert – Lonnie G with special guest Nomadic Ivories Nathanael Schaeffer
Nathanael Schaeffer: A half decade ago, after a youth full of a love, hate musical journey of lessons, a series of life changing events led Nathanael to realize his life purpose. Since then he has shifted from inwardly developing as a being, with music in and out of focus, to being dedicated into giving his gift of music to the world.   From the humbling streets, to remote forests and beaches, to the fanciest of keys; sharing with the homeless, those with stockpiles, and everyone in between; he moves forward, growing, hunting pianos with a guitar slung over his shoulder. Composing and performing, problem solving; how to step and thrive while truly dedicated to living an art form in todays society, he follows the path.  A carefully sculpted trail of a nomad leaves a resonance.  Rooted in raw, bare, homely foundations an infrastructure sprouts; a colourfully, textured vibration of medicine and imagination candy.   www.nomadicivories.ca   https://youtu.be/exuqHIO2cso
Lonnie G: Somewhere between Louis Armstrong and Cookie Monster lies the voice of Lonnie Glass.
Somewhere between Leonard Cohen and Tom Waits lies the lyrical imagery of Lonnie Glass.
Somewhere between Bob Dylan and John Prine lies the storytelling of Lonnie Glass.
Born in Montreal in 1950. Saw Elvis Presley at age 7. Saw The Beatles in 1964 & '66.
R&B Frontman in the mid '60's. Saw Cream, Hendrix and Zeppelin in the late '60's.
Bass Player in late '60's up to the present.
Songwriting begins in the early '80's. Recorded his 1st CD in 1990 Distributed through MCA
Records. Has had 7 subsequent releases.
Teamed up with poet Norman Ball from Leesburg, Va. in 2003 as songwriting collaborators.
Has toured Eastern Canada 47 times, Scandinavia 5 times, the USA 8 times.
Moved to Victoria in 2011. Continues to write and perform. A consummate entertainer.
Lonnieg.reverbnation.com   https://youtu.be/QMhoMq5Sv94
Tickets $10 now @Char's from 4pm TFSS, charge by phone (778) 421-2427, online http://bpt.me/3343948
FMI http://alberni.ca/events/28059 Char's 19+ Lounge open 4pm-12midnight Thu/Fri/Sat/Sun www.charslanding.com Char's Landing, 4815 Argyle @5th. Port Alberni V9Y 1V9