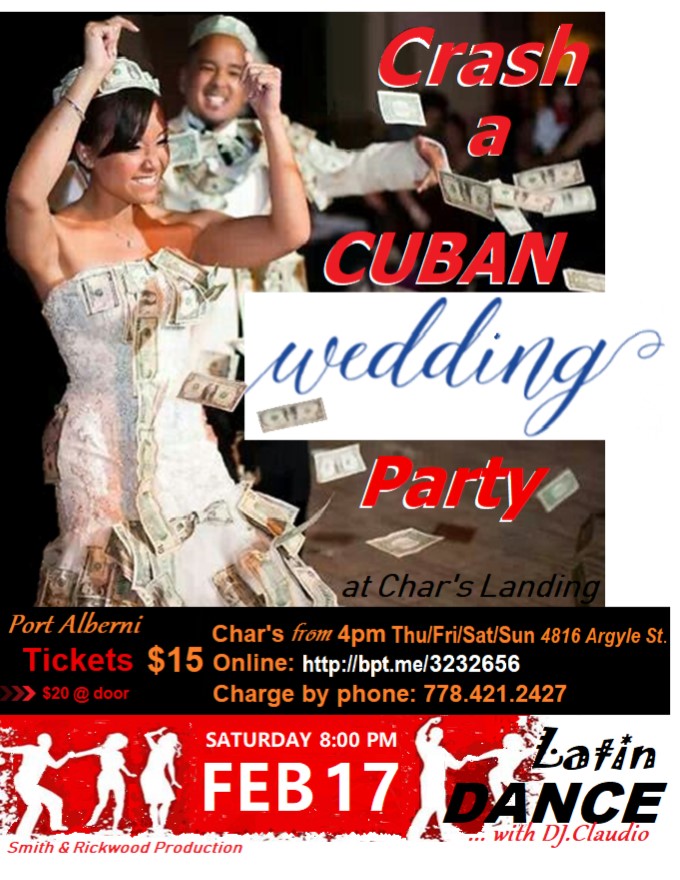 Date:
Saturday, February 17, 2018 -
Contact:
info@charslanding.com 778-421-2427
Sat, Feb 17th, 8-late, Dance – Crash a Cuban Wedding Party – Smith & Rickwood Production
Latin Dance with DJ Claudio !
Looks like Char's Landing is getting ready for a crazy fun event on February 17th. 
Ever want to crash a wedding? 
We can't blame you; weddings are fun!  And Cuban weddings are known to be the best!!
The wedding program has crazy toasts to the Bride & Groom, dance with the bride, catch the garter, and your chance to bro-hug the groom. There will be loads of Latin dancing and socialization.  And, with a Cuban wedding theme you can pin money (bills) to a wedding dress (for a 50/50 draw), learn some Latin dance moves, and part-take in Latin dance called the Rueda de Casino. 
Hints to wedding crashers: have your lines prepared!  If asked, say: "I went to high school with Philipo, the groom's fifth cousin", then point into the crowd and quickly walk away.  And if you find yourself on the spot, just say with confidence, "my partner works with the bride".
This event is brought to you by dance instructor and promoter, Wayne Smith and Char's Club Fav, Rory Rickwood.
To crash this wedding party, it will cost $20 at the show door, or $15 if you purchase your ticket on line. 
Buy early, Buy now!   *** LIMITED TICKETS AVAILABLE ***
Advance $15 (Showdate $20) now @Char's from 4pm TFSS, charge by phone (778) 421-2427,
online http://bpt.me/3232656
FMI http://alberni.ca/events/26969
Char's 19+ Lounge open 4pm-12midnight Thu/Fri/Sat/Sun
www.charslanding.com Char's Landing, 4815 Argyle @5th. Port Alberni V9Y 1V9