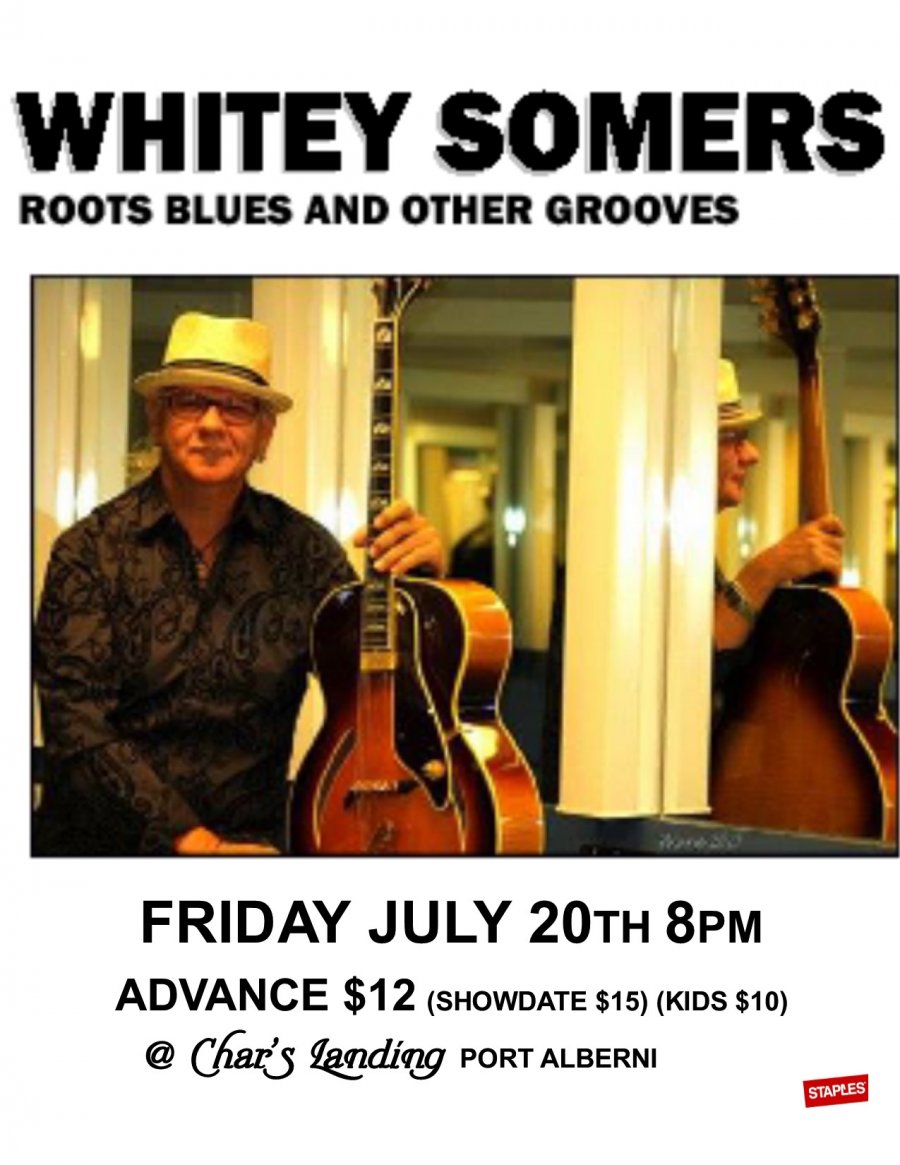 Contact:
info@charslanding.com 778-421-2427
Fri, Jul 20th, 8pm (doors 7), Whitey Somers – Original Roots Blues and Other Grooves
Since the age of 16 guitarist, Motorhome Records recording artist, singer, songwriter Whitey Somers has been performing internationally at festivals, concerts and clubs, sharing the stage with many talented musicians, such as Rick Fines, Stephen Fearing, Jeff Healy, J.P. Cormier, Kim Mitchell and The Bare Naked Ladies to name a few.  There's been a lot of shows over the last 40 years.  Whitey currently performs solo acoustic shows, with "Whitey Somers Band" and as guitarist for "Blue Dog Ramble".  As a side man and session player Whitey has most recently worked with such artists as "The Jessica Benini Collective", "Alexander's Bluestime Band", "Beverley McKeen" "Blue Cadillac", "Lazy Mike", "The Screaming Gas" and more.  "I grew up in a house full of musical influences. There was always something on the turntable or someone visiting with a guitar".  As a nephew of Canadian composer Harry Somers, Whitey Somers found an early love of music, a pool he most happily dove into.  Whitey Somers latest CD "Happy Guy" (the followup to 2005's "YTCD"*) Has been featured in BC Musician Magazine and was produced by Craig Smith and Whitey Somers.  Now available @ CDbaby, itunes, spotify, apple music etc.
https://www.reverbnation.com/whiteysomers
https://www.youtube.com/watch?v=QlHwoVKkb_U  
Since You Let Me Down https://vimeo.com/46093845
Advance $12 (Showdate $15 / Kids $10) now
charge by phone (778) 421-2427,
cash @Rollin Art Centre,
online http://bpt.me/3513688,
service charges may apply
FMI http://alberni.ca/events/26942    https://www.facebook.com/events/218074572141173/
Char's Landing 19+ (accompanied kids welcome) 4815 Argyle @5th Port Alberni V9Y 1V9 Tel: 778-421-2427 www.charslanding.com