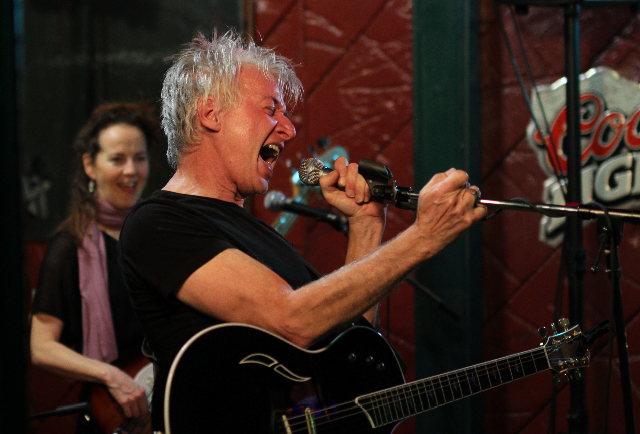 Date:
Friday, February 9, 2018 -
Contact:
info@charslanding.com 778-421-2427
Fri, Feb 9th, 8pm-late, Rock n Roll Dance Party #4 with The John Pippus Band – aka Raise Char's Roof Benefit
A Vancouver-based high energy, rock and roll quartet.  Their brand of rock is heavily influenced by blues, R&B, pop, and classic soul.  Original and Classic Rock, R&B, and Blues.  John is a familiar face to many Alberni Valley residents.  As the leader of his four-piece rock band, he's played The Blue Marlin and La Bruschetta at The Italian Hall.  He's looking forward to bringing his band back to Char's, one of his favorite venues of the many he's played across Canada and in Europe.
The Band: John Pippus (guitar/lead vocals), Marq DeSouza (guitar/vocals), John Dryden (bass/vocals), and Sean Keough (drums).
Video: "We Don't Need No Dance Floor": https://youtu.be/YqokFq17TKU  
Website: www.johnpippus.com
This will also be a benefit for Char's to help pay for her recent room repairs.  There'll be draws throughout the evening.
Tickets Only $10 now @Char's from 4pm TFSS, charge by phone (778) 421-2427,
online http://bpt.me/3231802 *** LIMITED TICKETS AVAILABLE ***
FMI http://alberni.ca/events/26936
Char's 19+ Lounge open 4pm-12midnight Thu/Fri/Sat/Sun
www.charslanding.com Char's Landing, 4815 Argyle @5th. Port Alberni V9Y 1V9
Bio
"He has a gift for making us believe that he's been down the road and around the block, and is still kickin' it."
From sharing a stage with Jackson Browne to playing to small, but appreciative coffee house audiences, John has lived a life filled with music and well-earned stories. SoundProof Magazine has declared him, "…a folk/roots gem"; The Vancouver Province says he's: "…a refined tunesmith with serious pop hooks". Earshot Magazine's Shelley Gummeson says:"He has a gift for making us believe that he's been down the road and around the block, and is still kickin' it."
Click HERE TO READ FEATURE INTERVIEW with John in Earshot Magazine.
J.J. Cale's and John Lee Hooker's longtime manager, Mike Kappus, says:
"Hi John - Mike Kappus here. I represented JJ Cale for 30 years and now help with his estate. I wanted to let you know that we (including Cale's wife) enjoyed your version of Cale's "Call Me The Breeze" so we have today posted it on Cale's official Facebook page here - Wanted to make you aware and Thanks!"
"Another EP - three songs this time - is The Hindenburg Affair by The John Pippus Band. Pippus has essayed his version of the blues before, but this EP recorded live at the Hindenburg Nightclub indicates a slight change of direction to a laid-back, Bob Dylan-ish and countrified blues. Shows a band gelling." - Tom Harrison. The Province Newspaper
More...
Favorite venues John has played include: The Bluebird Café (Nashville), The Tractor Tavern (Seattle), The Vogue Theatre (Vancouver), Canon's Gait (Edinburgh), Bruxelles Bar (Dublin),The Newtown Festival (Wellington, New Zealand), Bluebird North (Vancouver), and The ArtsWells Festival in Wells, BC. John has toured in The Netherlands in May 2012 and again in May/June 2014. In September 2014 he performed on the VIA train from Vancouver to Toronto. He tours regularly on Vancouver Island, BC's Interior, Ontario, Quebec and overseas.
John has licensed a co-write (with Jen Hershman),"Embrace" to Portugual's The Max Girls. CBC Radio's "The 180 Show", a weekly, national current affairs program has licensed an instrumental version of John's, "I Need A Whole Lot Of Your Love" as their closing theme song.
For over six years, John's music is in weekly rotation on Vancouver's LG 104.3 FM's Blues Lounge, broadcasting from 8PM to midnight on week nights.