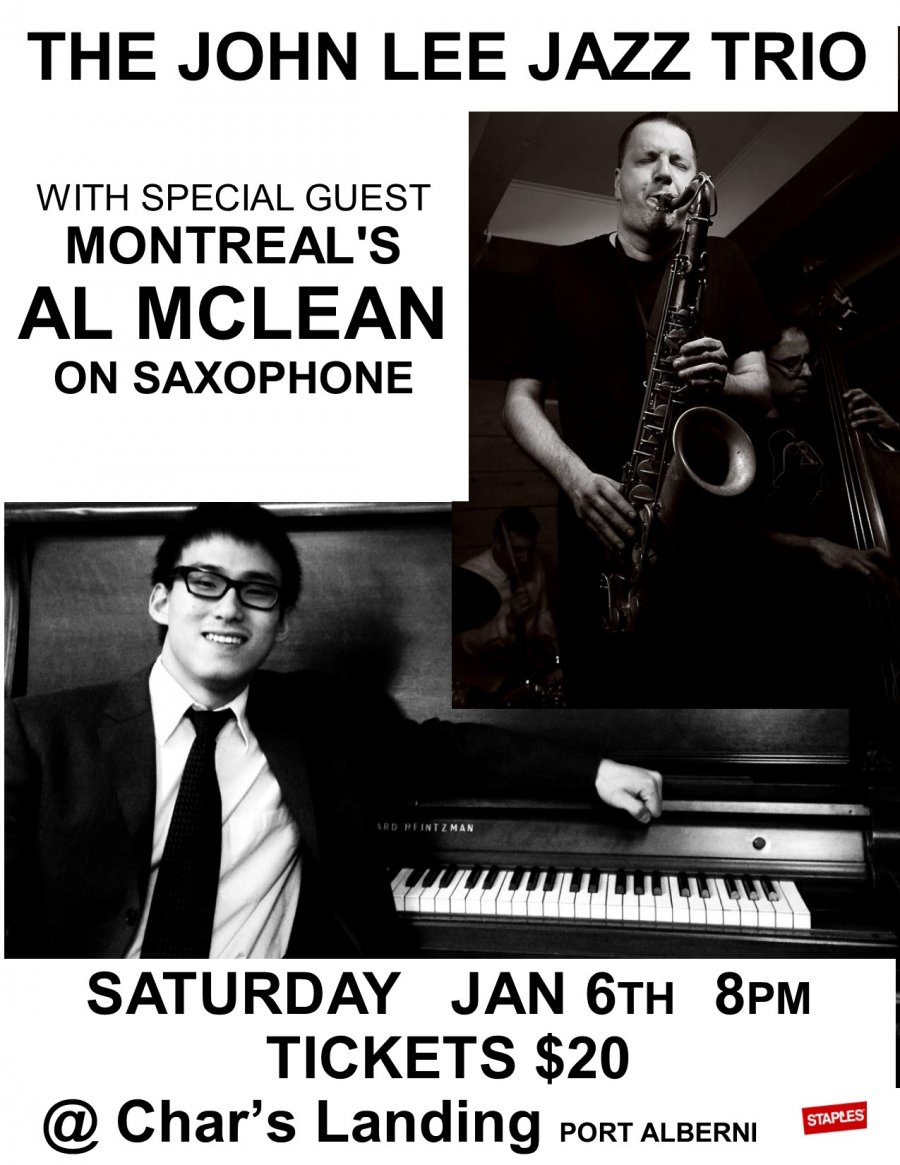 Date:
Saturday, January 6, 2018 -
Contact:
info@charslanding.com 778-421-2427
Sat, Jan 6th, 8-10pm, Concert – John Lee Trio with special guest Al McLean on sax - Jazz
https://www.albernivalleynews.com/entertainment/john-lee-jazz-trio-featuring-al-mclean-on-sax-plays-chars-landing-jan-6/
Multi-instrumentalist John Lee presents his trio with special guest Al McLean on saxophone. This is a rare collaboration of jazz musicians from west and east coast Canada and will be sure to be a night of unpredictable high octane jazz in classic quartet setting. With Sean Drabitt (Victoria) on bass and Graham Villette (Port Alberni) on drums.
AL MCLEAN: Saxophonist, composer, arranger.  A native of Victoria, British Columbia, Al McLean has resided in Montreal since 1995. He is a sought-after saxophone specialist, and professor of music at McGill University.  His most recent album Frontiers, featuring Azar Lawrence, was released in November 2016.  Al McLean has performed and recorded worldwide with countless artists of every style of music, including Jimmy Cobb, The Temptations, Vinny Falcone, Susan Anton, Jon Bowzer, Offenbach, Colin James, Herb Ried, Boule Noir, Susie Arioli, Lenny White, Gary Smulyan, Gene Perla, Azar Lawrence, George Garzone, Jerry Bergonzi, Seamus Blake.  Al McLean's improvisations have been described as "a fluid, masterful account of the entire lineage of the saxophone".   https://www.almclean.com/   https://youtu.be/iOw9S_DE8W0
JOHN LEE: Raised in Nanaimo BC, John Lee is one of the most respected and acclaimed young jazz musicians nationwide. As an artist, John Lee is known for his incredible proficiency as a multi-instrumentalist as well as his ability to connect audience to his music and live charisma. Lee has done an extensive amount of performing in cities located in North America including New York City (Dizzy's Club Coca Cola, SOMETHIN' Jazz Club), Boston (Wally's Jazz Café, The Beehive), Washington (Kennedy Center Millennium Stage, Hamilton Live), Toronto (The Rex), Vancouver (Cellar Jazz Club), and Victoria (Hermann's Jazz Club). Lee has performed numerous times as a sideman and leader at international jazz festivals including TD Prince Edward County Jazz Festival, DC Jazz Festival and TD Victoria and Vancouver International Jazz Festival. 
www.facebook.com/johnleemusician   https://www.youtube.com/watch?v=00MHrStWTyQ&t=
https://www.facebook.com/events/892183610948474/
Tickets $20 now @Char's from 4pm TFSS, charge by phone (778) 421-2427, online http://bpt.me/3214176
FMI http://alberni.ca/events/26574 Char's 19+ Lounge open 4pm-12midnight Thu/Fri/Sat/Sun www.charslanding.com Char's Landing, 4815 Argyle @5th. Port Alberni V9Y 1V9