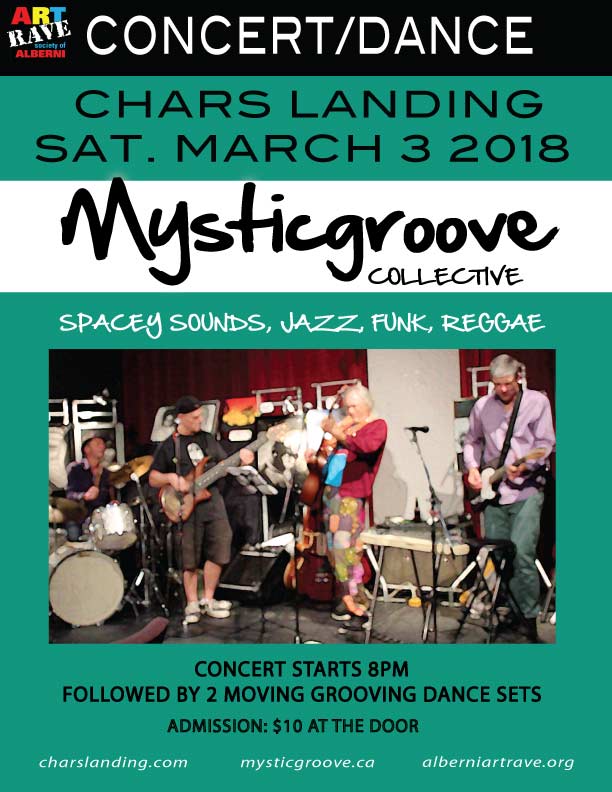 Date:
Saturday, March 3, 2018 -
Contact:
info@charslanding.com 778-421-2427
Saturday, March 3rd, 8-11pm, Concert/Dance – Mystic Groove Collective & Art Rave Alberni
– Spacey Sounds, Jazz, Funk, Reggae     EVERYONE WELCOME !!! 
Mystic Groove Collective is about spreading positive messaging thru original songs.  The Artist role in the big picture of things is to inspire thoughtfulness and joy.  From quiet spooky northern songs with spacy sounds to full on dancing funk numbers MGC will take you on a musical journey.  The band is into all kinds of styles, Jazz, Funk, Reggae.... etc.  Members Barry Bruyere (Art Rave), John Greenberg, John Dryden and Sean Keough are all seasoned performers who seek the heart and soul in every song.  Currently recording their second CD.
 Please check out link to www.mysticgroove.ca 
Tickets $10 now @Char's from 4pm TFSS, charge by phone (778) 421-2427, online http://bpt.me/3340729
FMI http://alberni.ca/events/26365   https://www.youtube.com/watch?v=_tk-AiGR_IU
Char's 19+ Lounge open 4pm-12midnight Thu/Fri/Sat/Sun
www.charslanding.com Char's Landing, 4815 Argyle @5th. Port Alberni V9Y 1V9