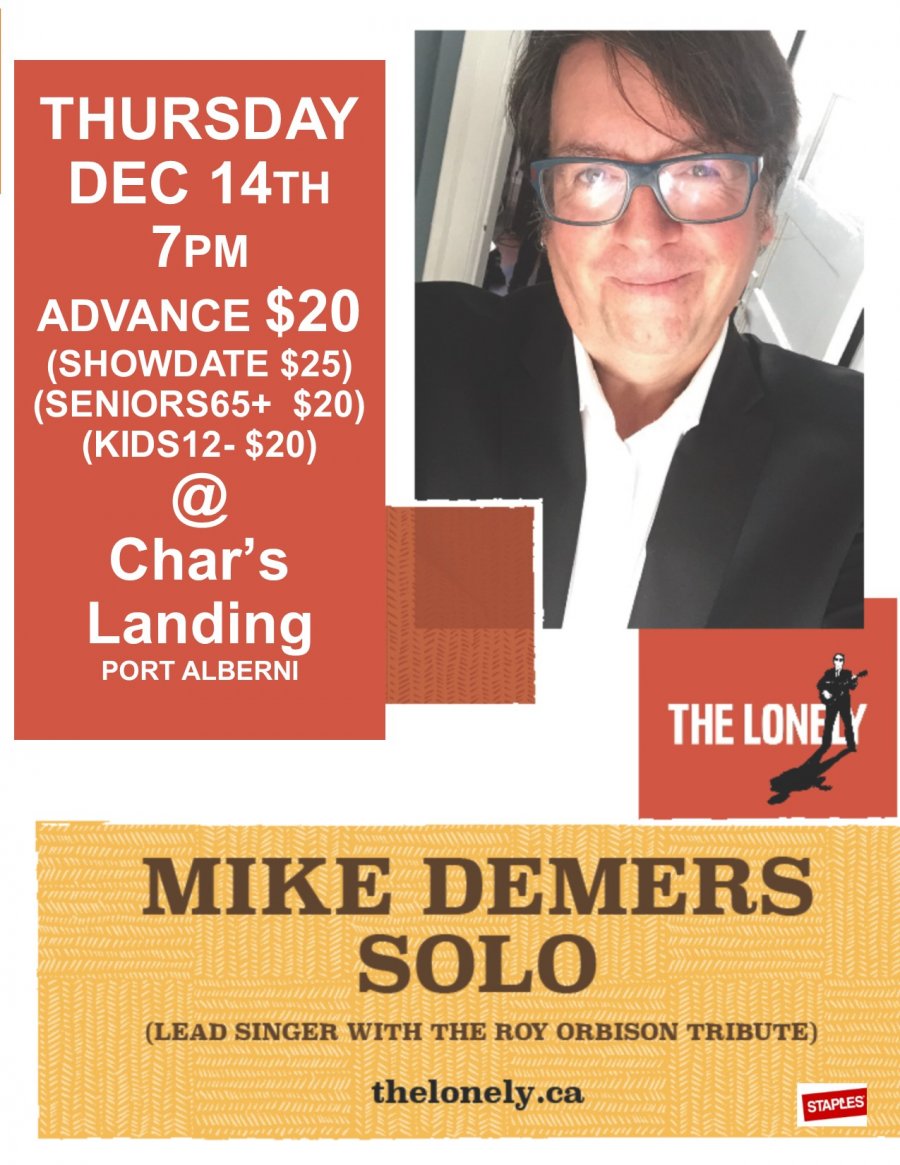 Date:
Thursday, December 14, 2017 -
Contact:
info@charslanding.com 778-421-2427
Thu, Dec 14th, 7-9pm, Concert – Mike Demers Solo – Lead Singer of The Lonely - Roy Orbison Tribute
Classic Rock and Roll from the 60s and 70s.  Lead singer of the Victoria based Roy Orbison tribute The Lonely is performing for the first time in the Alberni Valley.  As a part of a 2017 fall Vancouver Island tour Mike Demers is bringing a solo show that will feature many Orbison hits as well as a selection of songs from the Everly Brothers, The Zombies, The Cascades, Cat Stevens, Janes Taylor and others.   Mike will also be performing several original songs. 
The Lonely - Only the Lonely https://youtu.be/Pe4kY2sBgU4
The Lonely - Pretty Woman / Crying https://youtu.be/px4wJVU9Snk
Advance $20 (Showdate $25 / Seniors/Kids $20) now
@Char's from 4pm TFSS,
charge by phone (778) 421-2427,
online http://bpt.me/3179403
FMI http://alberni.ca/events/25535
Char's 19+ Lounge open 4pm-12midnight Thu/Fri/Sat/Sun
Char's Landing, 4815 Argyle @5th. Port Alberni V9Y 1V9
Bio (Oct 2017)
Mike is a singer songwriter based in Victoria BC.  For the past three years Mike has been the lead singer of The Lonely (Roy Orbison tribute) an act which performs throughout Canada (thelonely.ca).  Mike also sings with a trio in Victoria (Smash Hits) which perform songs from the 60s and 70s and in his "spare time" he sings and plays guitar with The New Waves which is a dance party band playing hits from the late 70s and early 80s.
Mike has been an active songwriter and over the years has shared the stage with musicians such as Leon Russell, The Posies, The Odds, The Pursuit of Happiness and many other acts performing his original songs.  His band, Jho Nek Bhone, had many wonderful experiences at the historical Harpos and throughout Canada.
Mike's career started in Edmonton and playing across the prairies provided early experiences on the road to a music lifestyle.  Moving to Vancouver in 1983 Mike completed a diploma at Capilano College (Music Therapy) and over the next many years Mike has worked with youth and their families throughout the Greater Victoria area while playing music part-time.  In 2017 Mike went full time as a musician and is looking to bring his music to audiences throughout Canada. Considered to write and record in the pop rock vein, Mike is known to write catchy tunes that reflect his observations of life on the west coast.
In the fall of 2017 Mike is traveling across Vancouver Island producing solo shows and bringing the songs of Roy Orbison and others to Vancouver Island communities.
For more information please contact Mike at 250-419-2791 or mikedemers58@gmail.com
# # #