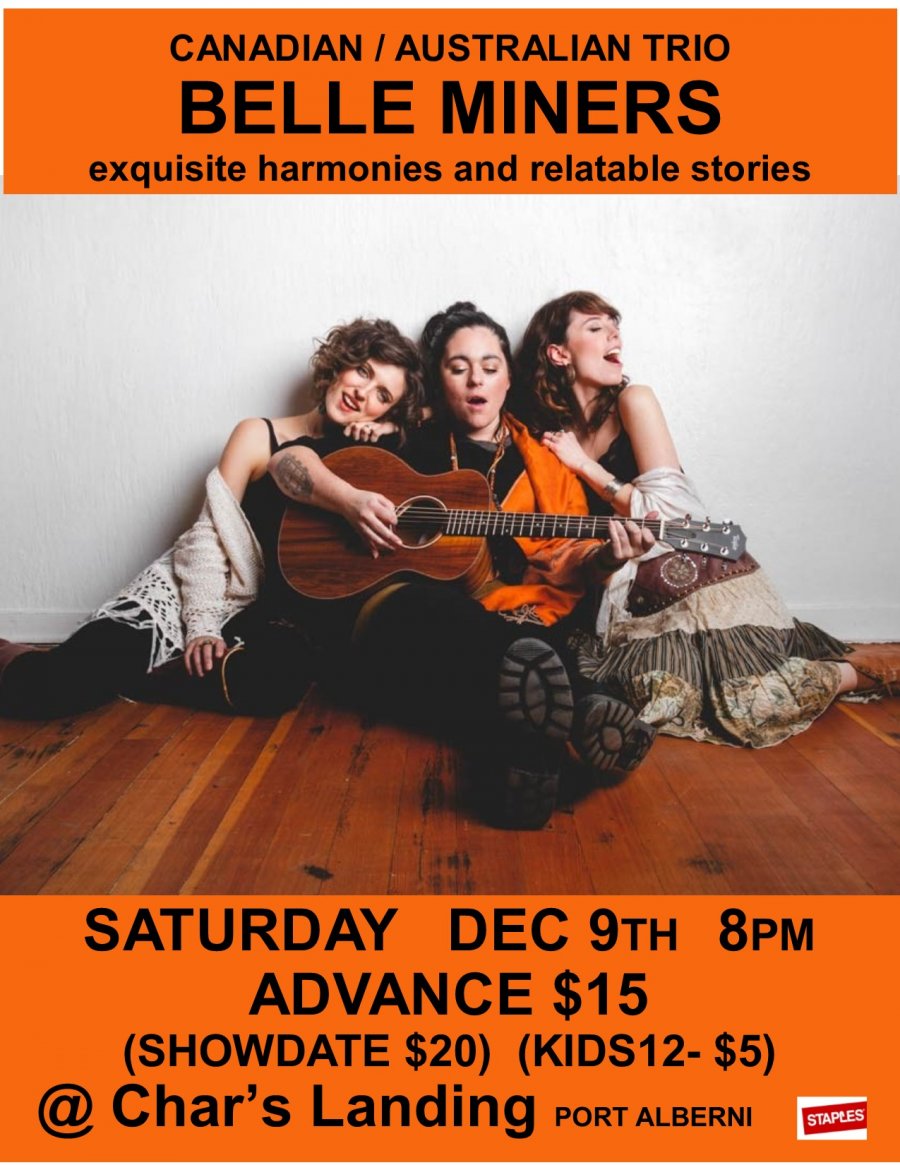 Date:
Saturday, December 9, 2017 -
Contact:
info@charslanding.com 778-421-2427
Sat, Dec 9th, 8-10pm, Concert – Belle Miners – Folk/Candiana
"Tight harmonies, musicianship and well crafted catchy tunes, The Belle Miners had the audience totally engaged from the first song.  Their humor and easy banter made it all the more entertaining""  — SUE MEDLEY, MUSICIAN
Origins — The Belle Miners' music resonates with the wild places they come from and the wild places they travel. The band was formed in Australia and named after the inspired by the rhythmical intonation of Bell Miners in the Australian bush. 
Members — Felicia Harding Guitar,  Vocals - Marina Avros Guitar, Vocals - Jaime Jackett Keys, Vocals
Back from their 4th Australian Tour.
https://www.belleminers.com/listen/
Advance $15 (Showdate $20 / Kids $5) now
@Char's from 4pm TFSS,
charge by phone (778) 421-2427,
online http://bpt.me/3179272
FMI http://alberni.ca/events/25534
Char's 19+ Lounge open 4pm-12midnight Thu/Fri/Sat/Sun
Char's Landing, 4815 Argyle @5th. Port Alberni V9Y 1V9
BIO
Belle Miners - Powerful Owl
Debut Album out NOW via MGM Distribution
Canadian/Australian trio Belle Miners release their debut album Powerful Owl on 3 November. The album was made while travelling and performing in Australia, and produced by JUNO award-winner Joby Baker at Baker Studios in British Columbia, Canada.
Life-long friends, Canadian musicians Felicia Harding and Marina Avros and Australian-based Jaime Jackett, combine exquisite harmonies and relatable stories into a 10-track upbeat sonic journey covering themes from love and loss to overcoming life-threatening illness.
'25 Years' is a beautiful ode to the strength of enduring relationships, and first single 'Fall In Love With Me' is a romantic tale of same-sex love. "It was completely by chance that the government of Australia happened to be going to the polls the very week we were planning to release our single," says Jaime. "And with the marriage equality plebiscite up and coming in Australia, we wanted to show our support for our band mate, Marina, and the LGBTQI community in Australia, and the world, by offering up our pending release for equality... it is focused on love, personal challenge and death. It's sort of the collective life story of the band, if you will."
They don't shy away from darker tales of personal hardship either, tracks 'Strange World' and 'Night Flight' are inspired by Jaime's brush with cancer. "Last year, I had a brain stem tumour removed that had been considered inoperable and benign for 11 years. After a series of events, it was my family's discovery of Dr. Charlie Teo that saw me having the 'inoperable' removed. As it turned out, it had become a cancer. I believe he saved my life. The band has helped get me through this insane period of my life... we stubbornly toured in February, despite the challenge, and followed that by recording 'Powerful Owl' after the tour... Needless to say, that experience was a huge influence on songs that I penned. Lyrics come in many ways - fully formed, smooshy syllables, painfully pulled from the ether, or magically drifting into your head. Scribbled on paper, recorded on phones, or repeated by rote so their remembered for later when a pen or phone is handy! Our muses and geniuses take many forms!"
The trio formed in Australia in 2015 and have since performed nationally, including their famed Tasmanian Caves concert, performed 100 meters underground. The band's sunlit sound has been cultured from the love and support they've received from audiences down under.
With dense vocal harmonies, clever lyrics and a liberating, joyous sound, Powerful Owl has been described as "an experience, with each song extracting an emotional response... Belle Miners have a shimmering sound, and their first album takes this along with personal stories to create an awe-inspiring set of ten tracks... Powerful Owl is well worth a listen, or ten, and Belle Miners are a trio with a future career well worth following." (4 stars, Forte Magazine).
Belle Miners will tour Australia in January 2018, taking in venues across New South Wales, Tasmania, Western Australia and a string of shows in Victoria, with further dates soon to be announced.
Australian 2018 Tour Dates:
Wed 3 Jan - Rocka House Stage, Merimbula Magic Mountain NSW
Thu 4 Jan - Berry School of Arts, Berry NSW
Fri 5 Jan - Heritage Hotel, Bulli NSW
Thu 11 Jan - Elephant Bar, Broome Convention Centre, Broome WA
Tue 16 Jan - Parks Tasmania, Hastings Caves, nr Geeveston TAS
Wed 17 Jan - Frank's Cider Bar, Franklin TAS
Fri 19 Jan - Printers Room, Sebastiaans, Ballarat VIC
Sat 20 Jan - Upwey Skylark Room, Burrinja VIC
Sun 21 Jan - Toff in Town, Melbourne VIC
Web: www.belleminers.com
Facebook: www.facebook.com/belleminers
November 12, 2017