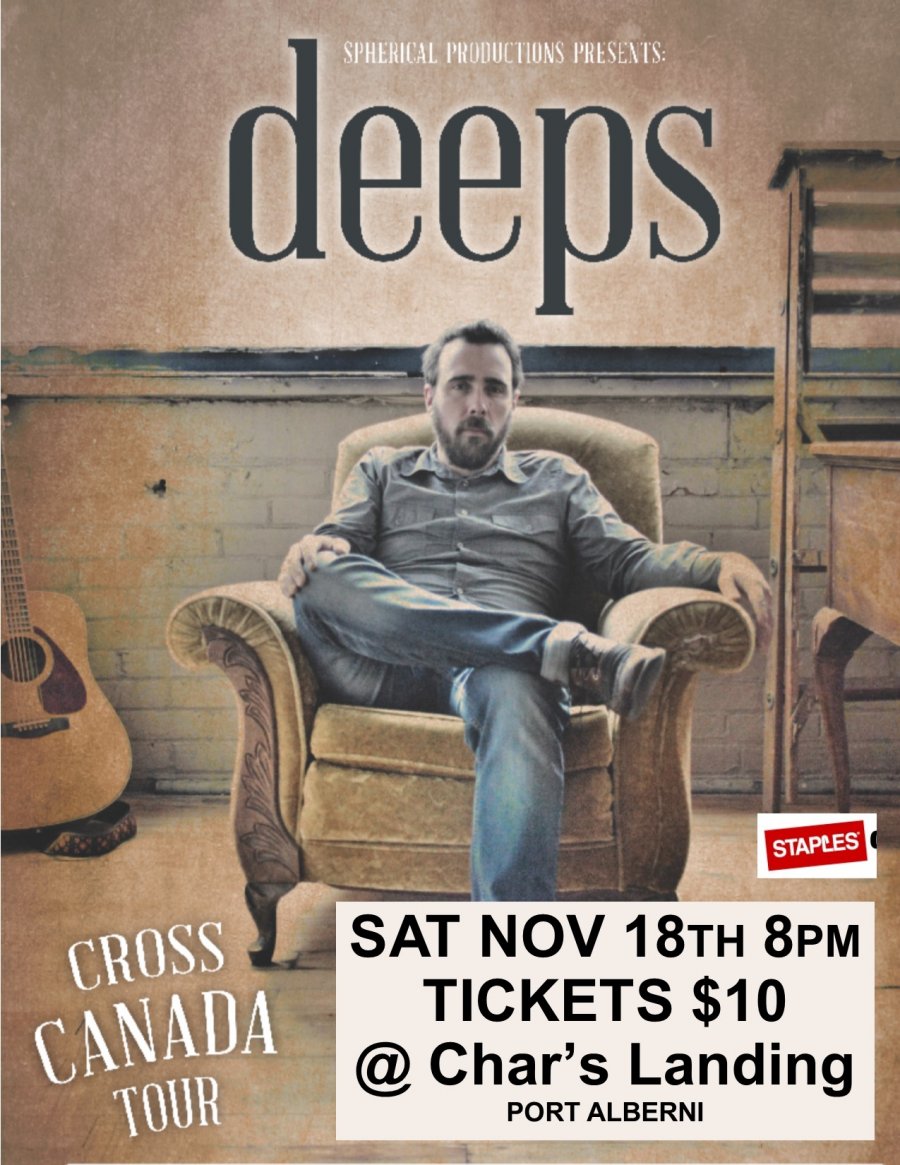 Date:
Saturday, November 18, 2017 -
Contact:
info@charslanding.com 778-421-2427
Sat, Nov 18th, 8-10pm, Concert – Deeps EP Release Show – Alt/country | Roots music
Steve "Deeps" De Piante is a Roots/Adult Contemporary songwriter and performer from Hamilton Ontario.  As a young artist Deeps was part of the group Alice that played on Woodstock '99 emerging artist stage, he also contributed music to an award winning theatre production called Shivaree for the Guelph Little Theatre in 2005 and is set to be broadcast on Hamilton's Cable 14 in the fall that compiles live footage from the West End Pub and Grant Avenue Studio.  In the fall of 2017 Deeps will set out on tour in support of his self titled live album release. Amy King of Grant Avenue studio summed it up after a recent recording session. "I have recently had the opportunity of recording Steve 'Deeps' De Piante for an upcoming TV mini concert series both on location and in studio. As a working music producer, recording engineer and musician, I listen to, dissect, and work on music every day. Steve's crafted song writing encompasses everything from artistic stories, lyrical substance, well-executed melodies / arrangements, and most importantly his delivery is pure tangible passion. Strong even with just a guitar and vocal, Steve's writing gives me shivers as my mind journeys in to those places in my own heart that often times, writers are afraid to shine a light on. Full of darkness yet in contrast, full of hope, these songs need to be heard.
www.soundcloud.com/musicfromthedeeps  
The artist's favourite video link.  https://www.youtube.com/watch?v=2ez9-f1e7nk
As Fast as You Can (solo)  https://www.youtube.com/watch?time_continue=69&v=4vIU8zvghcg
Nowhere Girl (solo)  https://wwwyoutube.com/watch?v=Dkz42q1I6VE
Tickets $10 now @Char's from 4pm TFSS, charge by phone (778) 421-2427, online http://bpt.me/3160440
FMI http://alberni.ca/events/25203 
Char's 19+ Lounge open 4pm-12midnight Thu/Fri/Sat/Sun
www.charslanding.com Char's Landing, 4815 Argyle @5th. Port Alberni V9Y 1V9