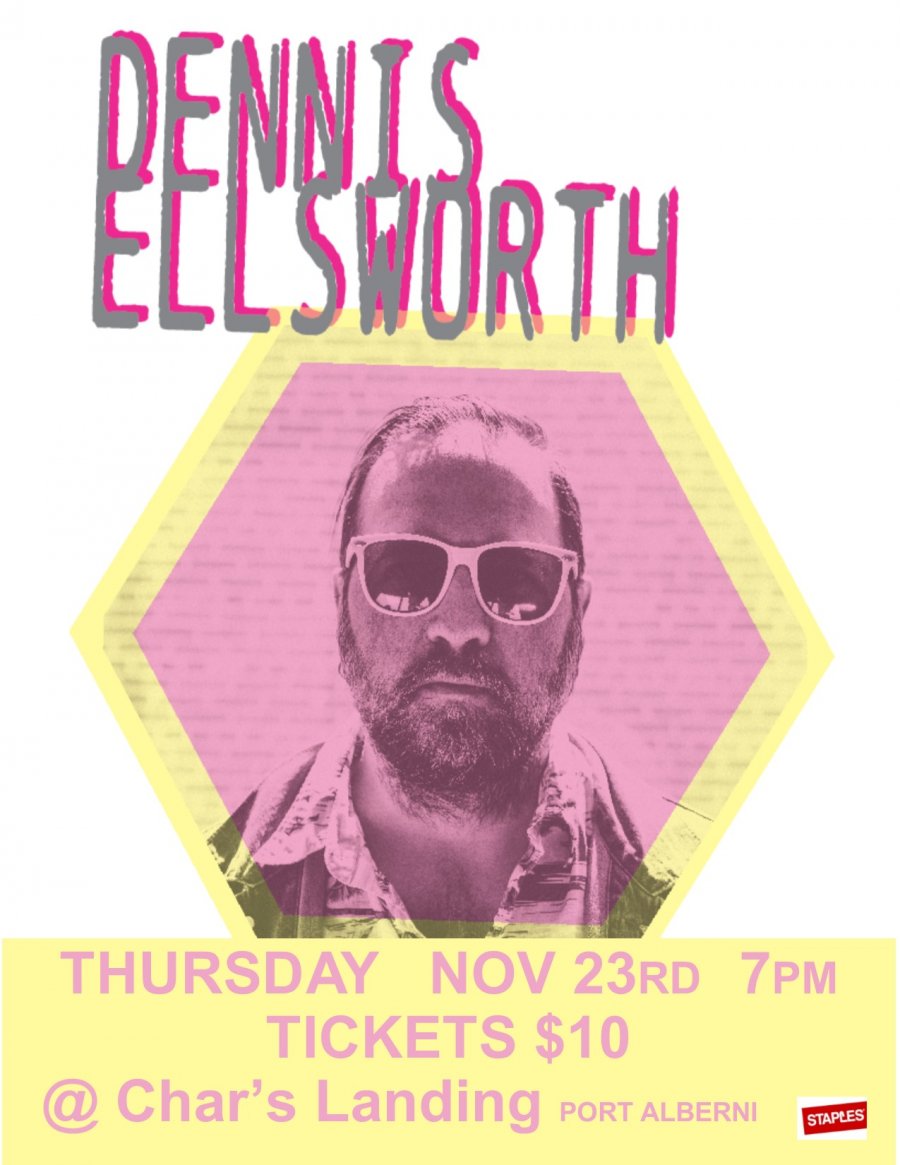 Date:
Thursday, November 23, 2017 -
Contact:
info@charslanding.com 778-421-2427
Thu, Nov 23rd, 7-9pm, Concert – Music PEI Awards Winner Dennis Ellsworth – singer songwriter
2012 Album Dusk Dreams was quickly followed up with Hazy Sunshine, produced by The Skydiggers' Josh Finlayson and recorded in the heart of Canada's winter at The Tragically Hip's Bathouse studio on the frozen shores of Lake Ontario.  Hazy Sunshine displays Dennis's depth, range and development as a songwriter. Not only did it bring in 2013 Music PEI awards for Roots Contemporary and Male Solo Recordings of the Year, it also generated attention, interest and praise in both Canada and the UK. In 2014, (the year of its UK release), Hazy Sunshine made the Telegraph Journal's top 40 country records of the year, Square Roots Promotions top records of year and the Lazy Brighton Blog's top 20 records of the year.  Where Dusk Dreams featured one co-written song (with British rising star John Smith), Hazy Sunshine featured two (one written with Josh Finlayson and Andy Maize from The Skydiggers, and the other with Gord Downie of the Tragically Hip). The success of these endeavors encouraged Dennis to consider writing more songs with others and to begin writing for other artists, as well as himself.  Dennis Ellsworth has written songs in an impressive variety of styles. The depth of his already strong sense of melody and craftsmanship is evident in each new effort. In 2014 Ellsworth was named one of Canada's top ten new artists by the judges of the CBC Searchlight Contest. He also performed at the Lincoln Centre in New York City as one of twelve finalists in the International New Song Contest.  Dennis Ellsworth has just completed the recording of his new album in Dartmouth, NS. The album was produced by Joel Plaskett and will be released in spring 2017. In recent months, Dennis has been promoting his release with longtime collaborator Kinley Dowling (Hey Rosetta) called Everyone Needs to Chill Out.
https://itunes.apple.com/ca/album/full-moon-blues/id1023522851?i=1023522988
Tickets $10 now @Char's from 4pm TFSS, charge by phone (778) 421-2427, online http://bpt.me/3135053
FMI http://alberni.ca/events/25122
Char's 19+ Lounge open 4pm-12midnight Thu/Fri/Sat/Sun
www.charslanding.com Char's Landing, 4815 Argyle @5th. Port Alberni V9Y 1V9