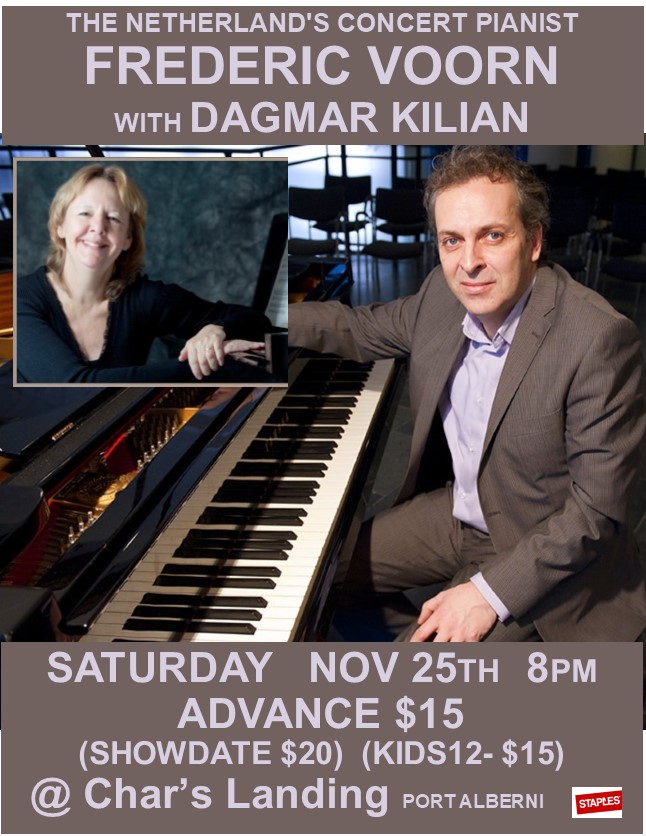 Date:
Saturday, November 25, 2017 -
Contact:
info@charslanding.com 778-421-2427
Sat, Nov 25th, 8-10pm, Concert – The Netherland's Frederic Voorn + Dagmar Kilian - Concert Pianists
Frederic Voorn: is active in several musical areas. He is a concert pianist, a composer and makes programs for Dutch Radio 4. He is the conductor of four choirs, writes articles for several magazines and also a book about the history of pianos and pianists.
As a pianist, Frederic Voorn has given many concerts. He was a laureate of the Frank Martin International Music Competition and was invited to perform at several international music festivals (Tibor Varga Festival in Sion, Switzerland, Grand Piano Festival in Amsterdam, Antverpiano in Antwerp, Prague Spring Festival, Scarlatti Festival and Geelvinck Pianoforte Festival in Amsterdam, International Festival of Chamber Ensembles in Kazan, Tatarstan, Nordic Historical Keyboard Festival in Kuopio, Finland, Landjuweel Festival in Ruigoord, Amsterdam Virtuosi, Grachtenfestival and Pianola Festival in Amsterdam, Across Bridges International Piano Festival in Valencia). In 1996 a CD with sonatas by Domenico Scarlatti appeared at Breeze Records, and in 2007 he contributed to a CD with music by the Danish composer Hans Christian Detlefsen. In 2012, a new CD appeared at Ezra Records, titled: Music Box. This album is a small anthology of three centuries of piano music. In 2013 he recorded five sonatas by Joseph Haydn for the same label. The CD The Art of the Nocturne was released late 2014.
Dagmar Kilian: initially received her musical training at the University of Victoria obtaining a Bachelor of Music followed by a Masters in Piano Performance from the Netherlands. There she lived and worked as a freelance pianist for 24 years performing with groups such as Circle Ensemble, Netherlands Dance Theatre & Holland Symfonia.  Dagmar returned to Canada in 2008 and presently lives in the Comox Valley where she is well known as a piano teacher and accompanist.  Dagmar has collaborated as a pianist with Rainbow Youth Theatre, Courtenay Little Theatre, CYMC and the COVAL Choristers performing countless shows and concerts.
Advance $15 (Showdate $20 / Kids $15) now
@Char's from 4pm TFSS,
charge by phone (778) 421-2427,
online http://bpt.me/3133027
FMI http://alberni.ca/events/25110
Char's 19+ Lounge open 4pm-12midnight Thu/Fri/Sat/Sun
www.charslanding.com Char's Landing, 4815 Argyle @5th. Port Alberni V9Y 1V9