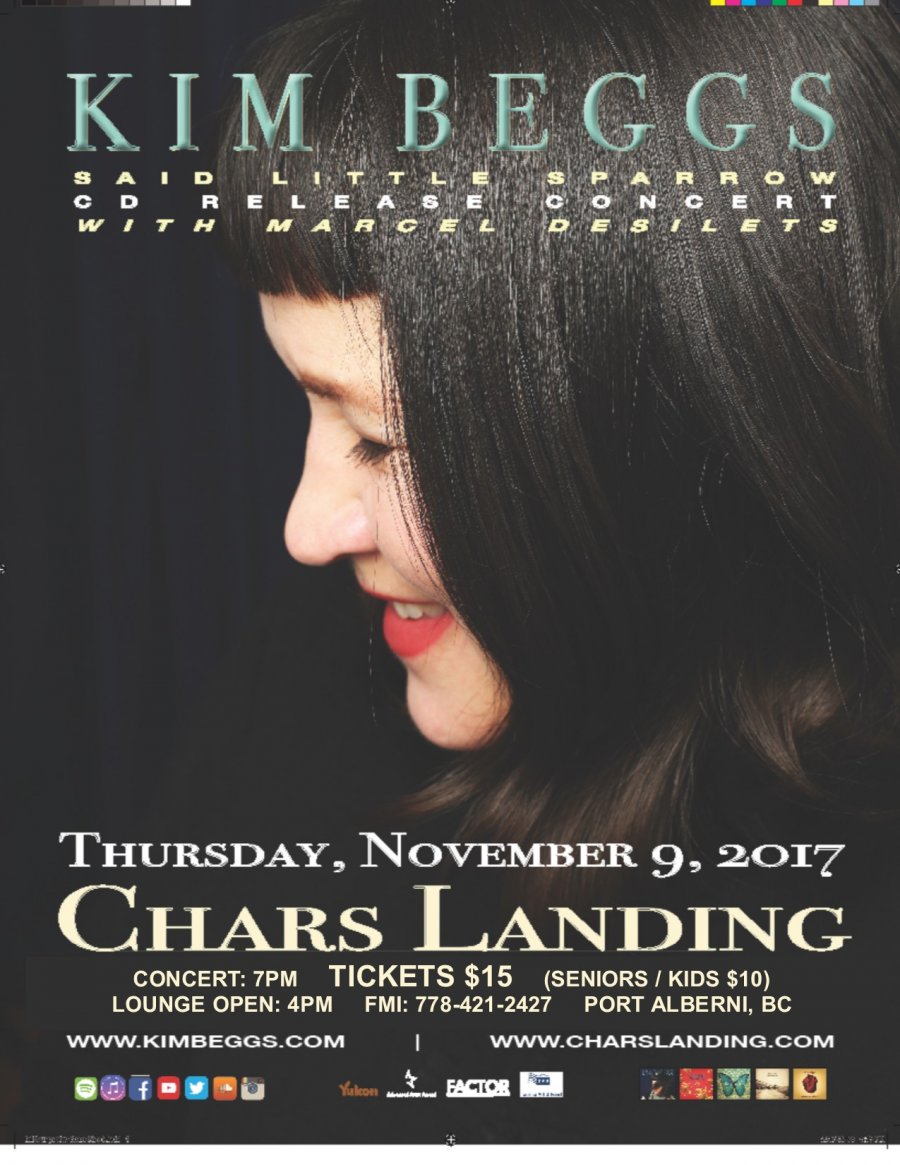 Date:
Thursday, November 9, 2017 -
Contact:
info@charslanding.com 778-421-2427
Nov1st update: Special guest Yukon Troubadour Kevin Barr is a veteran Juno nominated musician who has toured festivals and concerts in North America and Europe He most notably fronted roots band the Undertakin Daddies, and more recently touring his solo album "Lost & Found " And this summer 2017, touring with "West Dawson Ramblers". Now joining longtime friend Kim Beggs on a few of her Vancouver Island concert dates.   "Kevin sings like an Angel" Penny Lang - Canadian Folk Icon
Thu, Nov 9th, 7-9pm, Concert – Yukon's Kim Beggs - Folks Roots Country Americana Singer Songwriter
Kim Beggs sings sweet, dark tales of northern life.  With the momentum gathered from six Western Canadian Music Award nominations and three Canadian Folk Music Award nominations she is set to release her self-produced fifth solo album in the fall of 2017.  Kim is a Yukon based songwriter, recording and world touring artist who also enjoys making claymation stop motion music videos.  Beggs uses visual imagery and metaphor in her songwriting and so, like a painting, brings the mind and heart to life.  Kim has toured with Buffy Saint Marie, Chris Jagger and more.  Kim will be accompanied by Marcel Desilets of Winnipeg on banjo, dobro and harmony.
 "it's hugely refreshing to hear not only interesting and engaging lyrics, but also beautifully crafted songs". SING OUT MAGAZINE
Nominee 2014, 2012, 2007 Canadian Folk Music Awards 
Nominee 2014, 2013, 2011, 2007 Western Canadian Music Awards
https://www.youtube.com/watch?v=hVXMIv7ait8   
Tickets $15 (Senior $10 / Kids $10) now
@Char's from 4pm TFSS,
charge by phone (778) 421-2427,
online http://bpt.me/3117057
FMI http://alberni.ca/events/24791
Char's 19+ Lounge open 4-12midnight THU/FRI/SAT/SUN
www.charslanding.com Char's Landing, 4815 Argyle @5th. Port Alberni V9Y 1V9