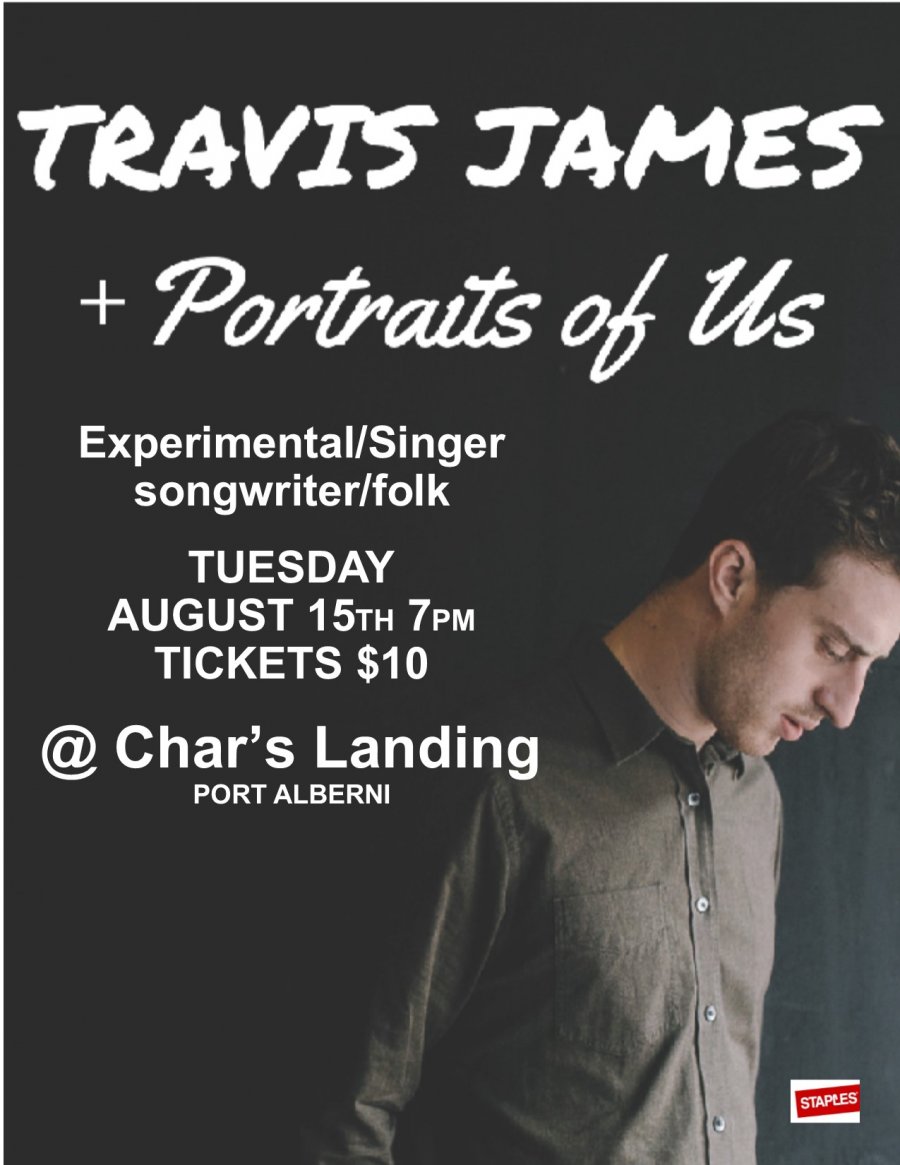 Date:
Tuesday, August 15, 2017 -
Contact:
info@charslanding.com 778-421-2427
Tue, Aug 15th, 7-9pm, Concert – Travis James w/Portraits of US - Experimental/Singer songwriter/folk
Travis James is a Canadian singer-songwriter from Vancouver, British Columbia.  He recently released his sophomore EP titled "Timeless As The Moon".  This EP reflects on the journey Travis has made in these last 3 years, focusing on the struggle and beauty of pushing through life and finding hope and purpose in something beyond yourself.  Travis James will be embarking on his first Canadian tour this summer, in support of "Timeless as The Moon".  He will begin in Vancouver and end up in Ottawa, playing in 30 different cities along the way.
http://www.travisjamesmusic.net/
https://www.facebook.com/travisjamesmusicandhope/
https://www.instagram.com/travisjamesband/
https://open.spotify.com/artist/56tmsJ7YgHf6rxZNbCmj9Y
https://youtu.be/4FnWbOEWXDQ   (Brand new video!)
https://itunes.apple.com/ca/album/timeless-as-the-moon-ep/id1231492222
Portraits of Us is a duo consisting of experienced solo performers, Hason and Anna Ratzlaff.  Portraits of Us has a sound that is clean, melodic, acoustic, and balanced with intricate guitar and vocal arrangements.  The music of Portraits of Us could be compared to the likes of The Civil Wars, The Staves, and Noah Gunderson.  Jason and Anna are currently in the middle of recording and producing an 8 song album, which is due to be released early summer.  They will be supporting Travis James for the first half of his cross-Canada tour.
https://www.portraitsofusduo.com/
https://www.facebook.com/portraitsofusduo/
https://youtu.be/zqbuT0Ya9FM   (Video)
Tickets $10 now @Char's from 4pm daily, charge by phone (778) 421-2427, online http://bpt.me/3046495 
* Parents / Guardians may bring their kids until 10pm *
FMI http://alberni.ca/events/22669  Char's 19+ Lounge open 5:30-12midnight 365+ days a year www.charslanding.com Char's Landing, 4815 Argyle @5th. Port Alberni V9Y 1V9