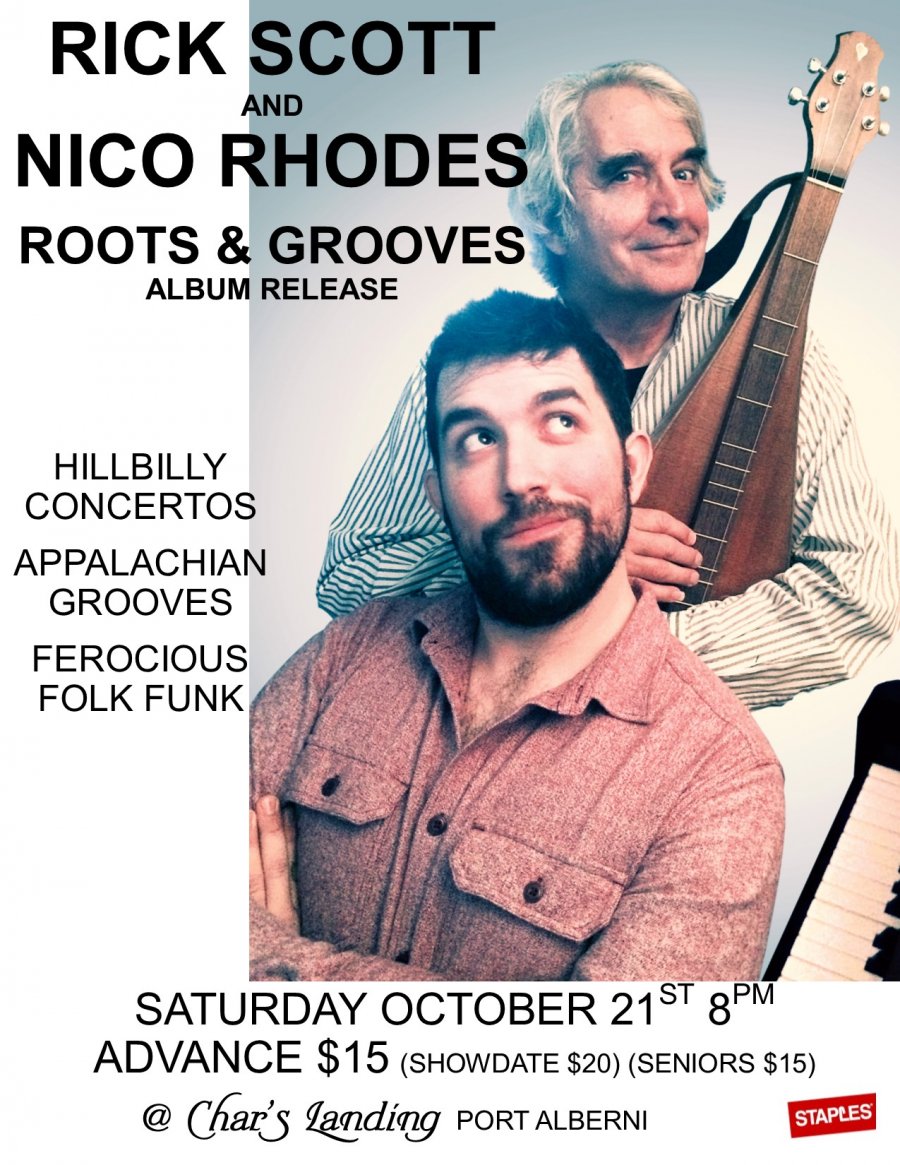 Date:
Saturday, October 21, 2017 -
Contact:
info@charslanding.com 778-421-2427
http://www.albernivalleynews.com/entertainment/rick-scott-nico-rhodes-cross-generation-gap-at-chars-landing/
Sat, Oct 21st, 8-10pm, Concert – Rick Scott and Nico Rhodes: ROOTS & GROOVES Album Release
Forty years apart in age, self-taught dulcimer player and classically trained pianist blur all boundaries in a smorgasbord of folk, blues and soul. In a word, they cook!  What do you get when you combine an infamous roots artist with a rising jazz star, seasoned expertise and youthful exuberance, old school groove with Broadway chops?  ROOTS & GROOVES is a multi genre conversation across the generations spiced with improvisation, innovation and humour.  
At 27, Nico Rhodes is in constant demand as a musical director for long run stage shows when not touring with chanteuse Joelle Rabu. "Nico Rhodes is astonishing, you have to hear and see him caress, cajole and at times almost punish the piano. Breathtakingly fresh sounds and style radiate from this young musician." 
Since pioneering rogue folk with iconic BC trio Pied Pumkin, Rick Scott has performed in nine countries and released 19 recordings honoured with 3 Juno nominations, WCMA and Canadian Folk Music Awards.  "Rick Scott is an enchanter, an alchemist creating gold out of dross with music as his catalyst. He uses every fibre of his being to translate private experience into shared experience."
Rick says, "Nico Rhodes is on fire. At his age I was touring far and wide with Pied Pumkin and this harkens back to that unfettered creativity. It's thrilling to play some of my earliest tunes reinvigorated and reimagined by Nico's originality and brilliance."
Nico says, "My childhood playlist was Beethoven, Piaf, Oscar Peterson and Rick Scott. I wrote Rick a fan letter when I was 8 and when I was 23 he hired me to orchestrate his music for Symphony. The guy oozes groove, we shake each other up and the audience gets to come along for the good times. Playing with Rick is the most fun I've ever had on stage and a childhood dream come true."
 
ROOTS & GROOVES was recorded live from the floor in a single day at Mountain View Studios, Nanaimo. Produced by Valley Hennell. Recorded & mixed by Rick Salt. All songs written by Rick Scott except 'The Mystery' by Max Ochs.
More info & tour details www.rickscott.ca/roots-grooves . 
Video Link: Recording THE MYSTERY https://youtu.be/hGP2W57zS9I
http://www.nanaimobulletin.com/entertainment/nanaimo-jazz-festival-will-get-people-grooving/
Advance $15 (Showdate $20 / Senior65+ $15 ) now
@Char's from 4pm daily, charge by phone (778) 421-2427, online http://bpt.me/2905656
FMI http://alberni.ca/events/20180  Char's 19+ Lounge open 5:30-12midnight 365+ days a year www.charslanding.com Char's Landing, 4815 Argyle @5th. Port Alberni V9Y 1V9